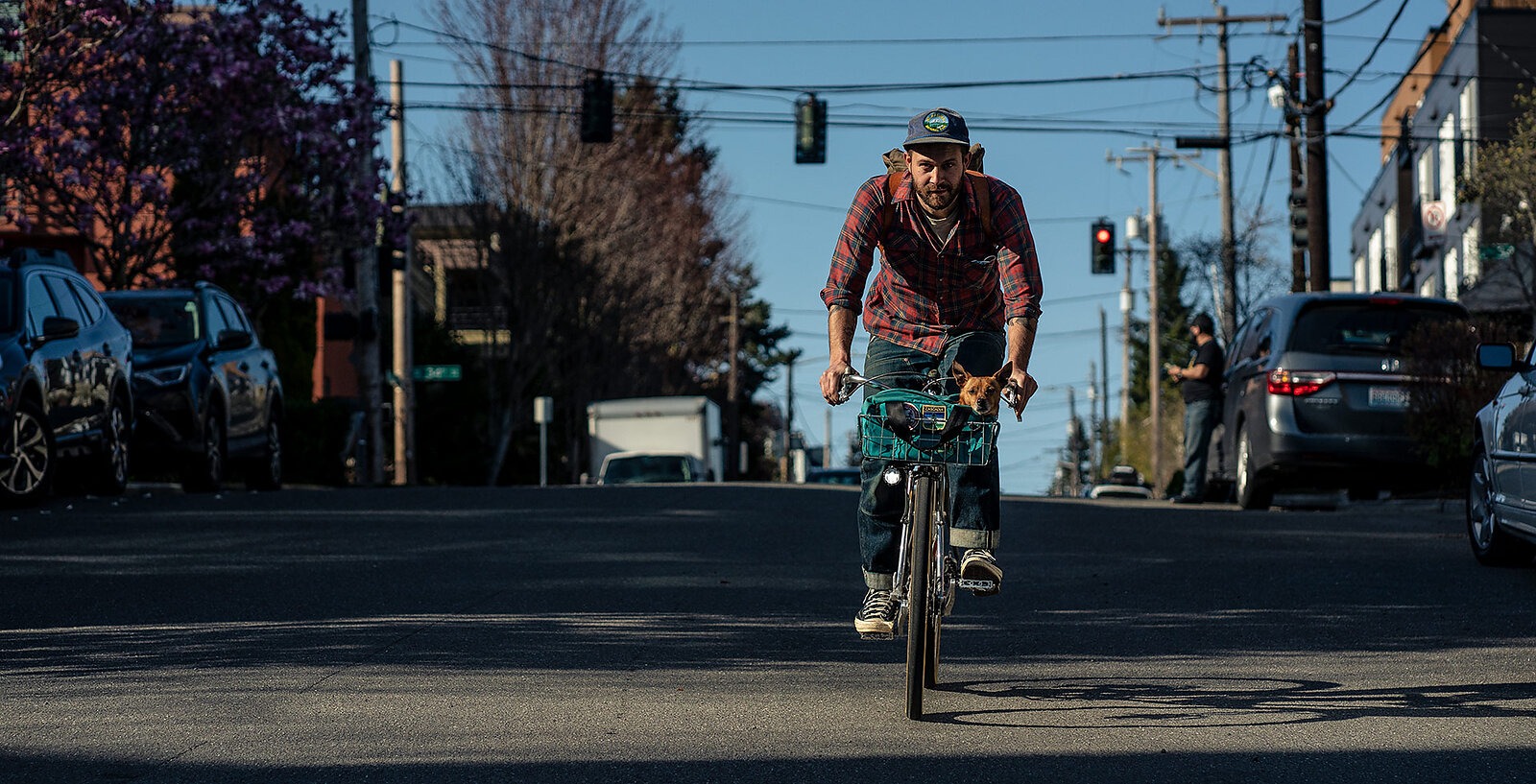 Constant Evolution The winding career path of artist Kyler Martz
The 500-pound cephalopod's tentacles stretch out, reaching into every corner across a three-story space.
Normally hidden in remote underwater locations, this brown-and-tan speckled specimen made its home in Seattle's Ballard neighborhood—in a PCC Community Markets to be exact.
An elderly man passes beneath the gargantuan octopus and exclaims, "I've never noticed that before!"
Nearby, Kyler Martz laughs. This is his sculpture. PCC originally commissioned him to paint a mural for the grand opening of its Ballard location. Kyler suggested they take it a step further and create an installation to complement the huge nautical-themed painting he produced for the back wall. Now the sea creature towers above, perpetually greeting shoppers as they walk in to buy organic groceries—at least those aware enough of their surroundings to notice a gigantic octopus looming directly overhead.
Kyler, an Idaho native, made a career out of jumping headfirst into new artistic endeavors, often figuring out how to work in unfamiliar mediums along the way—sketches, murals, sculpture, tattooing and beyond. This paved the way for his commercial success in Seattle, despite the city's tech takeover, increasing cost of living and skyrocketing housing market.
Many of Kyler's steps toward business growth and personal friendships came about in North Seattle along a stretch between Ballard and Fremont. It was here, at Broken Press, a custom design and screenprinting shop in Fremont, that Kyler had some of his first prints made back in 2013. Despite a small run of 50, one landed in the right hands—renowned Seattle chef and restaurateur Renee Erickson's— and jumpstarted his career.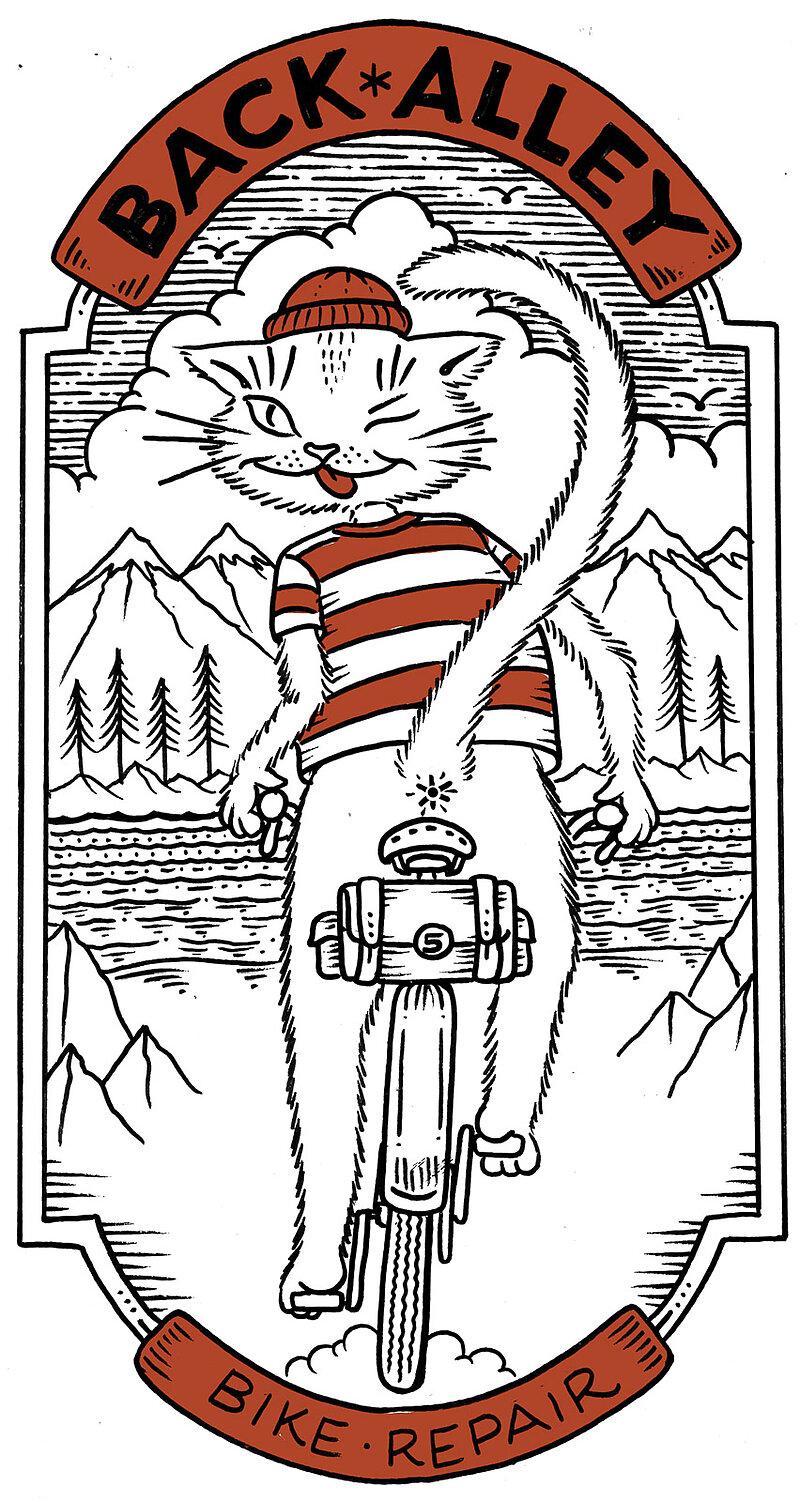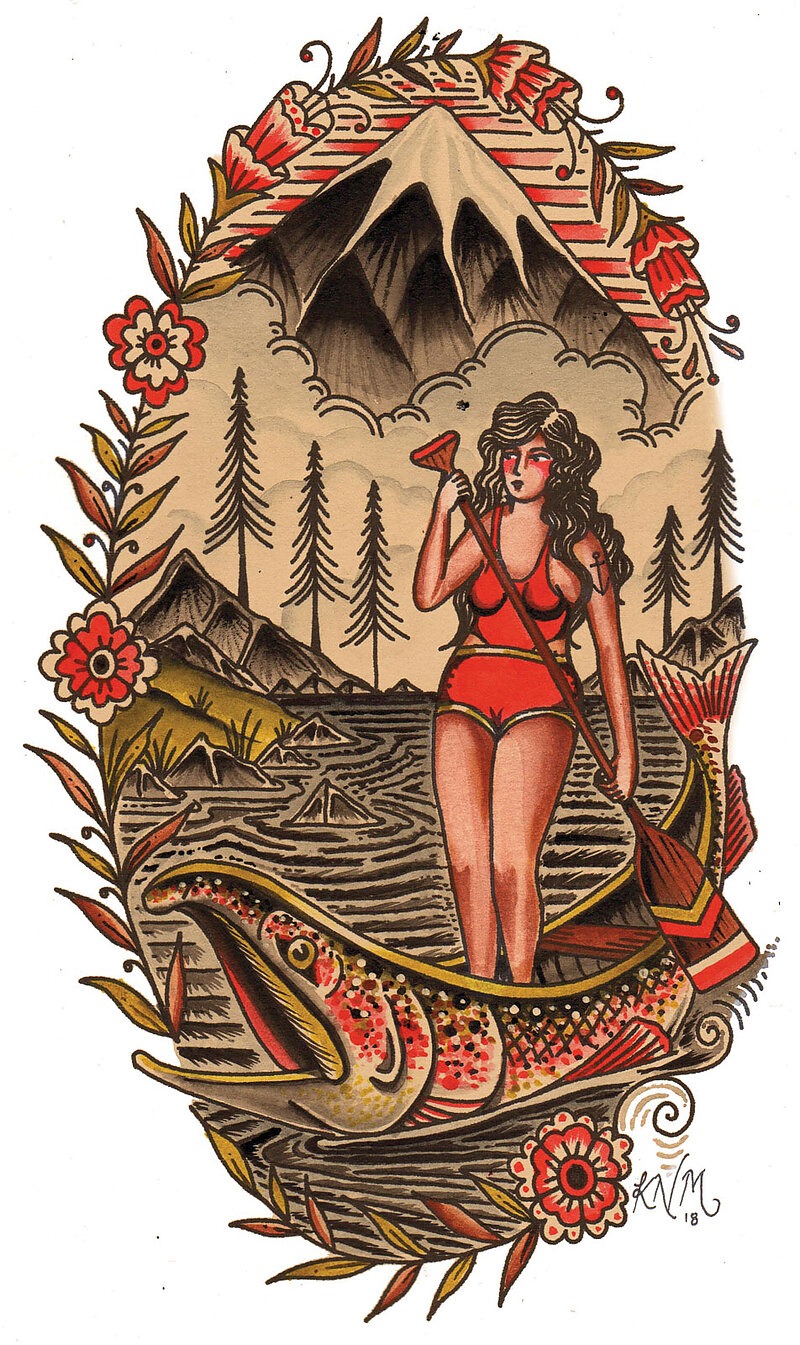 Erickson hired him to paint an original mural on a wall outside her award-winning Fremont restaurant, the Whale Wins. The mural was Kyler's first.
"I'm more of a Pacific Inn guy myself," Kyler says, referring to the deep-fried Seattle haunt that sits directly across the street from the southern-European-inspired The Whale Wins. "But I really appreciate everything Renee did for me."
More large-scale jobs followed soon after. First with other local restaurants and businesses, then with major corporate clients. Between 2017 and 2019, Kyler was commissioned by Amazon to paint 34 of the company's Treasure Trucks in the United States and five overseas in Europe. A blue-hued mural Kyler illustrated graces an entire wall at the digital consultancy firm Deloitte Digital's Seattle office. Other corporate giants, such as Starbucks and Facebook, sought his artistic eye. Through it all Kyler's work has maintained a distinctly local feel—perhaps because as his network expanded, he made sure to carve out time to create original posters for musicians and arts fairs murals for barbershops and bars.
He still uses Broken Press today, though typically in larger quantities and with more complex color palettes.
"As he's grown with his execution, so have we," says Andrew Crawshaw, who co-owns and operates Broken Press with Danie Skredsvig. Together, Andrew and Danie bring their expertise to reproducing Kyler's work with as much detail, and color accuracy, as possible. A limited-edition run of notable music posters, made in the mid-2010s by Kyler and Broken Press, show off the team's prowess. There's a two- tone rendering of Troutdale, Oregon's Edgefield Manor (now McMenamins Edgefield) for the Decemberists, a lonely woman shown reflected as a skeleton on a St. Vincent tour poster, and a beautiful collage of intricate butterflies to advertise a Sleater-Kinney show with Torres at Kings Theatre in Brooklyn, among others.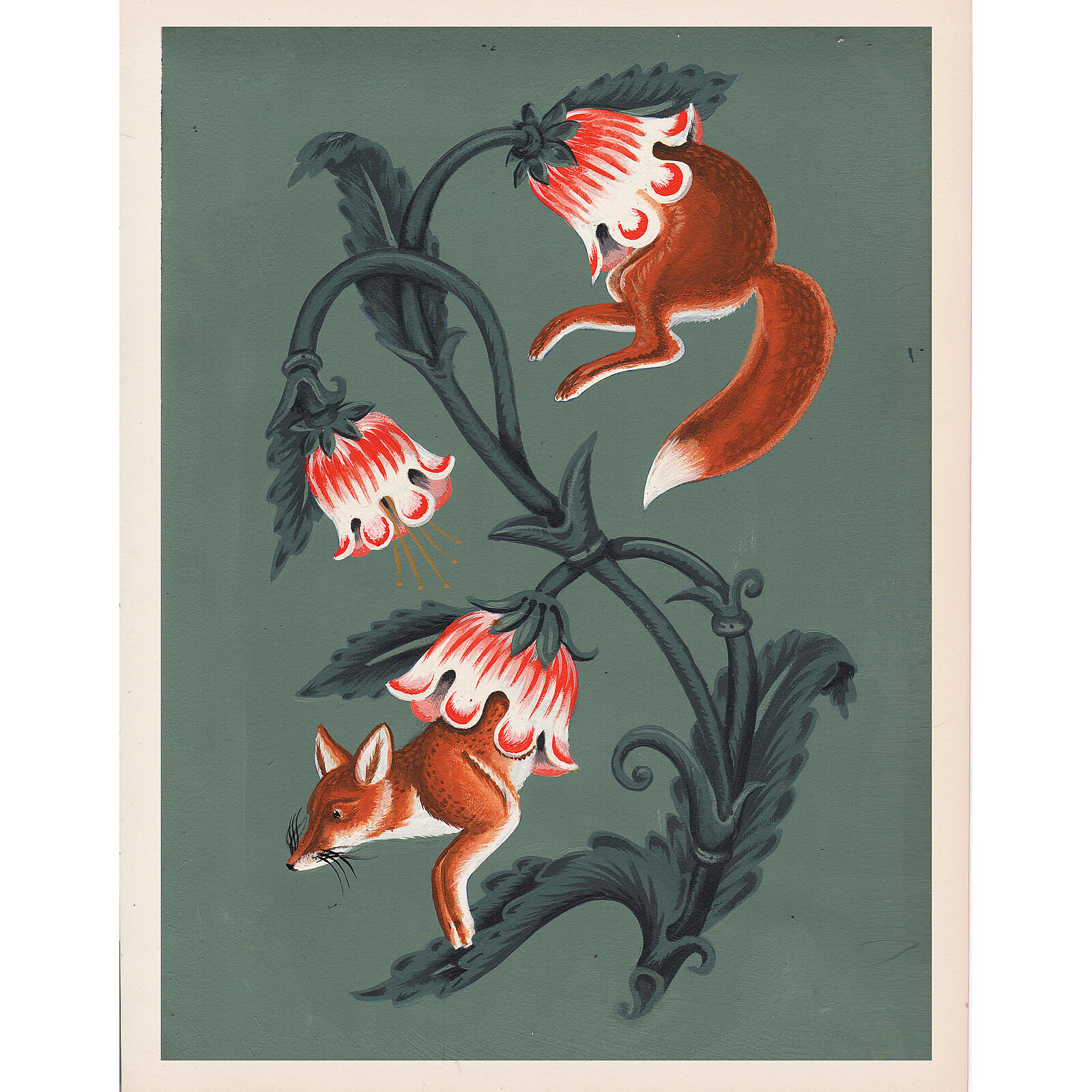 Kyler's more recent illustrations bear his unique style too. Set against an Aegean blue background, his piece "Battle Florale" depicts an eagle, dragon and snake interwoven amid vines and pale red ornamental flowers. It's an immensely detailed piece—a nine-color transparency—with subtle textures, fades and patterns throughout.
For Shay Roth, the details and approach to illustration is what drew him to Kyler's work. After first being introduced through a friend, Shay offered Kyler a chance to show a collection of original paintings at the Sunset Tavern in Ballard, where he works as the popular bar and music venue's general manager.
"People dug it, that's for sure," Shay says of that first show. "He's really good at putting his own spin on something classic. His art is approachable and super clever."
Shay's own body is adorned with a personal collection of Kyler Martz originals. In addition to his work in sketch drawings, massive murals, detailed paintings and sculptural installations, Kyler has also become a skilled and highly sought after tattoo artist. The tattoo industry faced a significant downturn during the pandemic, though Kyler and Shay stuck together, providing each other with friendship in trying times while also allowing Kyler to keep up with his needlework skills.
"We did both his knees in one day," Kyler says, referencing a pair of red-and-black butterflies that grace Shay's legs.
Despite all that Seattle has given him, Kyler recently packed up and set out for fresh horizons in Portland. His move comes amid yet another foray into a new medium: book publishing. Inspired by the classic American tune "Big Rock Candy Mountain" by Harry McClintock, and in honor of his late grandfather who used to strum the melody on his guitar, Kyler set out to illustrate the song as a way of staying busy during the pandemic. The result is The Big Rock Candy Mountain Book, a hardbound, cloth-covered, gray scale set of illustrations that bring to life the song's playful and at times wistful lyrics.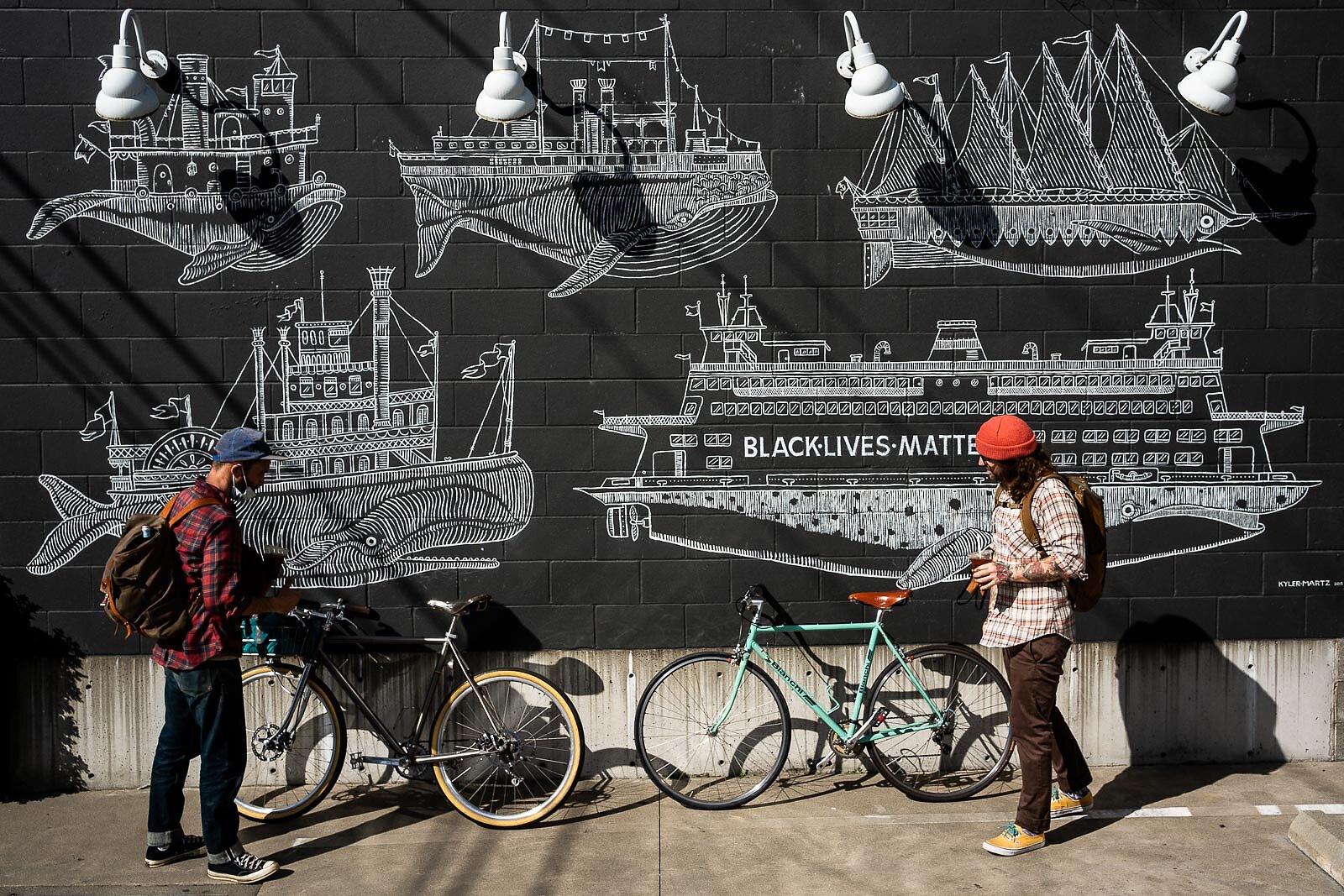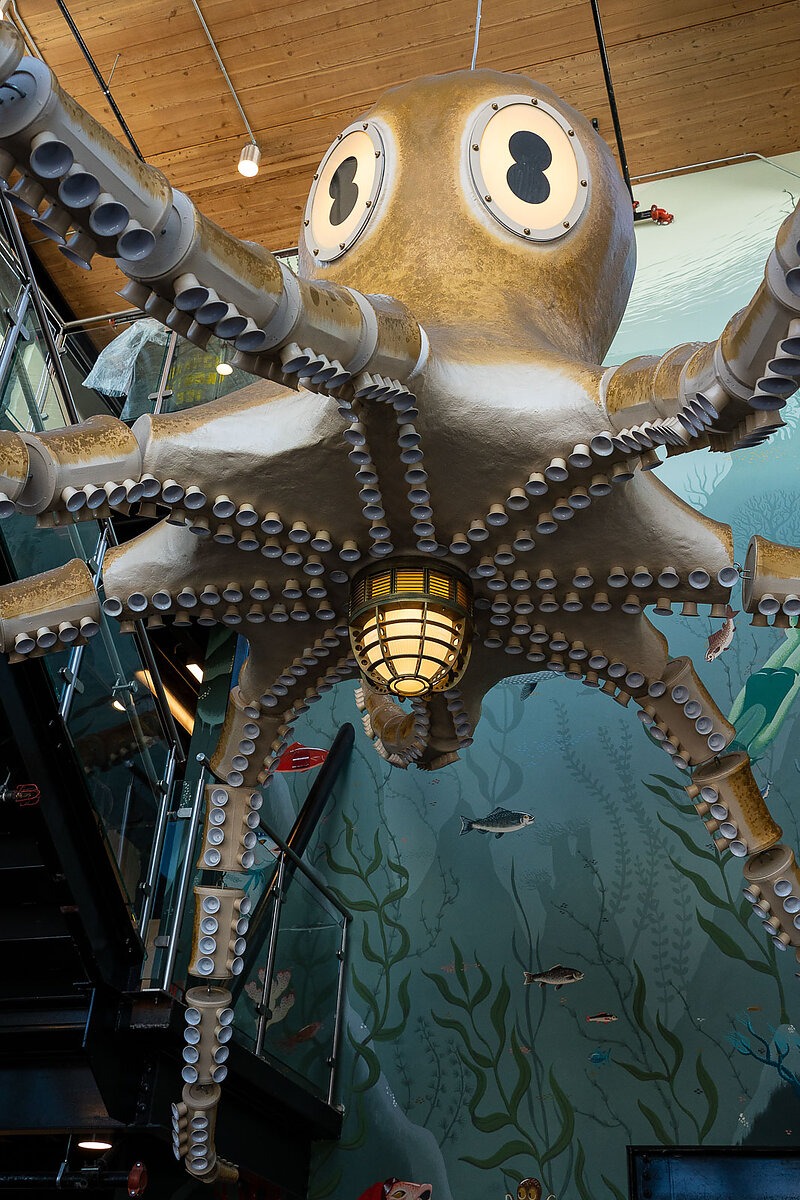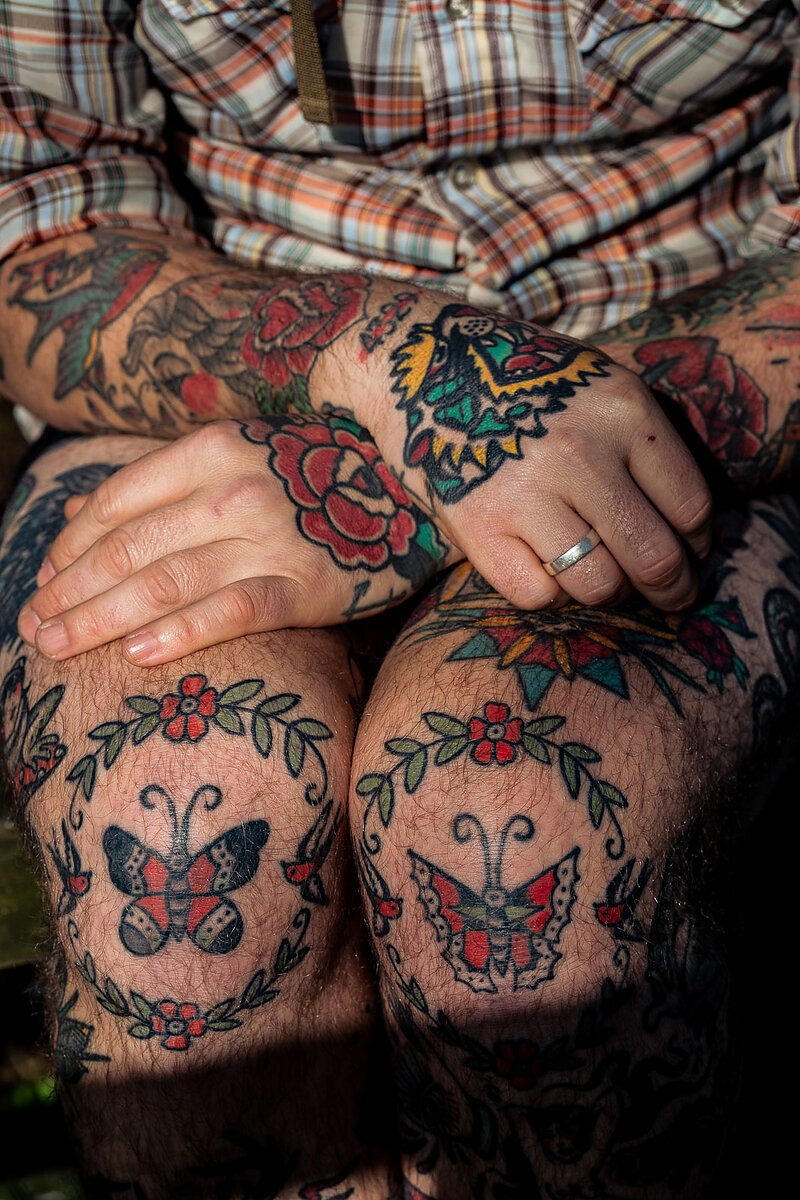 "Drawing all these images was about the only thing that got me through 2020. I hope they can also help the reader escape for a little bit," Kyler wrote on his website, where the book is for sale.
After visiting the PCC octopus, Kyler and Shay ride their bikes east on the Burke-Gilman Trail to see the mural at the Whale Wins. The piece remains Kyler's most popular public work. A friend texts Kyler every time he notices someone using the mural as a backdrop in their online dating profile photo. The messages come almost every week.
It's been almost a decade since Kyler made the piece. Tracing his finger along the white paint lines of his mural, he comments on their slightly uneven squiggle. Though only perceptible to a keenly critical eye, to Kyler, they're evidence of a nervous hand.
"Now I know to just take a deep breath and make one long brush stroke," Kyler says, stepping back from the wall and swiping confidently through the air with an imaginary brush.
Kyler's new space in Portland, located at 819 N. Russell St., will give him more room to work on projects than his previous spot in Seattle. The location will also be Kyler's first public storefront and is set to open in May. From his new home base, he hopes to expand his clientele.
For now, as he eases into Portland living, he plans on spending lots of time sitting along the banks of the area's waterways and rivers. With his dog Penny at his side, he'll whittle away the afternoon, experimenting with yet another medium that's caught his interest as of late: carving.