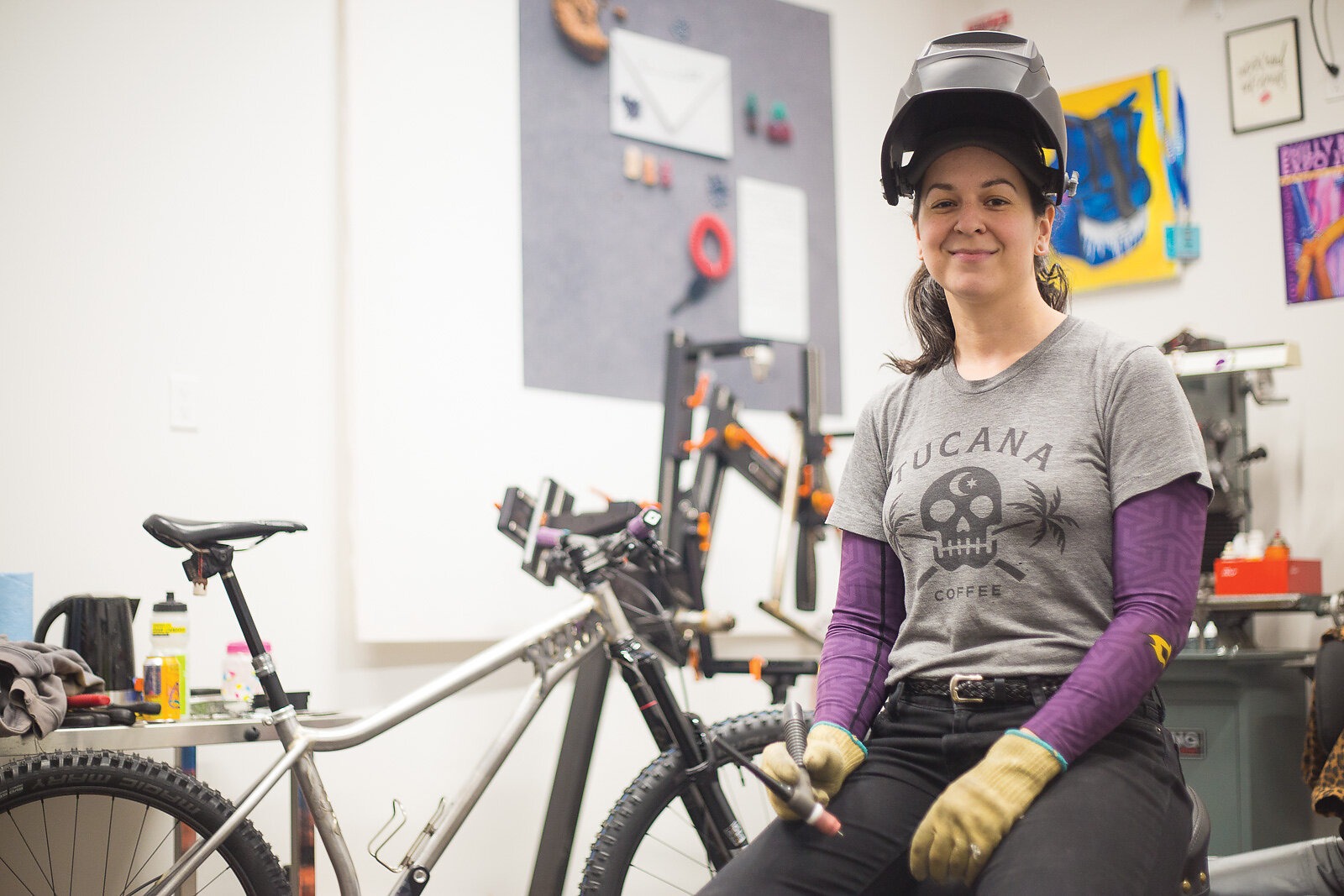 A Mover and a Maker Danielle Schön is Leaving Labels Behind
The adrenaline that comes from weaving in and out of traffic, dodging cars and racing through the gridlocked streets of Toronto isn't for everybody.
But for Danielle Schön, a rider, racer and fabricator who now lives in Squamish, BC, it was this exact rush that sparked her love of bicycles. She's equally comfortable coated in dirt riding coastal singletrack, chasing cars on a road bike or holding a torch in a  garage. In a class all her own, she's become a catalyst for creatives and females alike in the bike industry.
Rogue alley-cat races with her bike-messenger friends some seven years ago quickly escalated to a life revolving around two wheels. Instantly addicted to racing, Schön let her competitive side lead her to race track then road then cross-country then—of course—mountain biking. To say she's well acquainted with all aspects of biking would be an understatement.
When in her company, one can't help but notice her chill demeanor, which seems to contradict her calculated approach and competitive nature—but really, it's just the yin to her yang. True to her character, when Schön jumps into something, she doesn't bother touching the brakes. However, jumping from racing to fabricating took time, although the transition was a natural one.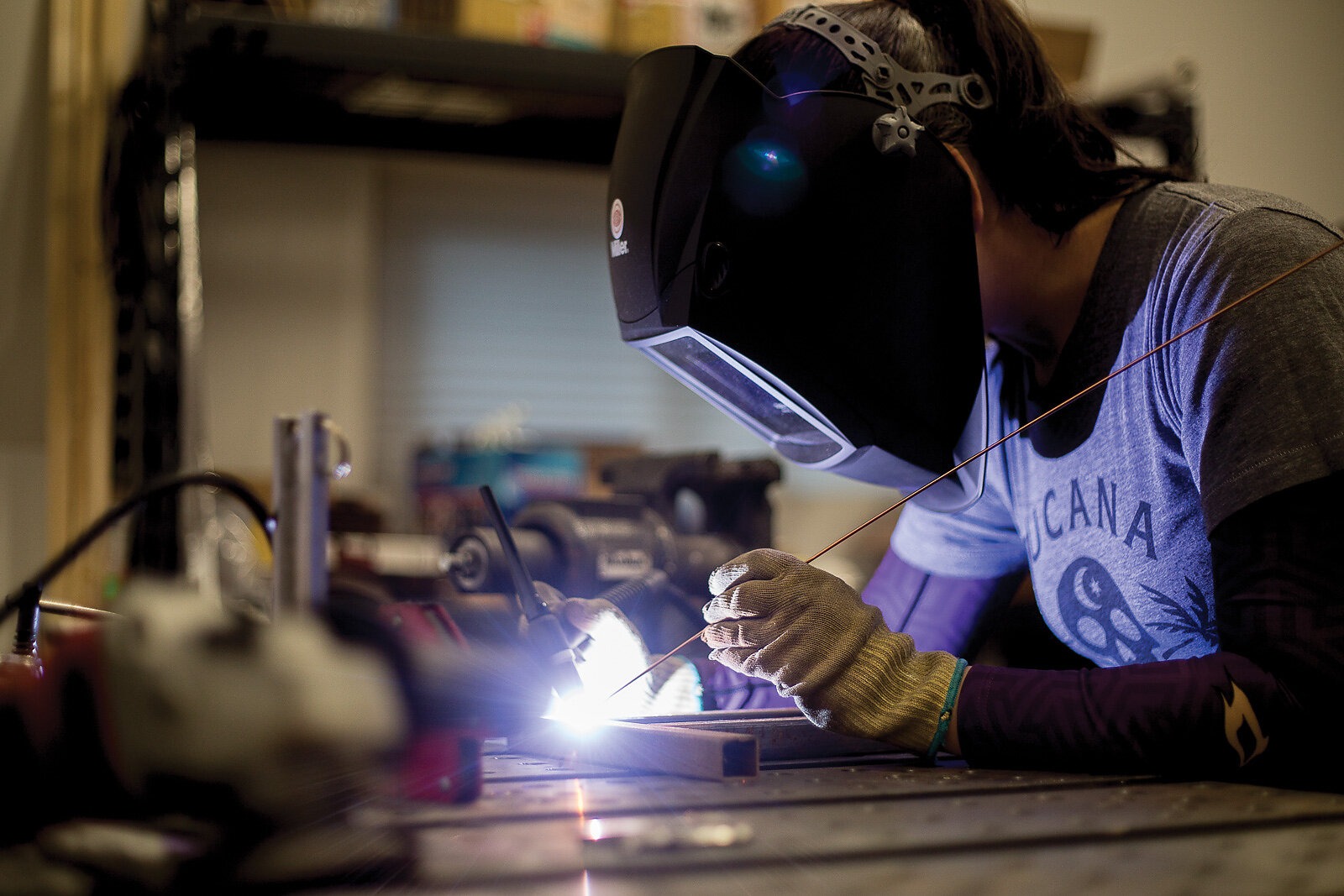 "I've been a maker since I was little," she says. "I went to art camps, drawing classes, and took sewing lessons for about six years. Creativity was always encouraged, and I think having that foundation when I was young really helped to guide my direction in life."
Graduating university with a bachelor's in photography, Schön took a corporate job as a consultant for a large IT strategy firm, putting her creative drive on pause. However, her innate desire to create soon had her craving an outlet, so she signed up for an intro-to-welding night class at George Brown College. She figured why not just try it? But being the performance-driven soul that she is, one thing quickly led to the next—and the next, and the next. Two and a half years later, she'd finished the entire welding curriculum while still working a corporate job.
"Nearing the end of the available night classes, one of the instructors suggested I should look into NDT [Non-Destructive Testing] certifications," Schön says. "They're strictly regulated as it's a national quality control standard, not something you can do part time. It was then that I finally decided to make the jump and quit my full-time job to pursue those certifications. It was a bit of a leap of faith, but I knew I had to make a change in order to be happy with what I was doing."
At the time, most of the fabrication work Schön was doing was residential architectural features, furniture, commercial installations and large-scale public art. She was also getting into track and road racing more seriously, but her quiver of bikes was underwhelming in comparison to her level of competition. She remembers always being on a "crappy" bike or having to borrow or rent one for a race. Maybe it was time for her to make something worthy.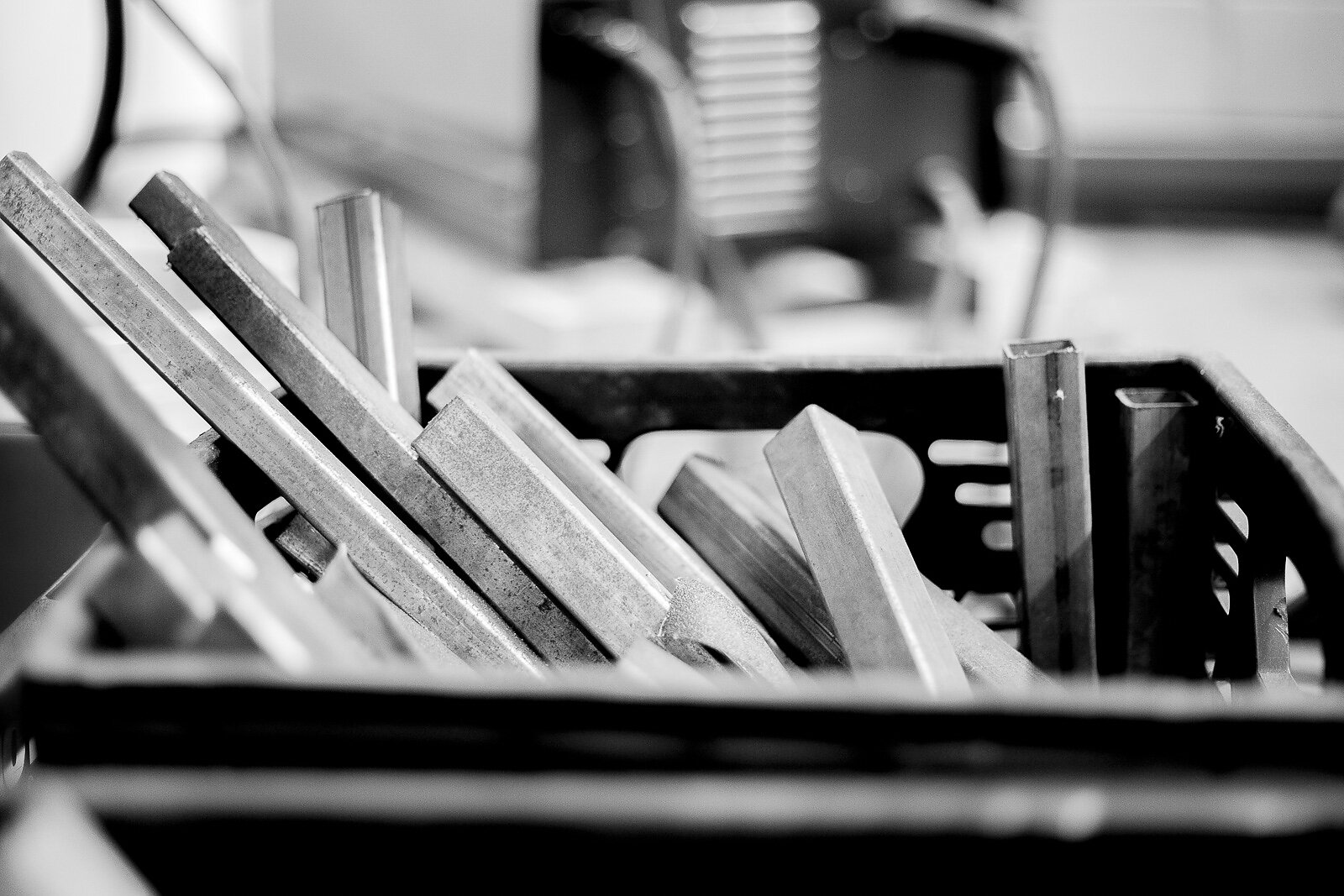 "I knew that custom frame building was a thing," she says, "so I looked up what was available in Canada—not much—but found Paul Brodie's course in Abbotsford, BC. I knew that the skill would probably be a good addition for me and was really excited at the idea of building myself a brand-new road bike that I could race on."
Six years and countless miles later—including trips to Europe and Africa, winters on the trainer and summers on country roads—Schön's first bike is one she's still proud of. But that bike was also just the beginning. She moved to Squamish, BC in 2019, where she set up a shop and discovered a community with no shortage of riders and makers. It's been a grind for her, and while the industry certainly has its drawbacks, she doesn't let them stop her.
"You have to work twice as hard to get the same level of respect as everyone else," she says of being in the male-dominated field of frame building. "There can be big fears on asking questions or doing something wrong because people will often immediately dismiss you as less-qualified because you're a woman."
The same year she moved to Squamish, Schön was one of four people chosen to receive the Philly Bike Expo x SRAM Inclusivity Scholarship for Framebuilders, an award that aims to bring more diversity into the niche trade of frame building. The endowment was an acknowledgement of her skills and the time she's invested in figuring out what she truly loves to do.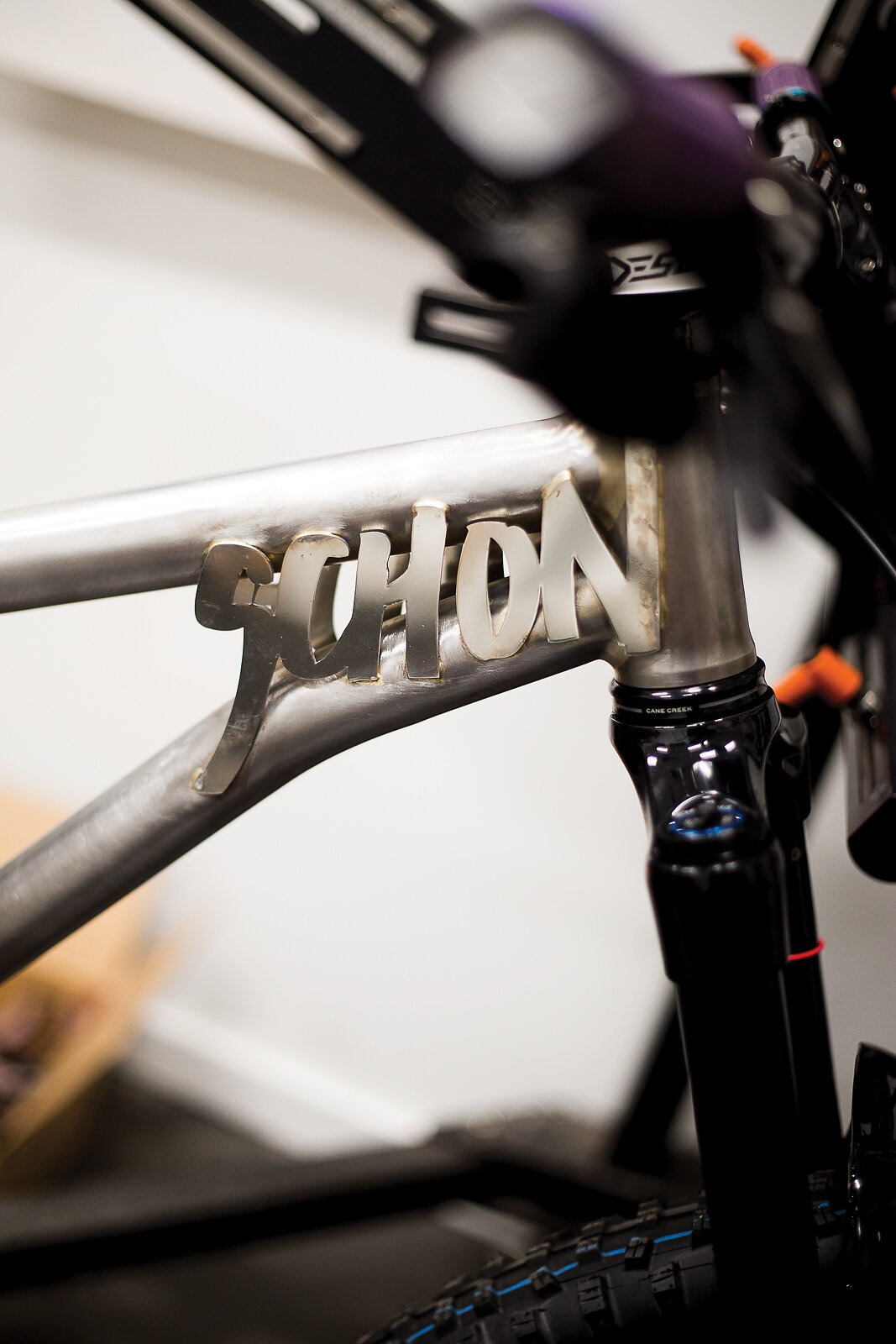 "For big industry leaders to have confidence in my work to be put on that kind of platform is both unreal and reassuring to me," Schön says. "Entrepreneur life comes with a lot of ups and downs and the imposter syndrome can be very real, but it's moments like that which can really validate all of the hard work and the vision."
And when it came to her build, Schön did not disappoint. She designed a steel hardtail with a 29" front wheel and 27.5" rear wheel—a combination that embodies Squamish riding like nothing else. The expo displayed the bike to 5,000 in-person attendees and countless more online, showcasing her work and brand to people in the industry and an array of potential customers looking for handmade bikes.
Schön continues to expand her portfolio of bike frames, and has recently added motorcycle and art fabrications to the mix as well. The route she's taken to find her creative calling bears a resemblance to the downtown races that first hooked her on bikes, with a handful of swerves, some uphill grinds and a few sharp corners, but it's also been equally enthralling. She's learned countless lessons with each move and, thanks to her perseverance, she's at the forefront of the pack, helping to lead the way while welcoming those who want to join.
"I have busted my ass and sacrificed a lot for the past six years trying to make my dream work and build my business," she says. "But I'll never get to outrun the 'female builder' label. I don't introduce myself as a 'female welder.' I'm a welder, an artist, a fabricator and I hope one day that can be what I'm known for first."