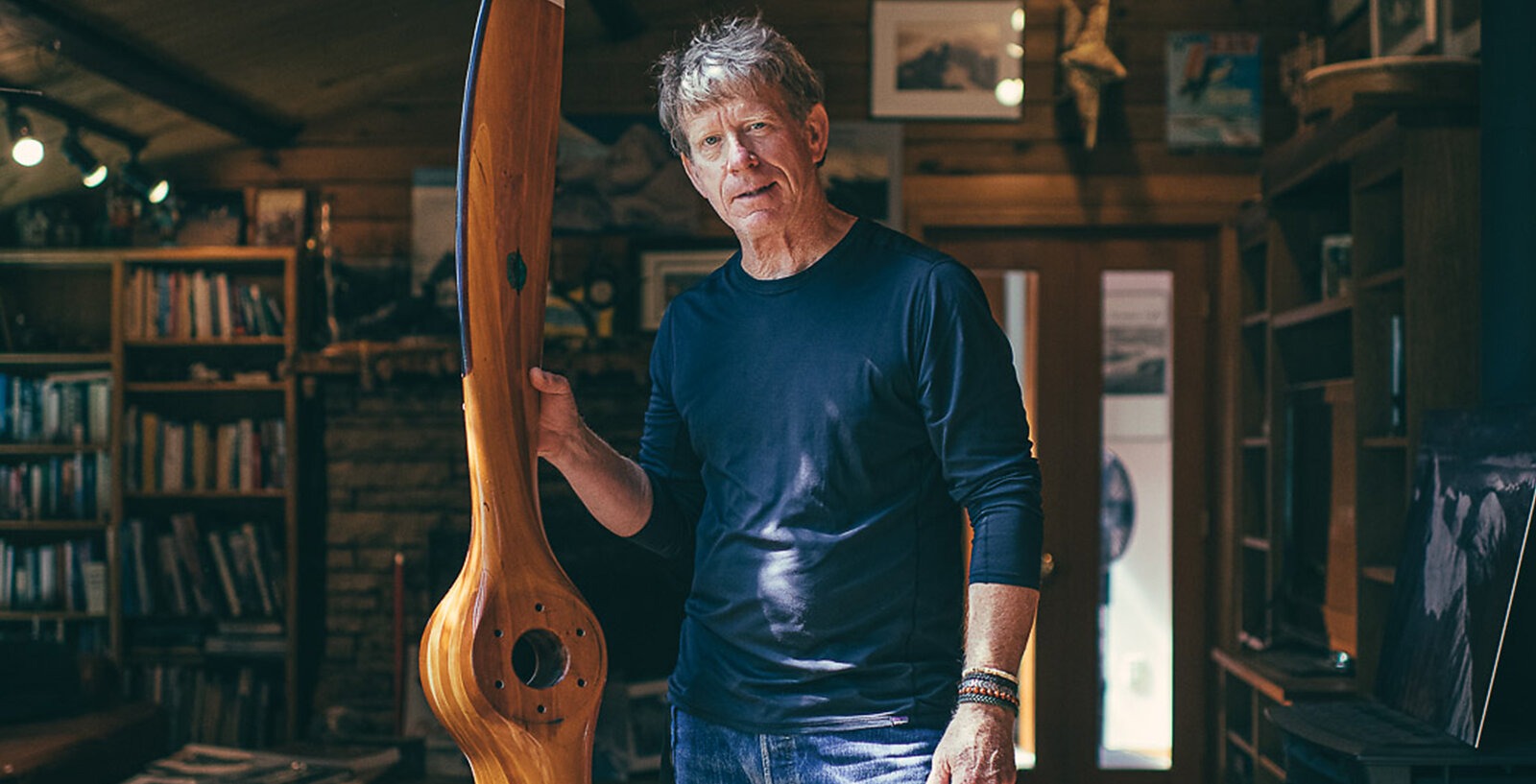 Above Alpine John Scurlock's Aerial Pursuit of the North Cascades
There are some 15,000 rivets in John Scurlock's bright yellow RV-6 experimental airplane.
He might not know this number off the top of his head, but he certainly knows the significance of it, seeing as he installed every single one himself. Homebuilt planes are a bit of a novelty in the already niche world of aviation, most likely because the process is not easy—nor quick.
"It took me nine years to build it, which seems like an awfully long time," John says. "I was not a natural builder of mechanical things and parts of it were very difficult for me—but I was doing other stuff, too, like hiking and climbing and skiing."
This time period captures just a snippet of John, who is, by all unofficial accounts, one of the most staunch advocates of the North Cascades mountain range. At 67 years old, the career-paramedic-turned-pilot-and-aerial-photographer has thinned-out gray hair, a casual-yet-direct personality and an impressive amount of knowledge of his crafts, subtly evident in the many stories he tells. John has flown and photographed the whole North Cascades range in winter, documented all of the lower 48's glaciers from the air and assisted numerous public agencies, universities and publications with his work.
Photography, aviation and the North Cascades can all be traced back to his childhood. However, these passions took some time to coalesce in the heart of the Northwest. He grew up in Ann Arbor, Michigan, across from the regional airport. For Christmas one year, his grandparents gave him a Kodak Brownie, which shot 123 film on 12-exposure rolls. And in May of 1968, when he was 14 years old, a National Geographic with an article about the new North Cascades National Park arrived in his mailbox.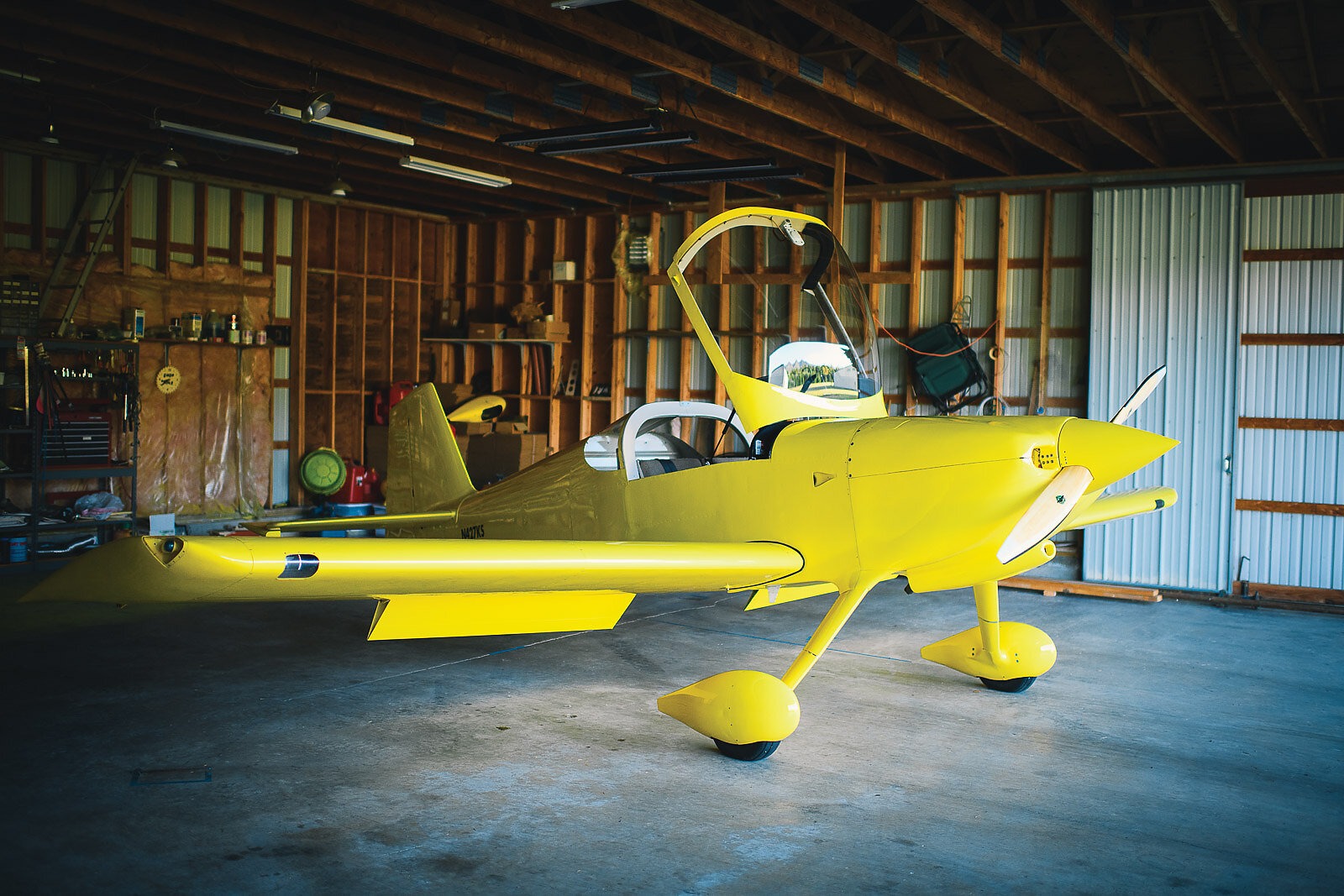 Originally, John dreamed of being a pilot in the Air Force, but that dream was crushed when his third-grade teacher noticed he couldn't see the blackboard—he was nearsighted, rendering him ineligible to fly in the Air Force. Two decades later, while working as a paramedic in Skagit County, a friend took an introductory flying lesson and suggested he do the same. It might not have been the Air Force, but the feelings were just as exhilarating as he'd expected.
"I was hooked instantly, and I dove right into it," John says. "Within about four or five months, I had my pilot's license."
Flying parallels another passion he honed out west: climbing. While he likes to joke his style was more along the lines of "steep hiking," the checklist of iconic North Cascades routes and peaks he's ascended is far from casual: an eight-day traverse of the Northern Picket Range, time in the central Pasayten Wilderness, a one-day climb of El Dorado, and climbs on Canada's Columbia Ice-field. So when John took to the sky, his eye—and later his camera—was naturally drawn to the region's climbing objectives.
"I brought a climber's perspective to [my aerial photography] because I was a climber, and I was photographing stuff I knew people would want to see in detail," he says.
John first photographed Mt. Baker from his RV-6 in 2001 with a small point-and-shoot camera. Through his own curiosity about the mountain, he eventually got in touch with geologists at the University of Washington and Cascade Volcano Observatory. Soon his photos were circulating throughout the local scientific community. As the internet became more widespread, he created a website for his imagery, which gained traction on cascadeclimbers.com, a site that congregated a small-but-hardcore collection of dirtbags, rock nerds and adrenaline junkies, all devoted to the region's peaks and valleys.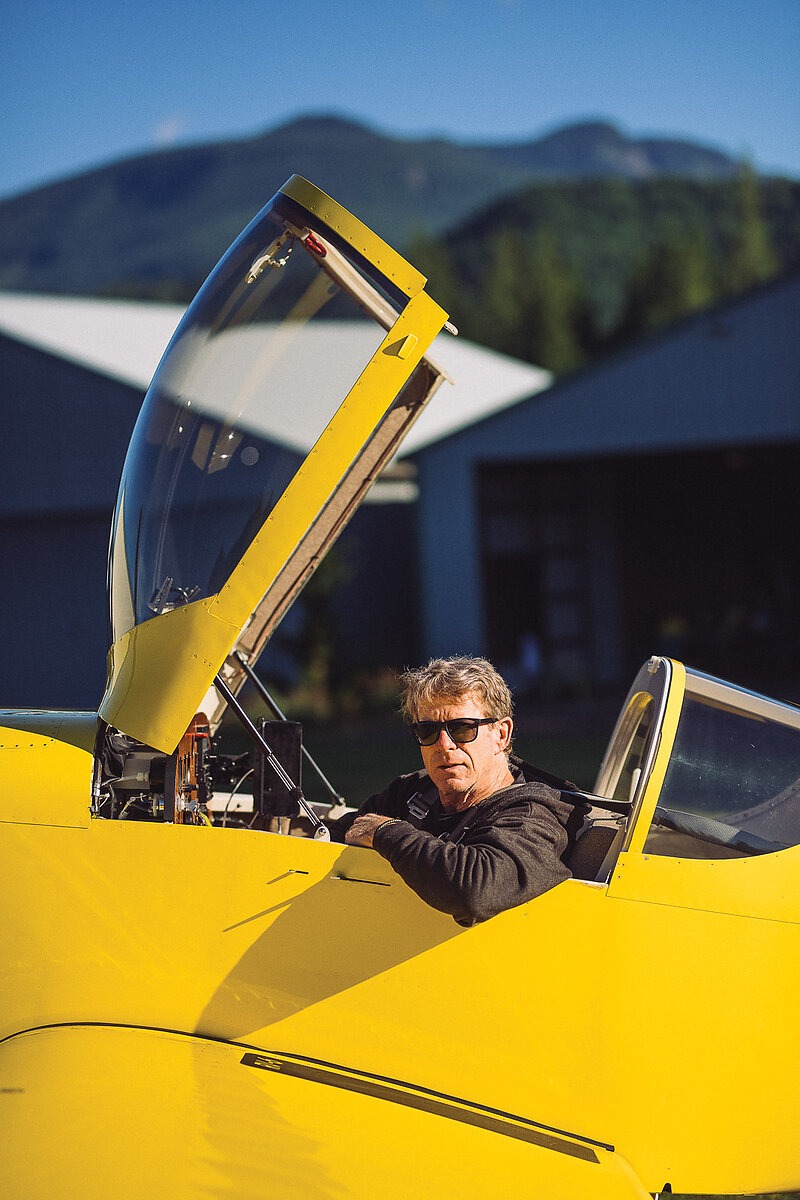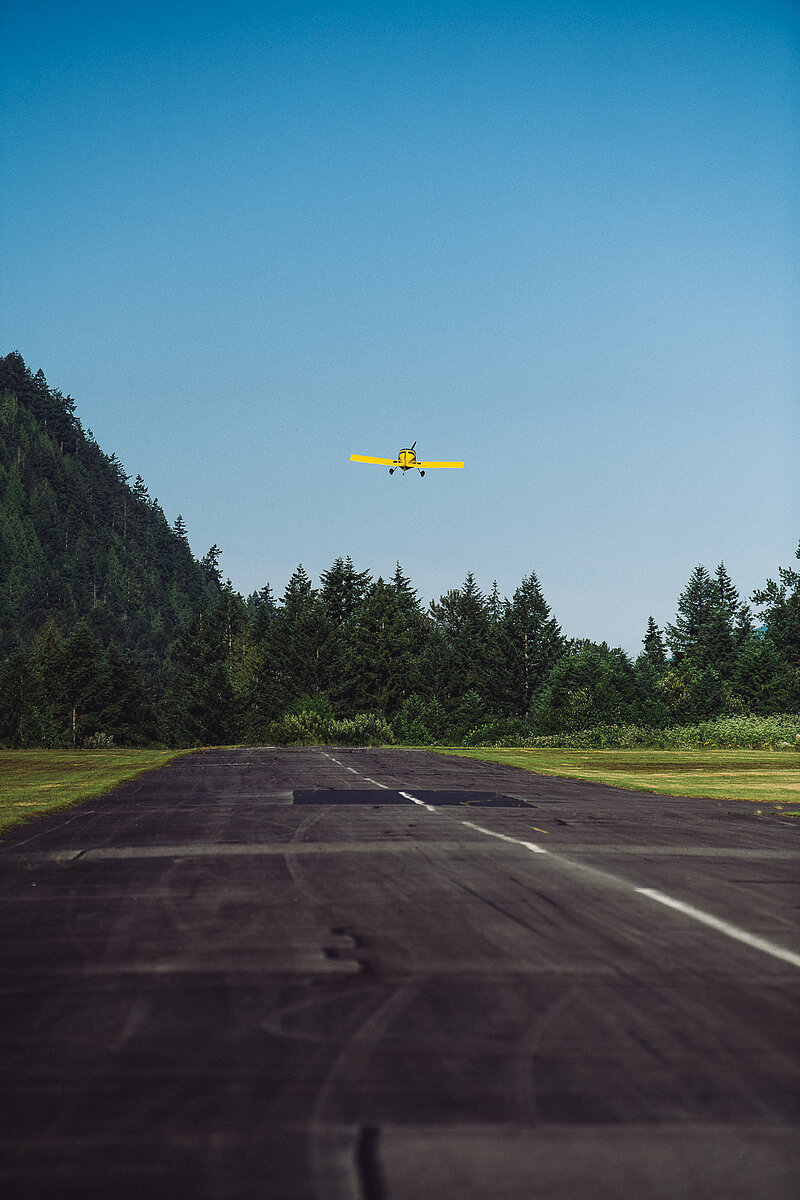 In the early aughts, the main resources for climbing beta in the region were the famed three-volume Cascade Alpine Guide by the god-father of North Cascades climbing, Fred Beckey, and word of mouth. Any photos featured in the era's guidebooks tended to be small, heavily cropped and severely lacking in detail. But when aerial photos of unseen faces started appearing online, people took notice—for better or worse. John remembers grumblings when he photographed the crux of Slesse Mountain's then-unclimbed Heart of Darkness route in 2005. The possibility of first ascents at the time was a major motivator for climbers to hold information tight. But in the end, his photos became a venerated contribution to the sport's evolution.
"It was John Roper [a climbing pioneer of the North Cascades] who saw my photographs for what they were to the climbing community and started spreading them to his climbing friends," he says. "I really think I was in the right place at the right time. I had the right tools in hand, had the right frame of mind."
By this time in his life, John's passion for climbing had waned. Flying was providing him with a new sense of excitement and had its own risk factors. Having built his own plane, he is intimately familiar with mechanics and the aircraft itself, however, his chosen playground is notorious for tempestuous weather and fast-changing conditions. While such situations often make for incredibly vivid imagery, they also increase the difficulty of flying.
"Flying and climbing fall into the same category of endeavors, in my opinion, where you're traveling in a hazardous environment and you need to make judgments with the idea of both having fun and surviving it," he says. "To this day, when I line up on the runway to take off, I sit there for a minute, and I think to myself, 'If you're not careful, this son of a bitch will kill you.' And that's the way I fly."
Add holding a camera, steering with your knees and chasing cloud breaks in unpredictable winter conditions, and the danger becomes even more real. But with practice comes perfection— eventually, sort of. John had to figure out how to eliminate glare from the plane's window and controls, what lenses to use and where to plot his flight path. As he gained more experience and as camera technology improved, so did his images.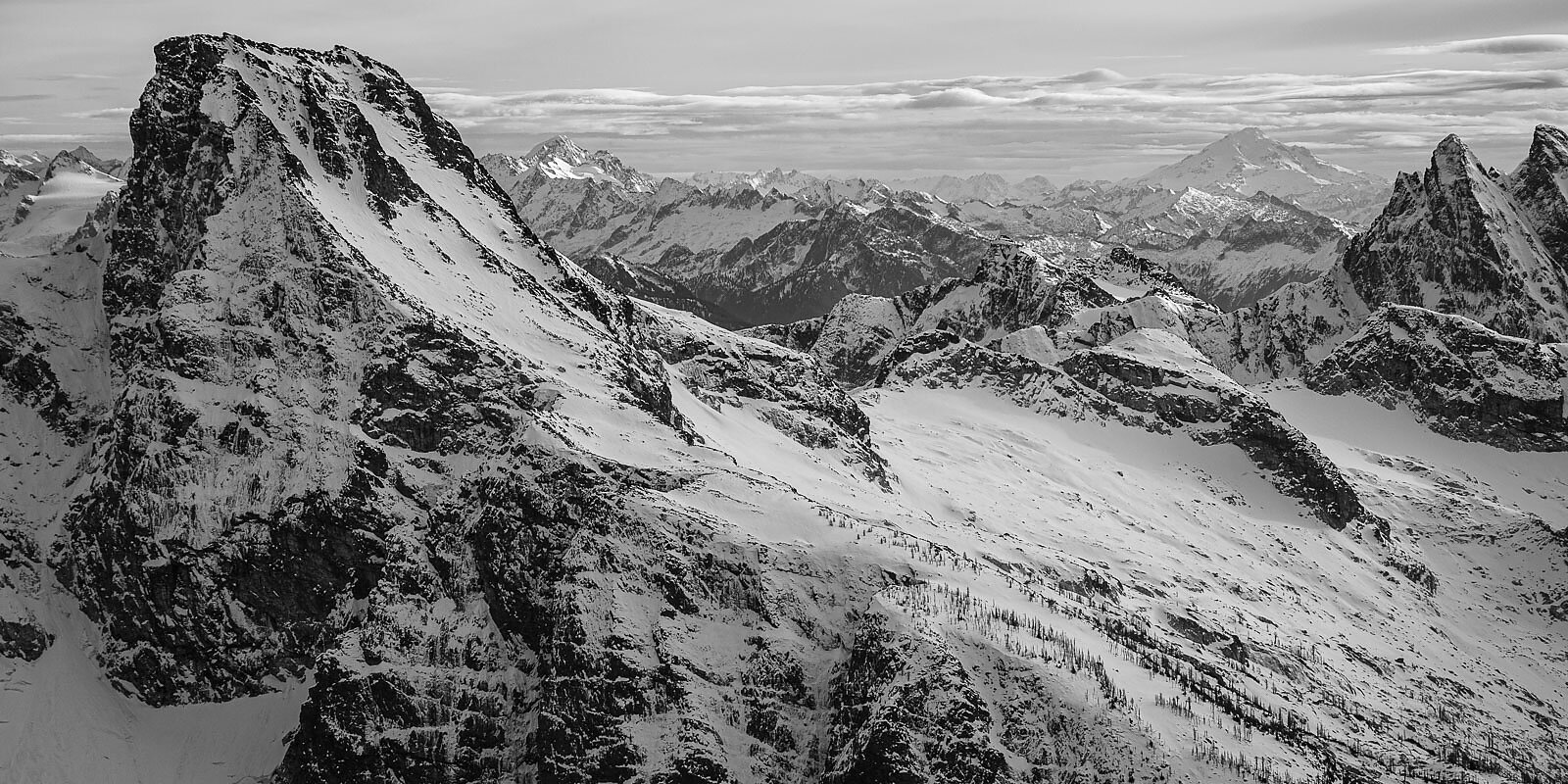 "There's a lot of challenges taking photographs out of this airplane, and I was trying to photograph the things [people were] interested in seeing, and I was trying to make them good-quality images," he says. "I was obsessed with image quality back then, trying to improve upon it, and that's the way I remain to this day."
John eventually graduated from his Canon point-and-shoot to a full-frame DSLR camera. Even at this time, though, his photos were gaining recognition. One of his longtime inspirations had been Tom Miller's classic The North Cascades, a collection of on-the-ground photographs of the range published in 1964. And through his explorations, he met the late Austin Post, a legendary aerial photographer and glaciologist who worked mainly in Alaska. Together, these two influences shaped John's work.
In 2009 turbulence in his personal life pushed him deeper into aerial photography. Two years prior, he'd been offered an opportunity to create a book of his imagery but, not completely confident in his body of work, he turned it down. It seemed as good a time as any to take on the task. If not solely as a challenge, at least as a distraction. His goal was to photograph the entirety of the North Cascades in wintertime, a feat that had never been done before.
"For the next two years, I just went on this monumental, obsessive tear of photographing the North Cascades in the winter," he says. "I think sometimes in life that's how stress works; you get these huge creative outbursts of energy for these reasons, and that's kind of what happened."
The result was Snow and Spire: Flights to Winter in the North Cascades Range, a 192-page coffee-table-style book filled with his most in- credible images. In his time flying and photo- graphing, he's amassed a collection of a half-mil- lion images, many of them unseen, buried on hard drives or stashed in piles of prints. While John's catalog may be quantifiable, its impact is anything but. His imagery has inspired and in- formed countless climbs and first ascents, doc- umented two decades of change in and beyond a national park, and inspired countless people to experience—if not devote their lives to—this majestic mountain range.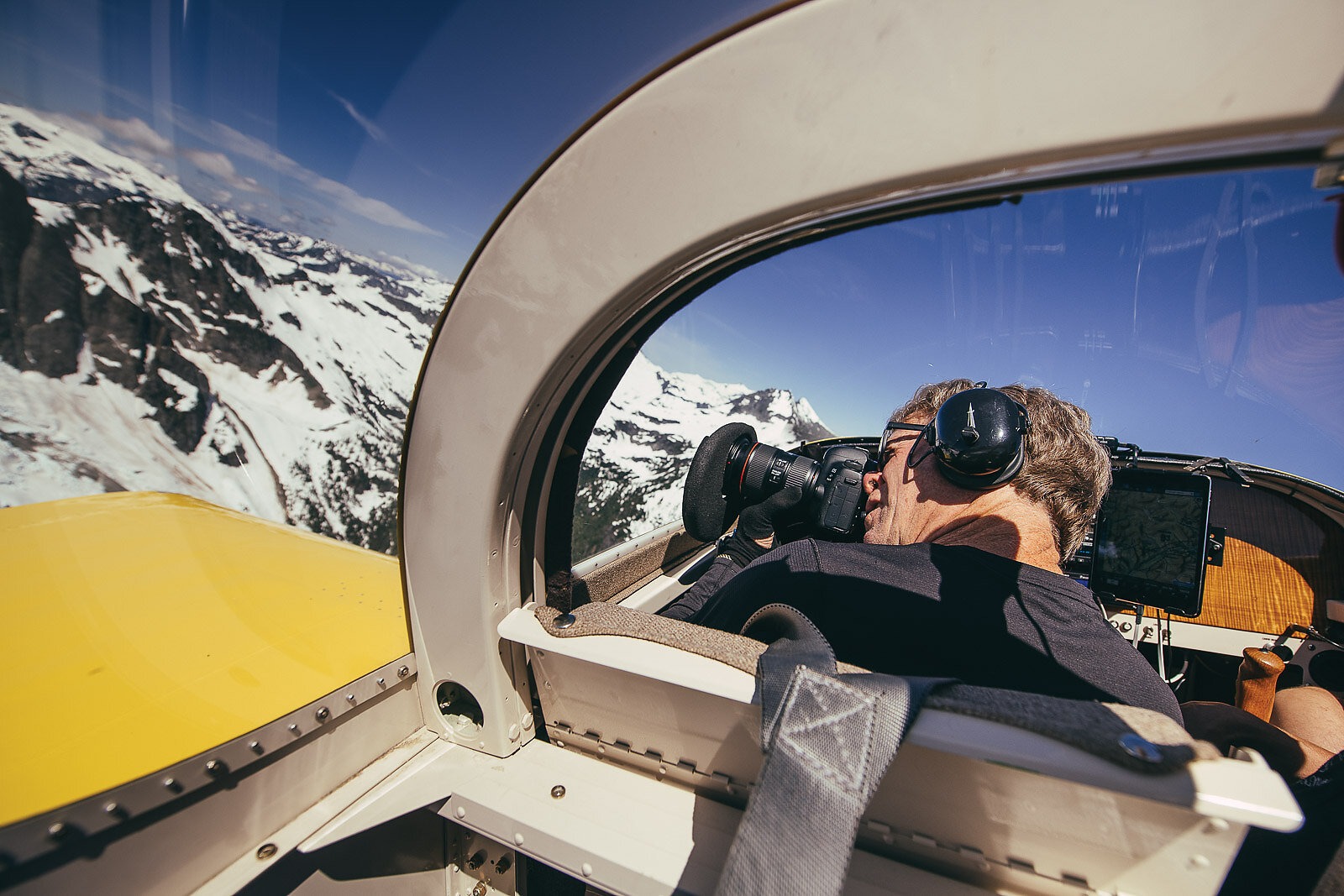 "When I started doing aerial photography [the book] was not my intent. I am profoundly grateful and feel so privileged to be in the position where my vision of the North Cascades has had an impact on people, on climbers, on skiers—it's something I could never have imagined," he says.
John doesn't fly as often these days, maybe once or twice a week. Certainly not every other day like he did at the height of working on Snow and Spire. Part of that is due to living farther away from his plane and hangar in Concrete, Washington, as well as the difficulties of the past year, but also because he's checked off so much of his decades-long list of objectives. Still, he plans to do some camping missions via his plane and, when the Canadian border opens again, he wants to continue photographing the far north of the Rockies. As with any passion project, there is no such thing as truly being finished, but John's humility goes to show how grateful he is for what he's experienced.
"I always want to fly and photograph mountains, but I also think, if for some reason I couldn't, I would be at peace with that," he says. "I will never stop thinking about mountains and I'll never stop looking at photographs of beautiful mountains."