Changing the Game North Yard Cider Co. Does Things Differently
You can wade through a lot of muck, without sinking down into it, if you have a dream. Alison Round would know.
Lanky-legged and flat-bummed, she's poorly built for hauling ass up and down slash-filled mountainsides, so after five years of uninspired tree-planting, she segued into an 11-year career as a Canada Post mail carrier. She hated every second, and was sustained only by the outlandish idea of becoming a craft cider maker.
It was pretty far-fetched—at least if you'd presented the idea to her 20-year-old self—who even then, barely drank alcohol. But here she is, opening the doors, after four years of planning and preparing, as cofounder of Northyards Cider Co. in Squamish, BC. Craft cider maker. Impassioned advocate for old-timey ways and unadorned taste. Student of Finnriver's Cider Master Andrew Byers. Graduate of Walla Walla's Institute for Enology and Viticulture.
Life couldn't be better.
Round owes it all, ironically, to beer. Precisely, her hatred of beer. None of it would have happened without a beer festival and her girlfriend, wannabe-sommelier, and now, cidery business partner, Kathleen van der Ree.
In 2010, Round was adrift at Bellingham's April Brews Day festival, while van der Ree and their friends ran amok sampling all the IPAs they could get their hands on. "I drank a warm six pack of some shitty beer when I was 17, threw up all night and have had zero interest in beer ever since," Round says, laughing. But a beer festival was going to be a long, boring day if she didn't find something to do with herself. She went exploring and found herself sipping Finnriver's black currant cider. "I was totally blown away with how craft cider tasted," she says. "It was not like anything I'd ever grown up with in Canada, which is basically sugar, water and flavoring."
Craft cider, traditionally brewed, is made purely from fermented apple juice—it aligned neatly with the palate and nutrition quirks of Round, a kombucha-drinking vegan and certified nutritionist who had been carrying around her own yerba mate gourd since the late '90s (shrugging off the mockery of her friends).
For the next four years, the locavore couple roadtripped the Pacific Northwest, exploring the craft cider scenes of California, Washington and Oregon. "We tried millions of different types of cider," Round says. Every one tasted unique. "There are 17,000 known varietals of apples. That's a lot to choose from," she says. And the terroir that informs the taste of cider actually comes down to each specific tree.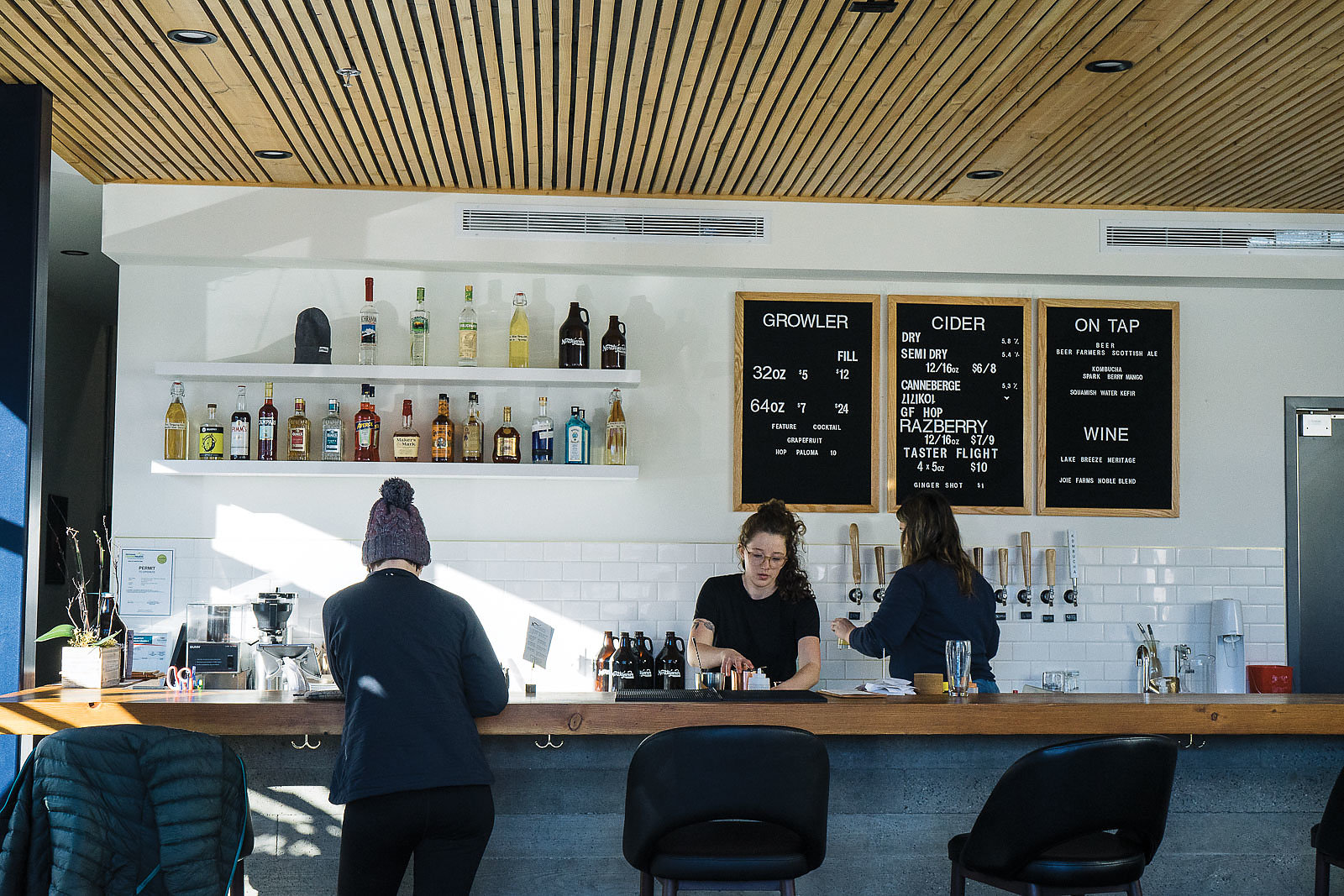 Last fall when they were newly opened, Northyards Cider Co. supported two heritage fruit tree gleaning projects in Squamish and Pemberton, gaining access to uniquely flavored apples and crabapples that will inform forthcoming batches. "This one tree in Squamish made the most sensational cider," Round says. "It had just incredible tannins. Right off the tree. I don't even know what kind of apples they are. Cider is so much about the expression of the apple." The species was walked out of a valley in Kazakhstan along the Silk Road and into North America by First Peoples 11,000 years ago and there are currently more than 7,500 cultivars.
The apples used by Northyards come from a small family farm in Oyama in British Columbia's Okanagan Valley—100 percent BC apples, pressed and fermented. No sugar, water, flavoring or grain alcohol is added to produce the five different dry and semi-dry ciders. The "flavorings" for the passionfruit and cranberry blends are derived from fruit puree. "We don't use a chemical concentrate or any garbage like that," Round says. "We don't add any sugar. It's just the fruit."
While using traditional methods for this old-timey beverage is important to Round and van der Ree, they'd like to see the regulatory and tax framework for craft cider get a lot less old-school. Currently, in British Columbia, cider doesn't even exist as its own category, so Northyards Cider Co. is taxed in the same way as a commercial winery that imports cheap fruit and uses additives, paying a penalizing 72 percent markup on their product to the government—meaning for every keg of all-BC craft cider they sell, the province of British Columbia makes more money than they do.
Undaunted and sustained by the dream they're now living, the pair are working their way through that mucky situation, with van der Ree writing position papers and letters advocating for a change in liquor laws and policy. When all the lawyering work starts to feel like too much of an uphill slog (she's also a partner in a local law firm specializing in corporate/commercial, real estate and estate planning), she seeks happy reprieve at the cidery, coming up with ideas for events, dreaming up menu items and lending her palate to the process of tinkering with the volume of different apples and other fruits to get the right balance of fruitiness, body and acidity.
"It lets me act out my fantasy of being a sommelier," van der Ree says. "It's an amazing creative outlet for me. And I get to hang out in the beautiful space we created and drink our delicious cider and eat our amazing food."
Which would be enough to sustain anyone.