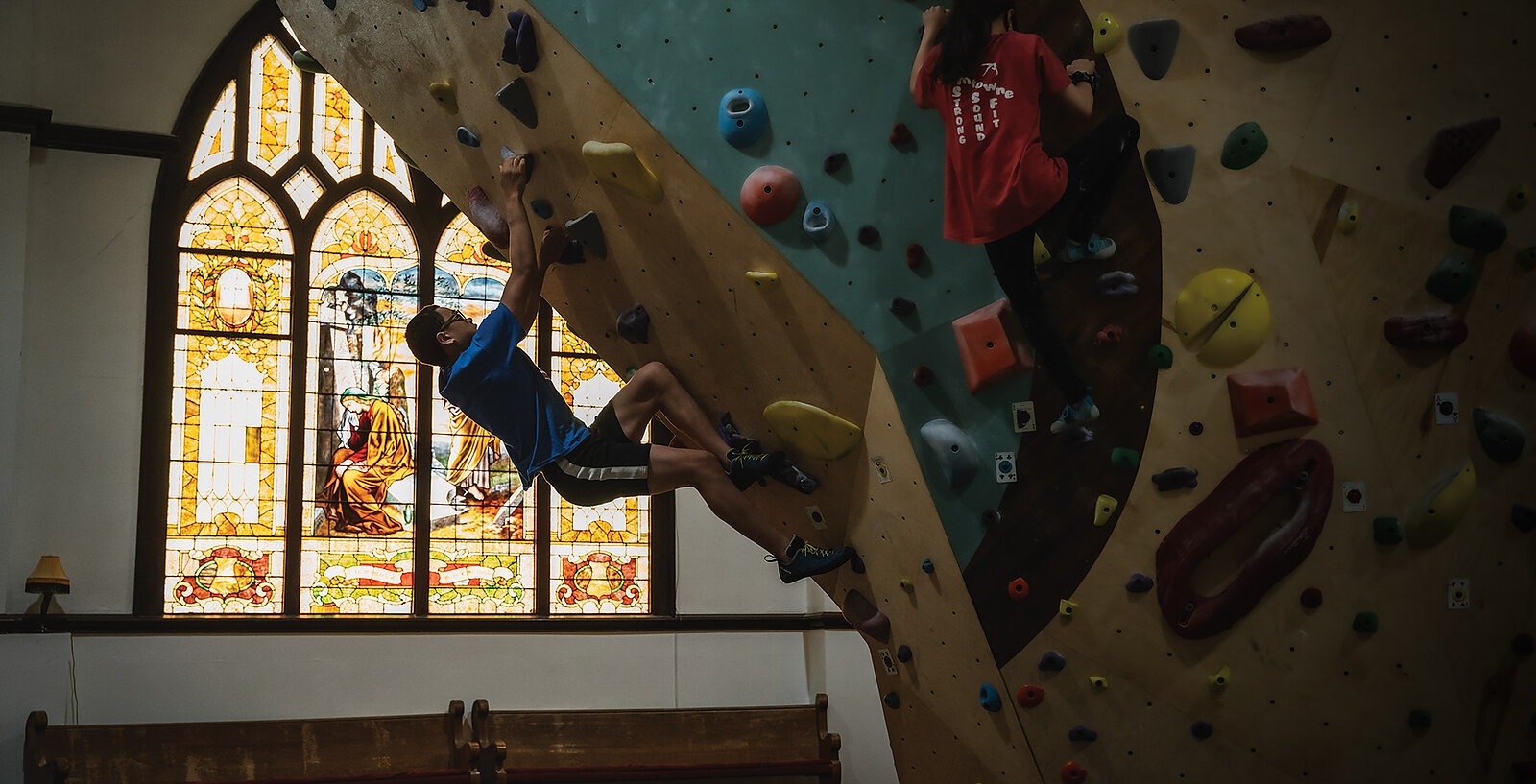 From Church Pews to Crimpers Hood River's Asbury Church is Born Again as a Bouldering Gym
Anyone who rolls into Hood River, Oregon with a kiteboard, bike, kayak, or pair of skis can attest that when Mother Nature set out to craft the Columbia River Gorge, she was feeling extra creative.
She called in her most powerful and transformative tools to help with the job—volcanoes bursting and thrusting upward into the skyline, creeping lava rolling over the landscape that hardened into dark basalt and a succession of ancient floods so massive they chiseled a gorge right through.
And now, smack in the middle sits one of the Gorge's proudest new additions: Brimstone Boulders.
Years ago, Jen Altschul—Brimstone's co-owner and visionary—moved to Hood River to spend a few winters working as a ski patroller at Mt. Hood Meadows. She fell for the sweeping landscape, variety and quality of world-class activities all within striking distance, and, most notably, the community that interwove itself so intentionally throughout it all. Even when new endeavors took her north to Seattle, she never stopped looking for a way to grow more permanent roots in the Gorge.
"I was always going back and forth between Hood River and Seattle," Jen says. "Every time I came back to visit it felt like coming home." One rainy, cold day, when Jen and her partner and fellow Brimstone Boulders cofounder Conor Byrne were in town, lamenting about the muddy, unrideable trails and "shit snow," they fired up an old conversation about their dream of building a climbing gym in Hood River.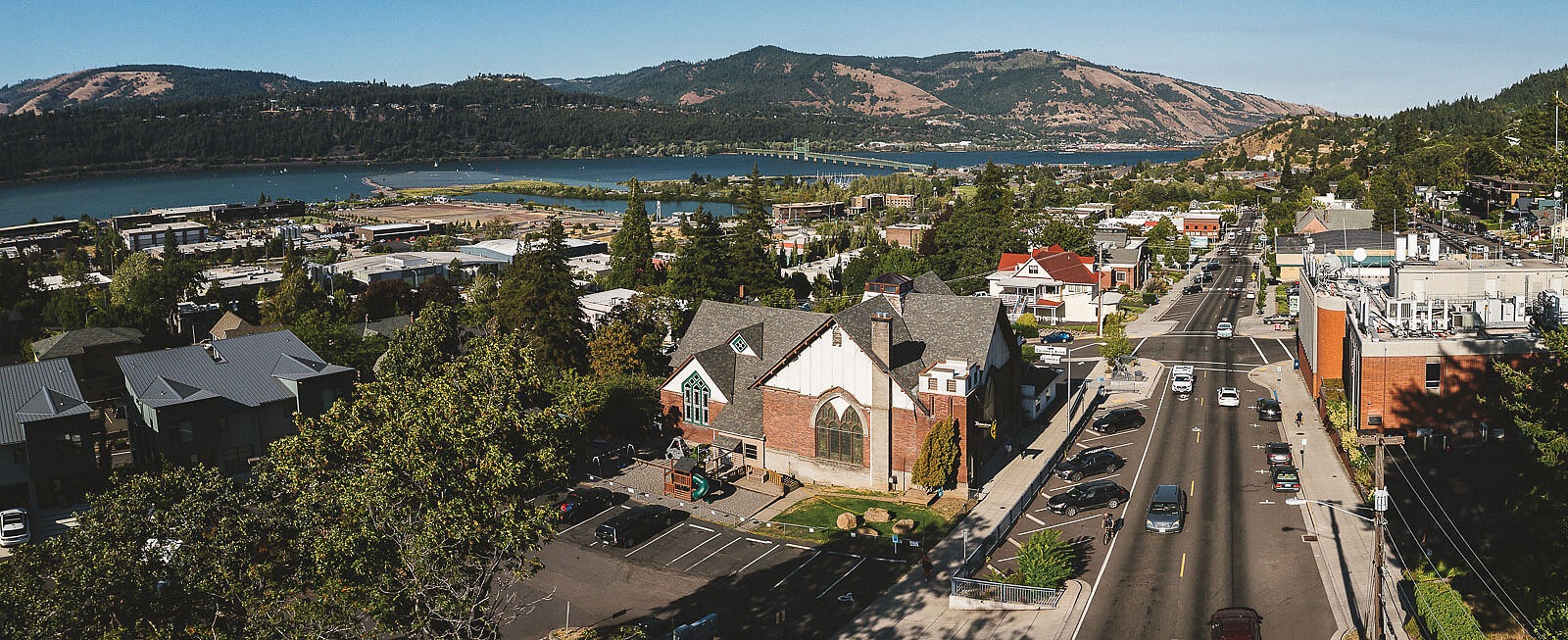 "At that point, it was just a nugget of an idea," Jen says, sitting underneath the 15-foot-tall stained-glass windows in the back of Brimstone. "We were just sort of thought projecting it. Would this even go? What's available?" Jen admits that she and Conor knew the notion of a climbing gym—one of the few activities for which Hood River is not world-renowned—would take grit and creative vision. But that didn't extinguish their flame. As an ultimate act of kismet, later that day she came across the old Asbury Church on Craigslist. Jen and Conor toured the church that afternoon and she remembers the moment they stepped through its thick doors with soft, cloudy-day light filtering through the dusty windows. "I was sold," she says.
Built in 1896, the original Asbury Church came with a lot of history. It weathered economic booms spurred by high-paced agricultural activities in the early 1900s and dark days in the 1940s during which Hood River's Japanese residents were forcibly removed from their homes. It stood resolutely in place as slow but steady growth of the wine industry and recreational tourism transformed everything around it. Until finally, in December 2012, the Asbury congregation held its final service and boarded up the historic building indefinitely. When Jen and Conor first laid eyes on the space, it had remained virtually untouched for years. Although it had been emptied of pews, the altar and other religious accoutrements, the colossal pipe organ remained.
That day marked a turning point in Jen and Conor's lives and was a definitive step for the town of Hood River as well. When Jen describes undertaking the monumental renovations, she does so with a sparkle in her eye. The couple spent more than a year completely gutting and rebuilding the space, working with a contractor that helped them preserve the character of the old building while creating something new and inspiring.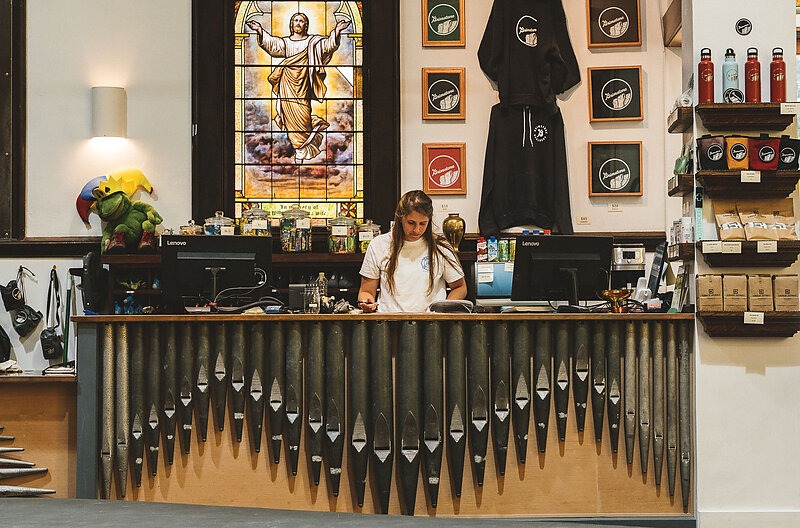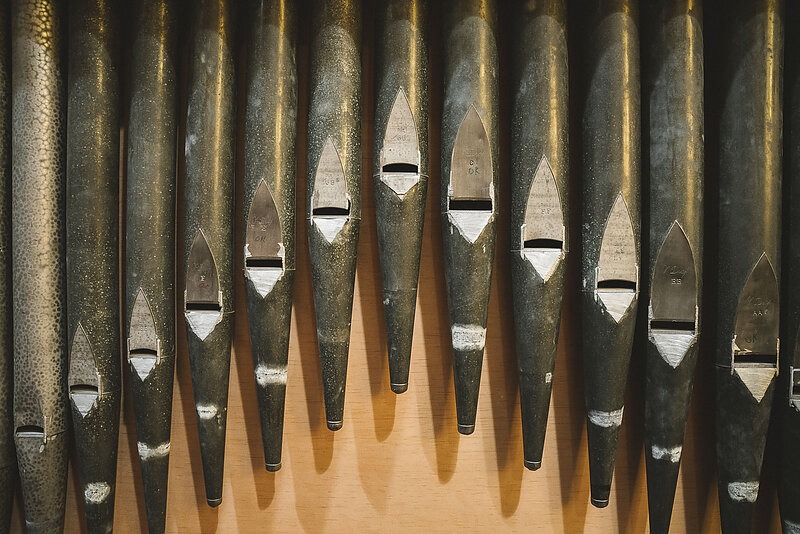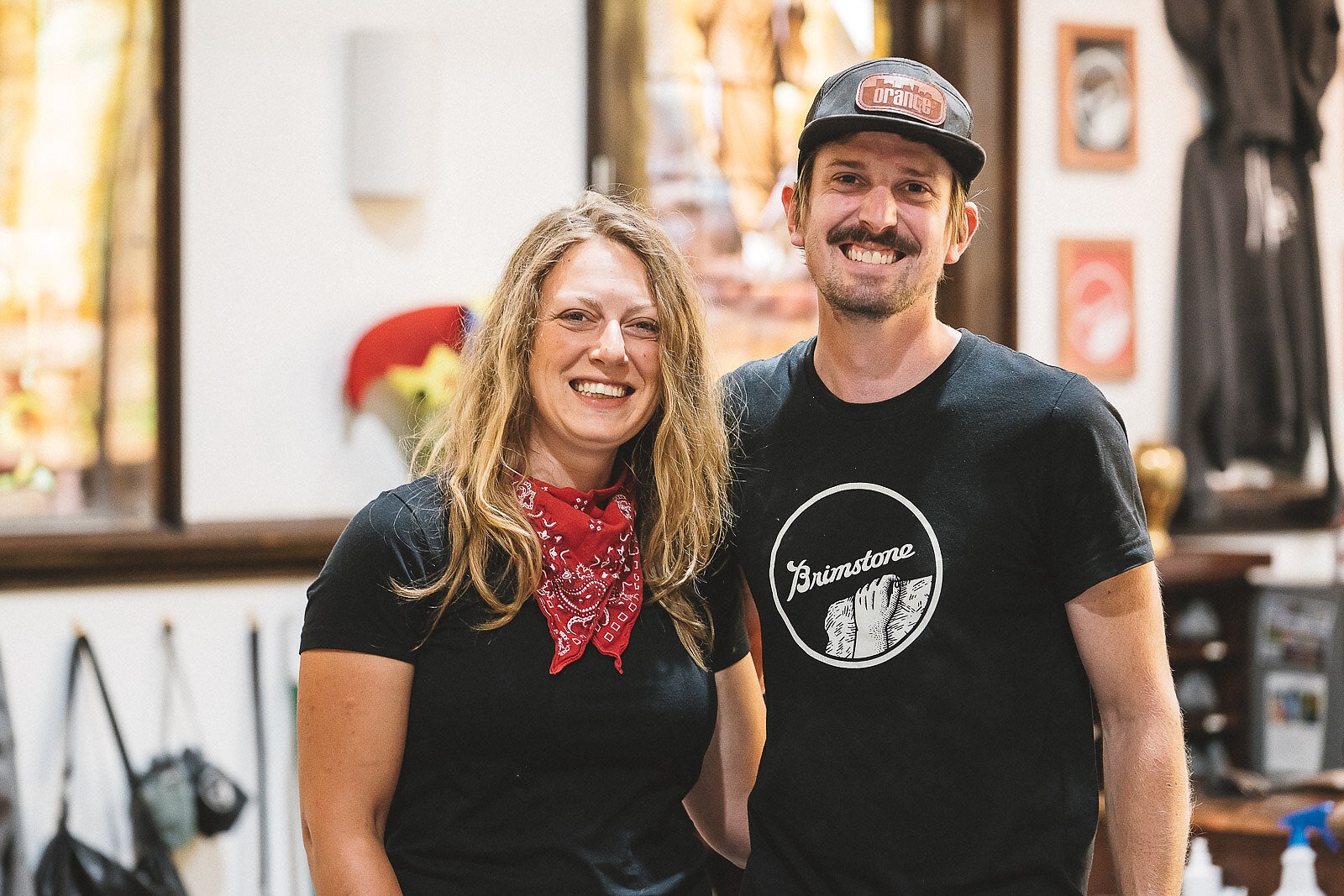 "It broke my heart to pull the pipe organ out," Jen says with a sigh. "There was so much craftsmanship there. But the thing probably took up 200 square feet. We tried so hard to build the gym around it, but we just couldn't." Instead they reincorporated it elsewhere. Walking into Brimstone, it's easy to see the way creativity washes over the entire space. iPads with digital waivers sit atop the old console. Flute pipes line the front desk. Reed pipes line the back wall. Everywhere you look, details of the thoughtful design abound. For those with childhood memories of Sunday service, it almost feels like a cranky old lady holding a hymnal could pop out to shush you at any moment.
"Even though we entertained the idea of creating a few sport-climbing routes," Jen says, "Conor felt sure about creating a bouldering gym from the beginning." In Seattle, Conor spent years working at a bouldering gym, which fortified his conviction that the inclusivity and opportunities for community gathering that a bouldering gym facilitates are truly unmatched. It was common for him to see families who didn't speak English come in to climb—the lack of dedicated classes or formal instruction needed for bouldering means that most can try out the sport easily.
COVID-19 forced Brimstone Boulders to close for much of 2020 and a significant slice of 2021. Even though they opened their doors just two months prior to the pandemic, the Hood River community persisted in showing up.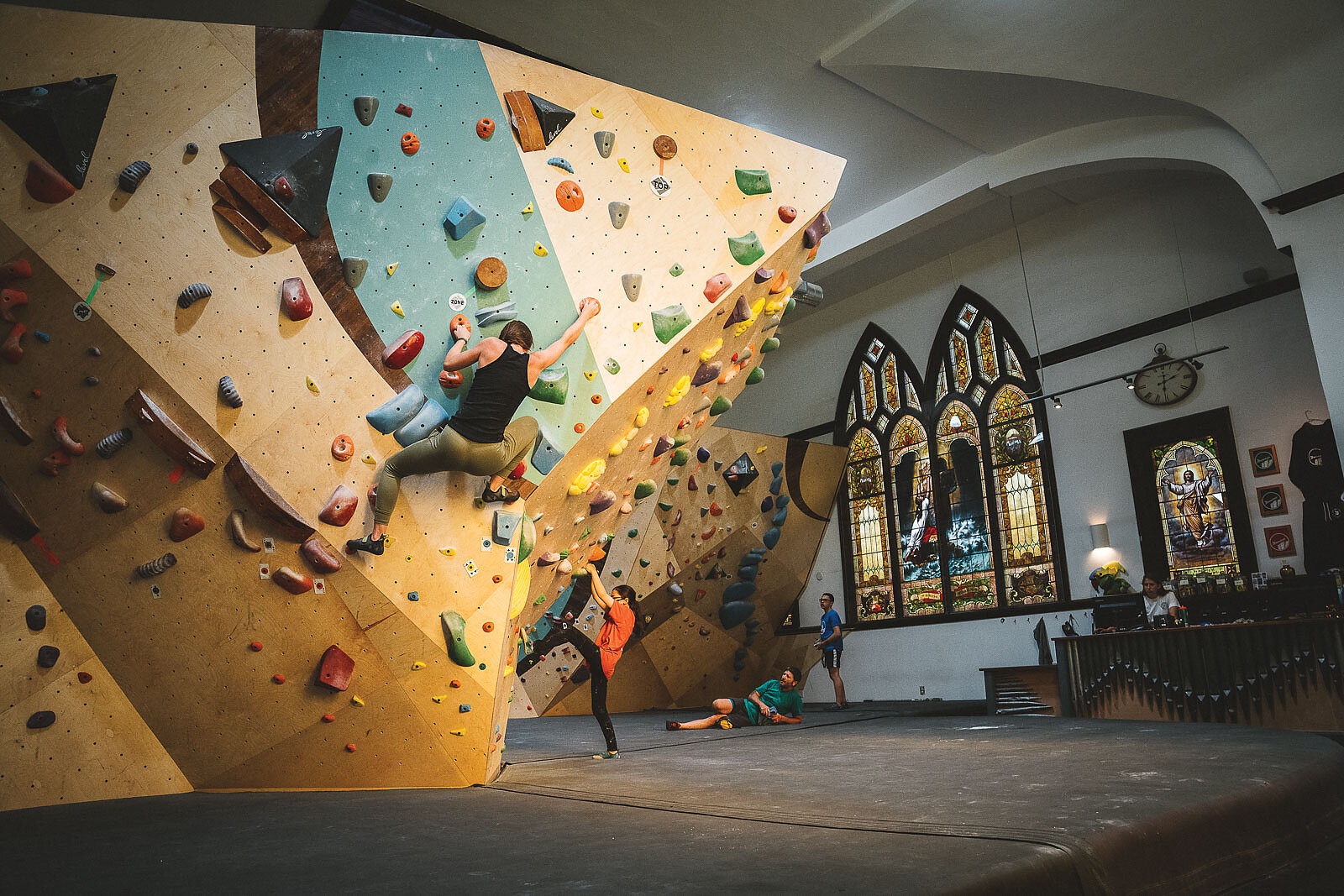 "Something a lot of people in the Gorge understand is the power that comes with a friendship formed over a shared activity. And the thing about climbing is that no matter how good you are at it, you're still pushing up against your point of failure," Jen says. "Even two people working problems on the opposite ends of the difficulty scale are having the same experience. That's pretty cool."
Now it's been just a handful of weeks that Oregon's COVID mandates have allowed them to operate normally. For Jen and Conor, that means their dream of creating a space where people from all walks of life can feel welcome is starting to take shape.
"Truthfully, I give our staff the majority of the credit for [creating an inclusive space]. We've managed to acquire a phenomenal team. That has a lot to do with folks' experience. We're so lucky to have that and them," Jen says. When the topic of conversation drifts from the COVID-constricted past to the future of Brimstone, Jen lights up, saying "exciting things" are in store for the business though she's not quite ready to divulge more details. But for Hood River residents who have long hoped for an indoor climbing facility, Brimstone is already a savior.