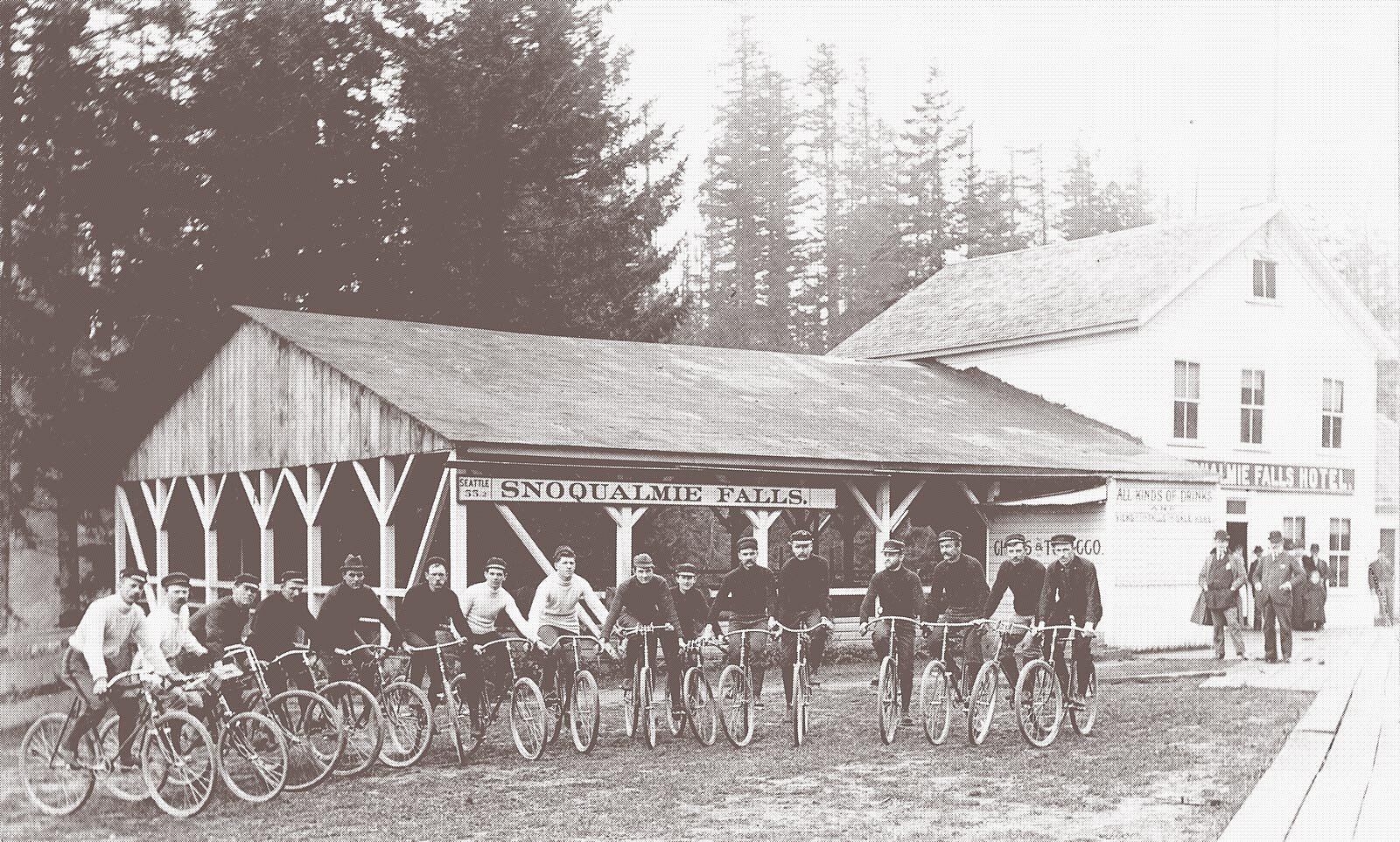 The Cycle Capital Washington State's Celebrated Passion of Cycling
Whether you're cruising a Seattle neighborhood greenway or pedaling singletrack to the top of a mountain, it's undeniable that Washington state is good to cyclists.
In fact, the state has owned the number one spot on the League of American Bicyclists' bicycle-friendly state list every year since the organization began ranking in 2008.
The roots of this cycle culture run deep—more than 140 years deep. The first bicycle arrived in this corner of the country in 1879 on a steamer from San Francisco. Prominently displayed in the window of a bookstore in Seattle's Pioneer Square, it sold in just four days. In the following decade, significant developments in bicycle design made them safer and more accessible to men and women of all ages and abilities. It wasn't long before they were making appearances in newspaper articles and Fourth of July parades.
When Washington became a state in 1889, some 200,000 bikes had been produced nationwide. Ten years later, that figure had risen to more than one million. As always, cyclists were quick to test the limits of their machines. Some set speed or endurance records while others went after awards for completing the most miles during a cycling season. Relay and century races were popular, and a few ambitious bikers even put their wheels to the test against trains.
By the late 1890s, about 10,000 Seattleites rode bikes, more than 12 percent of the city's population. But cycling on bumpy lanes and competing with horse-drawn wagons were challenging. Raised streetcar tracks caught many a tire. Sidewalks, if they existed, were just wooden boards over muck. As cycling expanded from a hobby to a viable mode of transportation, cyclists demanded better roadways.
A group of Seattle bike enthusiasts came together to create the Queen City Good Roads Club to raise awareness and secure funding for better roads. The need was pressing, said one cyclist at a club meeting on July 24, 1896: "What we want is a place to ride out of the city, away from the street cars and teams, and if that bicycle path is started, they may count upon me for a subscription of $25 the moment the contract is signed for the work."
Tacoma quickly earned a reputation as a welcoming town for cyclists. Its West Flume Line Trail stretched to Eatonville, and the Galliher Gulch Bicycle Bridge, built in 1896 and measuring some 110 feet high and 450 feet long, was the "longest, highest and only exclusive bicycle bridge in the world," according to its sign. By 1898, the Tacoma Wheelmen had developed a trail system extending to Longmire at Mount Rainier National Park.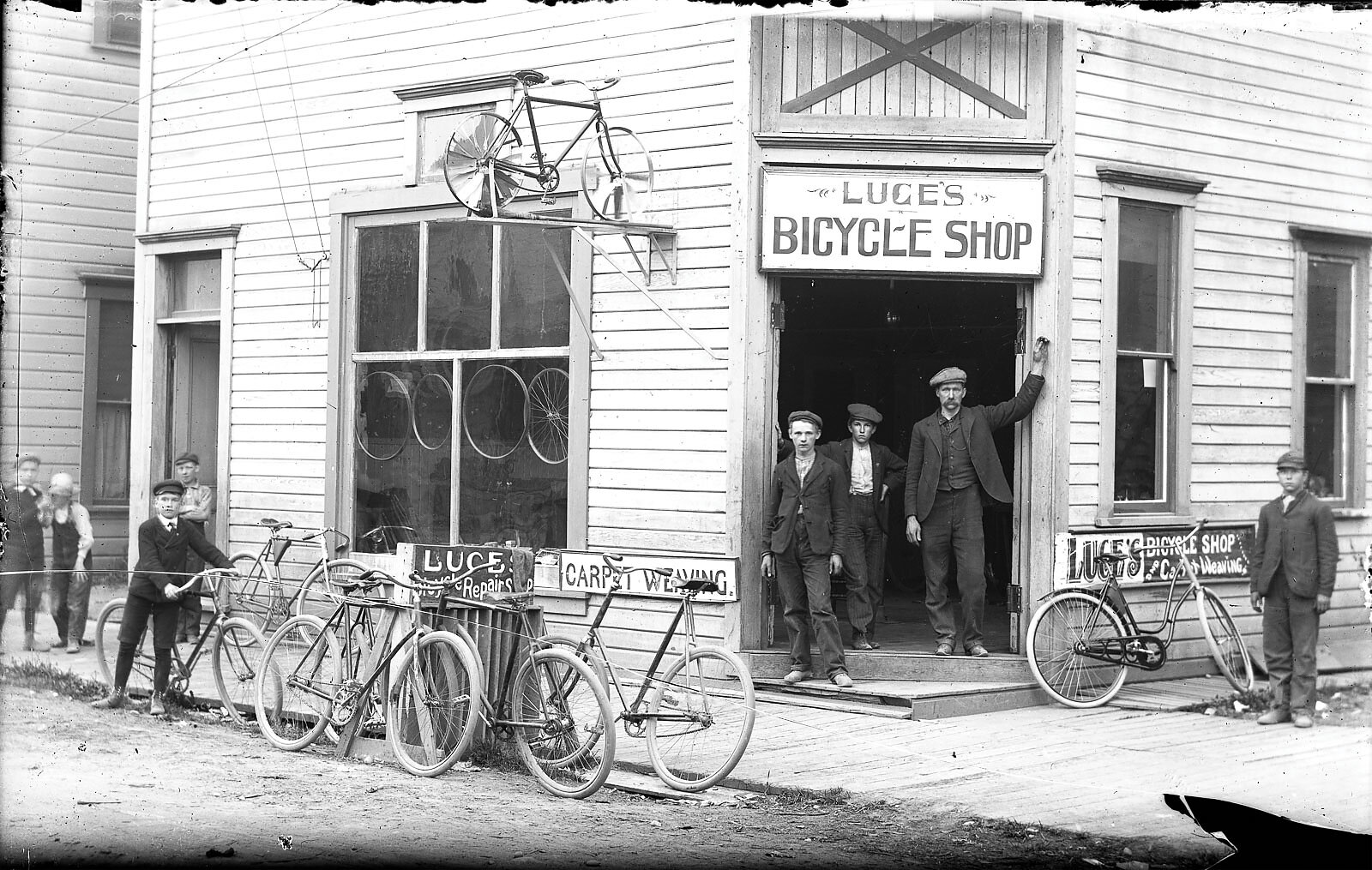 Before the turn of the century, Seattle had inaugurated 25 miles of bike paths, laid out by city engineer George F. Cotterill, a founding member of the Queen City Good Roads Club. The paths were well maintained by city engineers, perfect for both recreation cyclists and commuters, and patrolled by bike cops who made sure speed limits were obeyed. Bike shops were popping up in and around Seattle—20 of them on Second Avenue alone—selling the latest models and newest gear.
But when the automobile came on the scene, cycling took a nosedive. Participation in cycling clubs dwindled and by 1905, many thought recreational cycling had run its course. During World War II, as gas was rationed, bikes became popular again only to be rationed themselves. After the war, manufacturers geared up their production lines, but bikes were being made mostly for children, not adults.
Slowly things began to change. In 1968, Seattle initiated Bicycle Sunday, closing Lake Washington Boulevard to cars for a day. Earth Day was inaugurated in 1970 to raise environmental awareness. And two young Mercer Island residents—Mike Quam and his younger brother Rick—came on the scene.
As avid cyclists, the Quams saw the need for better bike paths and they decided to do something about it. They called a meeting for cyclists on July 29, 1970, which took place at an elementary school on Mercer Island, and were astonished when 30 people showed up. The Cascade Bicycle Club was born. Within two years, membership had grown to 300.
Urban cycling took off, spurred by the environmental movement, energy crisis and interest in a healthier lifestyle. Washington bike enthusiasts created cycling clubs, launched legendary bike rides such as the famed Seattle to Portland ride, and lobbied to create the mixed-use Burke-Gilman Trail, which opened to great fanfare in 1978 with an initial 12.1 miles.
When mountain bikes appeared on the scene, Washington cyclists naturally embraced the movement. Today, there are great trail systems on both sides of the Cascades. Issaquah's Duthie Hill opened in 2010 and packs a lot of variety into a small footprint. Its network of trails zips through dense forestland and can accommodate all skill levels. To the north, outside Bellingham, is Galbraith Mountain, with hundreds of trails and a fervent local scene.
With more than a century of cycling history in Washington state and a population that relishes the sport, there's no disputing that number-one rank. But the impact and benefits of this two-wheeled culture go far beyond placement on a list. In the words of renowned frame designer and author Grant Petersen, "Think of bicycles as rideable art that can just about save the world."