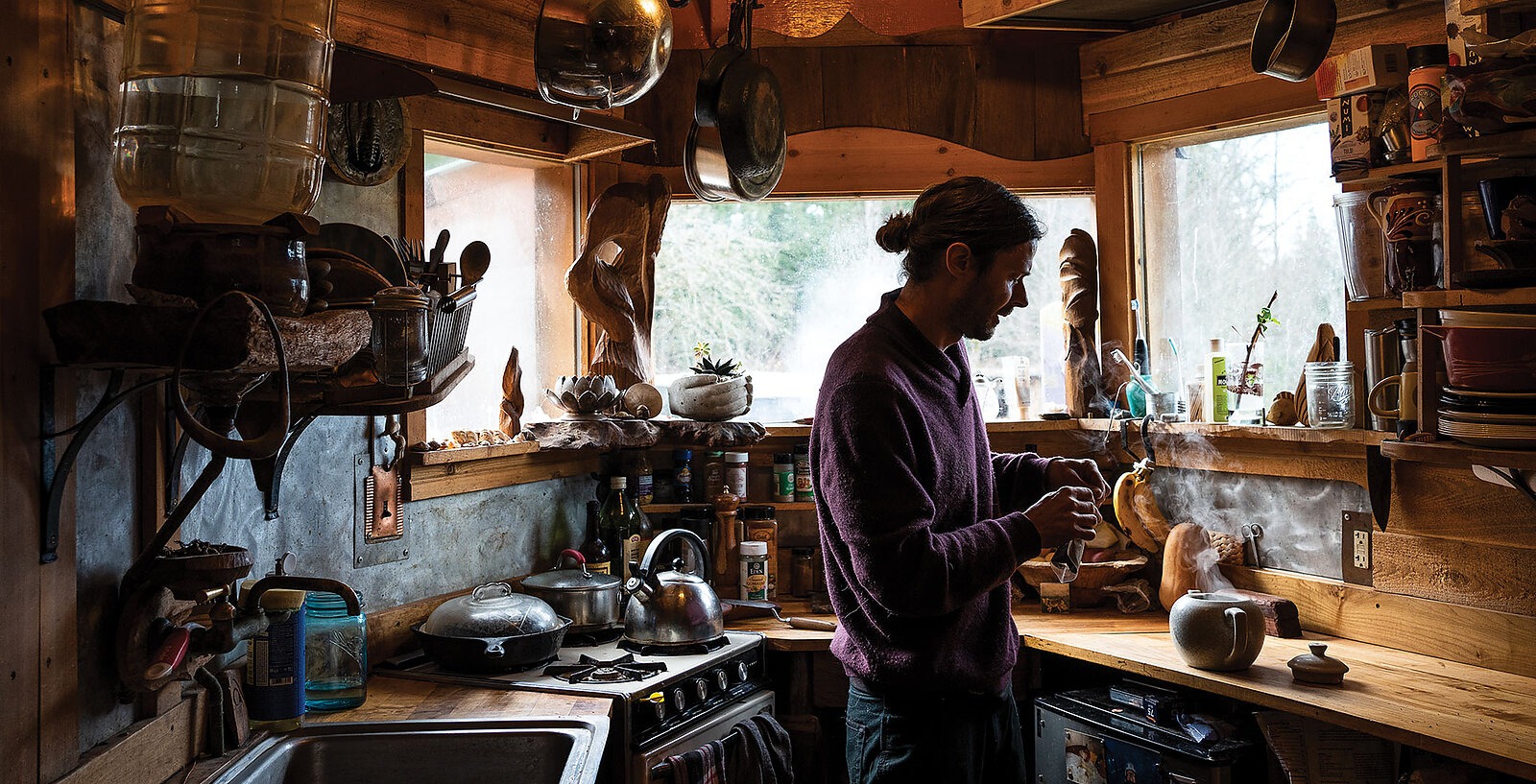 Depths of Imagination Travis Skinner Wants Material to Inform Design
It was a crisp, not-quite-spring day when I drove up Travis Skinner's driveway near the north end of Lake Whatcom in Bellingham, Washington.
A light breeze coated the property with pollen grains, though residual frost from the previous night suggested winter still clung on. There wasn't a mailbox or a house number visible near Travis' residence on the property, but an array of sculptures, structures and wood scraps confirmed I was in the right place. Py, his four-legged companion, greeted me with a frisbee in his mouth and a string of dangling slobber.
My eyes went immediately to the front yard's main exhibit, one of this woodworker and sculptor's most impressive pieces: the Anglerfish—a 17-foot model of a female anglerfish that doubles as a wood-fired sauna on wheels. The Anglerfish, which Travis completed in late 2018, is a female representation of the deep-sea species known for its formidable fangs and the protruding luminescent lure it uses to attract prey as it slowly drifts thousands of feet below the ocean's surface in complete darkness.
Travis is well-versed in more than just woodworking, and in some ways the Anglerfish project is the physical manifestation of a person whose imagination knows few boundaries and operates with minimal distraction. He favors pen and paper over screens and spends much of his free time whittling, sketching or reading. Sit down for a cup of tea with him and the conversation meanders from design to the history of saunas to soccer to skateboarding. He's a compelling storyteller who, far from rambling, of ten connects diverse themes back to a central thread of sustainable living.
Raised in Baltimore, Travis now resides in the Leafspring, a tiny home he designed and constructed. Outside the front door, a hunk of partially chiseled wood about the size of a small bathtub sat on a sawhorse. He briefly and effortlessly demonstrated proper wood carving technique—it looked simultaneously tedious and relaxing. Travis wasn't sure what its final product would be, but the covered location of this makeshift shop allows him to work when inspiration strikes.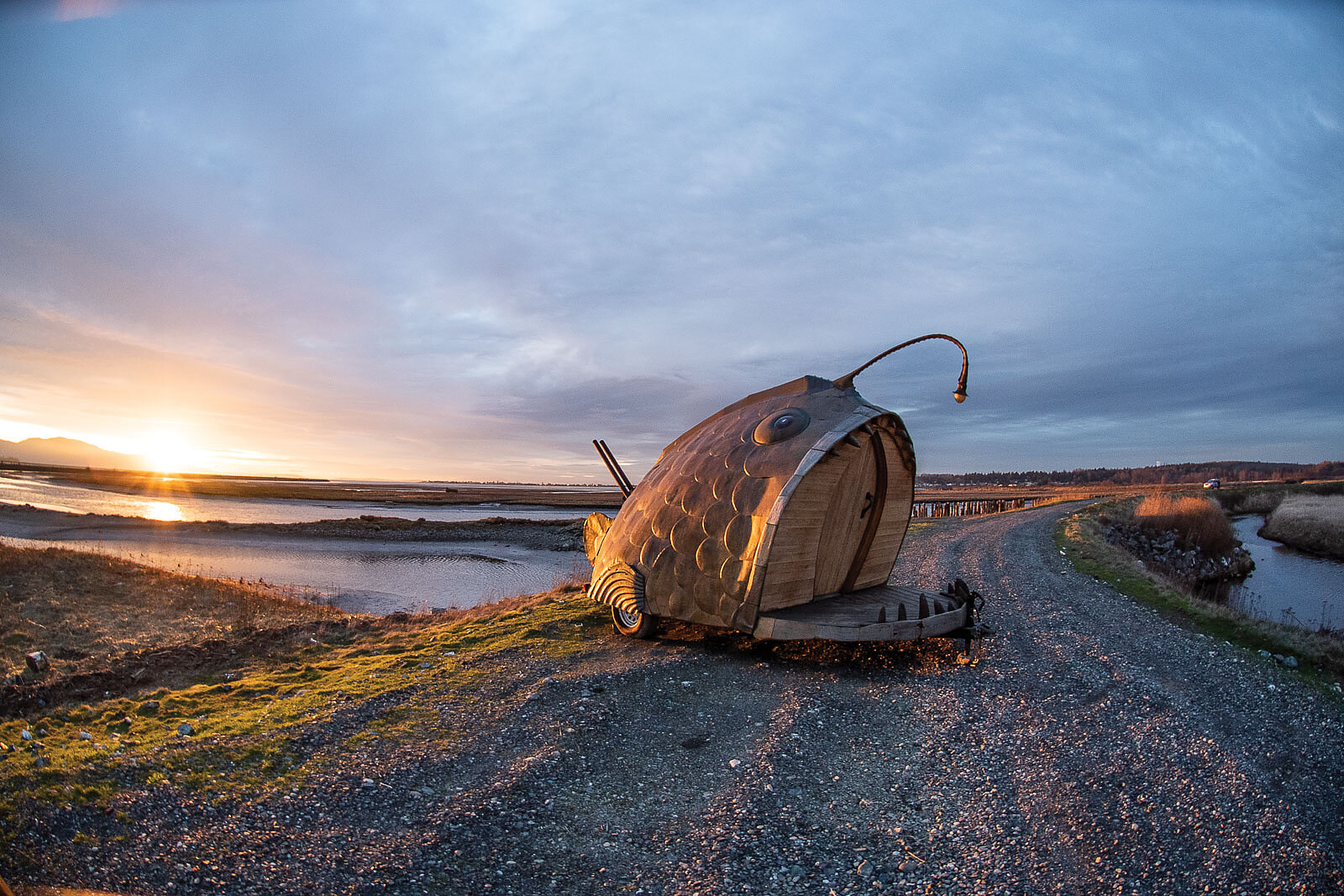 Inside the Leafspring, Travis put a kettle on the stovetop. There's no running water in his home, just a large vessel perched on a shelf above the sink. The Leafspring's "living room" is a bit cozy, so Travis made a few rearrangements. By releasing a notch, a wooden board unfolded from the wall and, in reorienting it perpendicularly, a table appeared. The space was quickly transformed from a small breakfast nook for one into a full-fledged dining room, fit for several friends and a feast. He offered a smirk of satisfaction as I gawked at his engineering and design feat.
Travis hails from a family of boatbuilders—making efficient use of tight quarters was ingrained in him early. Despite being exposed to building from a young age, it wasn't until after college that he jumped headfirst into his own pursuit of craftsmanship. Travis recalls snippets of a childhood that hinted at his future. As a 14-year-old, he sometimes spent math class making flipbooks of skateboarders. Detention followed, as did more sketching. But skating meant more than just doodling to Travis.
"[Through skateboarding] I learned how to fall over and over again. I learned how tenacity could overcome negativity," Travis says of the sport's influence on him. "Learning to be a good skateboarder meant studying the craft, watching how people skated and how their bodies moved. Later, as an adult, I began embracing craft as a life practice [but] that seed of skateboarding lived on in my veins."
As a young adult, Travis moved to Olympia to pursue a degree in environmental studies at Evergreen State College. He quickly found that the most formative part of his experience took place outside the classroom, in the form of a relationship. Travis met Bill Dawson shortly after moving to Olympia, and they built a reciprocal friendship; Travis helped Bill with various projects and, in exchange, Bill taught Travis metalworking and woodworking techniques. Travis was engrossed instantly, and he devoured Bill's knowledge of metal arts and the history of arts and crafts. It was through this relationship that Travis realized craft could be a way of life.
"I recognized that my connection to wood as a material was deep inside my soul," Travis says, "My hands allowed me to experience that connection without my thoughts getting in the way."
Working with Bill led Travis to establish a core concept that pervades all his artistic endeavors. Travis calls it material-based design (MBD), a design process that inextricably melds an artist's relationship with a material to the final product or desired outcome. It's a relationship that takes time, investigation and experimentation to build, and it applies to any medium be it wood, cardboard or, in Bill's case, metal.
"Hold it, smell it, cut it, light it on fire. Break it. Discover where it is weak so you can understand the limitations and represent the true strengths," Travis says, describing the process of MBP. "When you experiment with a medium, you are learning from it and building a relationship."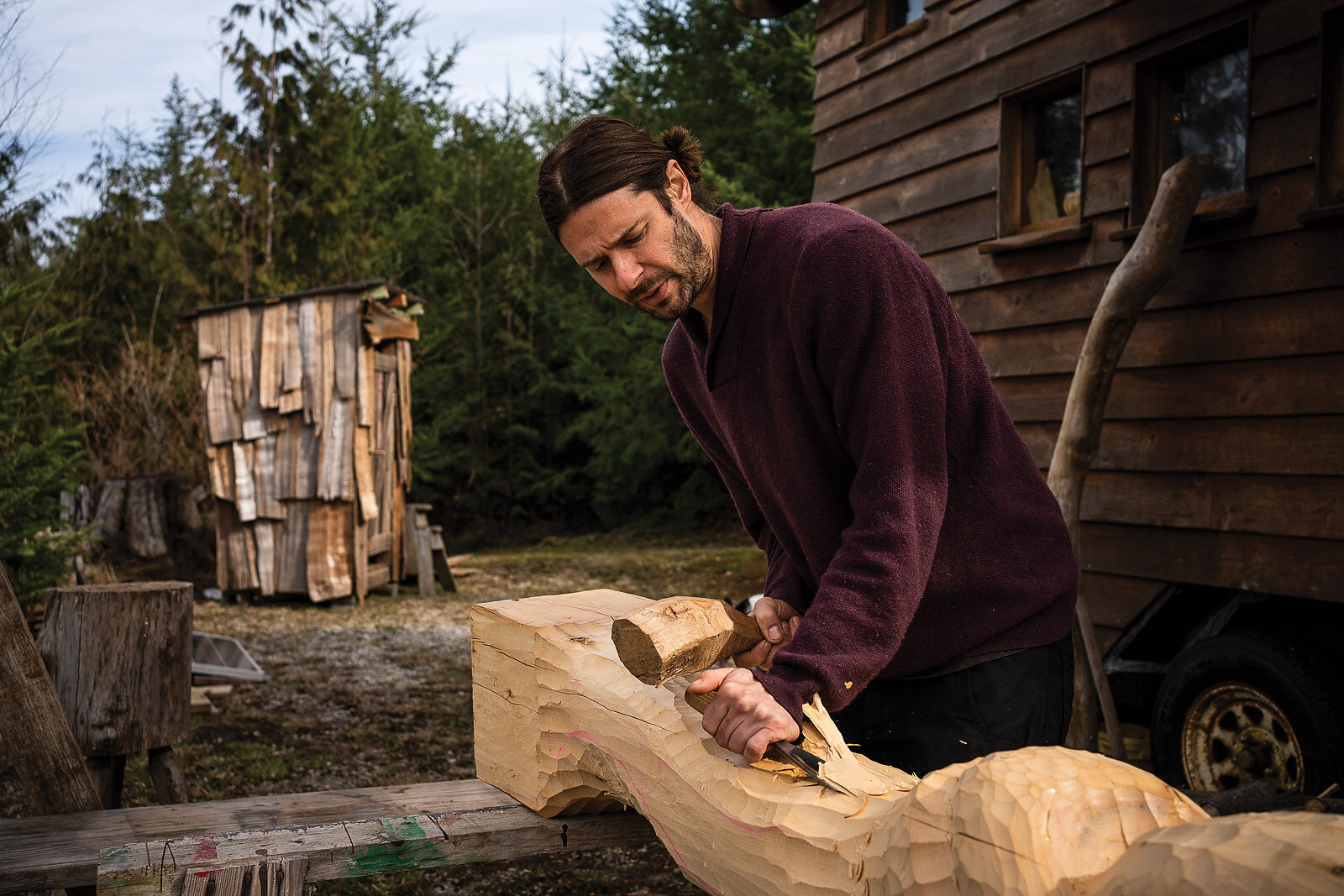 In material-based design, the characteristics of the material guide the construction and, according to Travis, "If we take time to develop intimate relationships with different media, we produce creations that utilize the strengths and natural beauty of the materials."
The Anglerfish sauna is his most exemplary example of this practice.
In an effort to further share his personal philosophy, Travis recently published Anglerfish Sauna: Material Based Design and Deep Sea Sculpture, a multimedia narrative that combines illustrations, articles, photographs and, yes, even a flipbook, into one story that outlines the creation of the Anglerfish sauna from original concept to finished piece. The book covers steps in the build process including welding the scales, installing the woodstove and spraying the foam that serves as both an insulator and a waterproof sound barrier. Each page is chock-full of photographs and conceptual design sketches, and each guides readers through the journey of the project bit by bit.
"I have seen my share of innovative saunas," writes Mikkel Aaland, a Norwegian author whose work highlights the use of saunas in various cultures, in the book's preface. "Until now, I have never seen a sauna in the shape of a fish … It's my hope this book will inspire you as much as it did me."
More than just a shiny portfolio of woodworking chops or design aptitude, the book is an amalgamation of intimate relationships between artists and their respective materials—James Hubbell the wood miller, Kevin Regan the glassblower, Loren Patterson the welder.
"Each craftsperson had integral influence on the design of the Anglerfish sauna through the unique application of their media expertise and creativity," Travis says, who points out that without Regan, the Anglerfish wouldn't have her piercing turquoise eyes, and without Patterson, her brass scales and bronze tail wouldn't glimmer in the March sunlight.
But why an anglerfish and why a sauna? Dwelling in the deepest and darkest corners of Earth, anglerfish are avatars for mysterious places. They're mythical and otherworldly and, according to Travis, "She shines the light of creativity even in the darkest depths."
Travis has always found inspiration in the ocean and the spectacular, alien-like structures of the creatures that reside there. A chandelier with copper jellyfish etched on its bottom hangs in his home and he's made numerous drawings and carvings of other exotic sea creatures such as radiolaria and trilobites.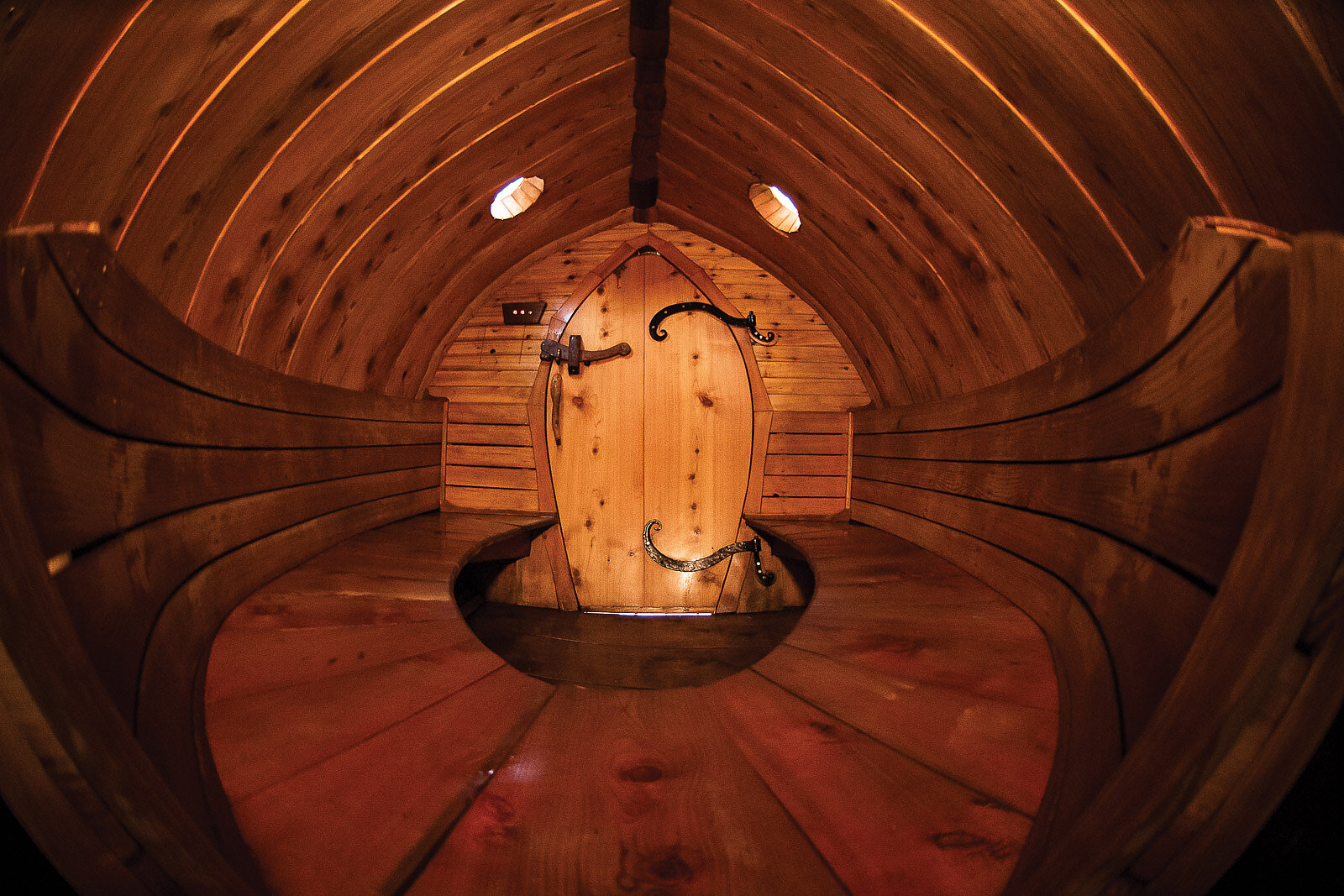 Unlike the two-dimensional art Travis remembers hanging from Baltimore museum walls during visits as a child—most created solely for decorative or commemorative purposes—the Anglerfish also serves a function.
"You are part of the piece and to experience it you have to take part," he says.
Several pages near the beginning of his book are devoted to explaining the advantages of regular sauna use, and Travis' eyes light up when discussing their social, spiritual and physical health benefits. He believes saunas bring people together in a healthy way, and that they create an ideal atmosphere for community building. As social group participation across the United States continues to shrivel, and as Americans report shockingly high levels of loneliness, Travis sees the sauna as an antidote, a place devoid of modern technology that fosters intimate face-to-face storytelling, a place to process life, a place to connect with strangers that, all the while, is invigorating to the senses and immune system. In sweating, we are transformed.
"Your pores are able to release toxins and debris," Travis says of regular sauna use, "You shed your dead skin and cleanse the largest organ of your body."
Travis usually pairs his own sauna sessions with dips in ice cold water, which explains the canoe filled to the brim with ice next to the Anglerfish.
Back at the Leafspring, I returned my empty tea mug to the sink. Glancing around at the space, I noticed something I'd missed before: angled monkey bars that hang from the ceiling like steps toward his bed in a small loft, a feature that serves to make his visitors smile, as well as save space by forgoing a more conventional ladder.
"I somehow skirted around the white picket fence of the American dream," Travis says, "I decided to park in its backyard and follow my own vision."