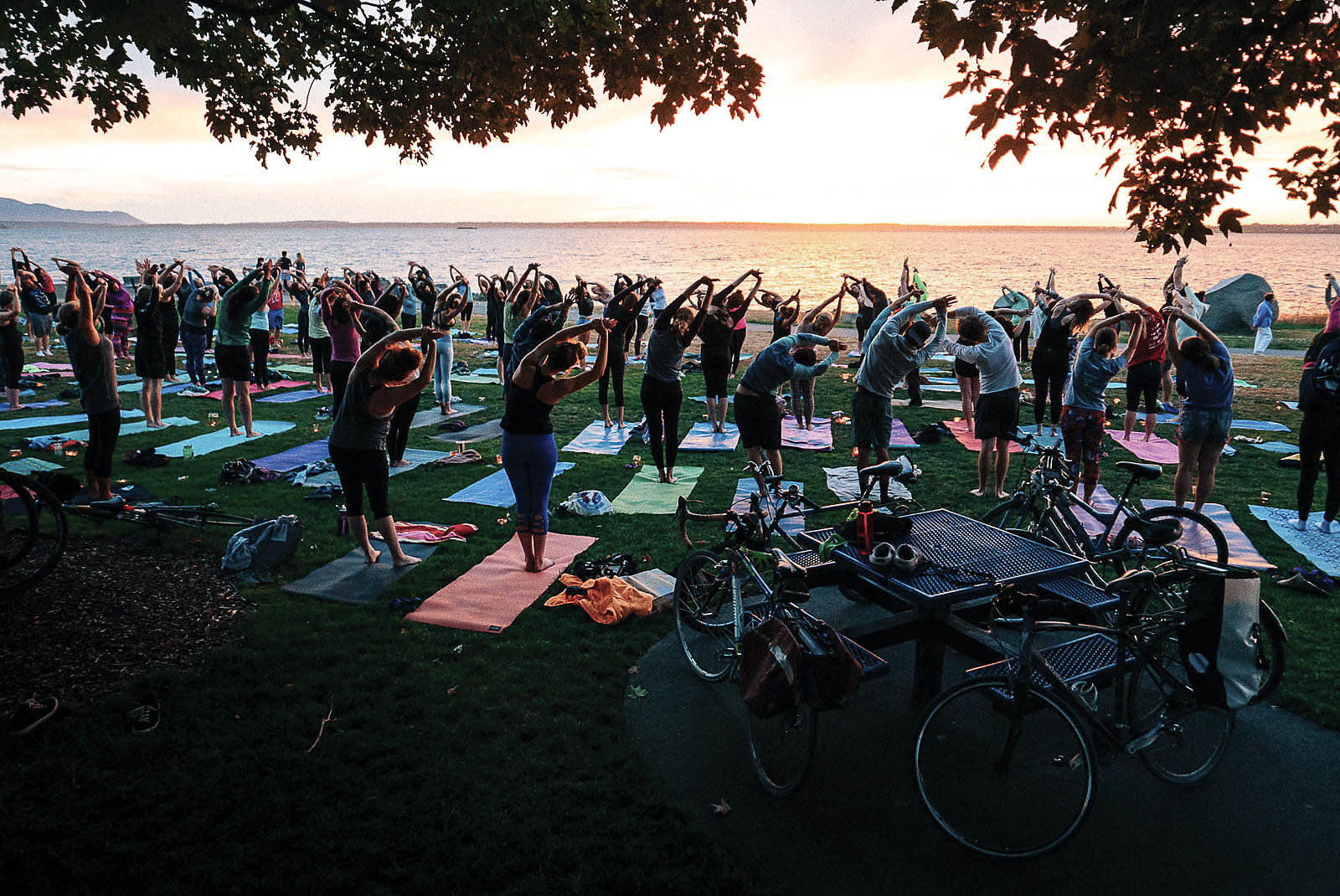 A Different Kind of Flow Lacy Kemp's Yoga in the Park
At sunset on select summer nights, a cluster of people unrolls colorful mats on the grass of Bellingham's Boulevard Park.
Bikers and joggers pause to watch as the group begins to work through a series of poses, their movements slow and smooth in the warm breeze. At the helm is Lacy Kemp, who—among many other things—works for Kona Bikes. This gathering is one of those "other things:" Yoga in the Park, a free yoga class aimed at providing a laid-back and open atmosphere for anyone who's interested.
It all began three years ago, when Lacy found herself not connecting with any of the yoga classes she attended in Bellingham. While not formally trained, Lacy has been practicing yoga for 16 years, so rather than give it up she decided to start hosting friends in her apartment.
As curiosity grew, so did the class size, and Lacy tried several locations—including a few local bike shops and the nearby Zuanich Point Park dock—before settling on Boulevard Park a year and a half ago. It's been there ever since (when weather allows), and has drawn as many as 130 people to a single class.
"I never expected the classes to do anything," Lacy says. "I never thought I'd be a yoga teacher. So to be doing this now, it's ridiculous. It's awesome."
Any biker who's tried yoga knows it offers a very distinctive flow, but while the two activities are different, they can also be complementary. Lacy stopped practicing yoga after she got into mountain biking, but picked it up again a few years later. As soon as she was regularly doing both, she noticed she felt better on her bike.
"I got hooked on yoga because it was such a different kind of motion," Lacy says.
Beyond building skills (both yogic and athletic), to Lacy the best thing about the recurring class is the community it brings together.
"You get all walks of life, either from Bellingham or people who are traveling through," she says. "I've met so many friends that are completely unrelated to any activity I do and I don't want to put a price tag on that."
Find up-to-date class information at the Bellingham Treehouse Yoga Facebook group or @bellinghamtreehouseyoga on Instagram.