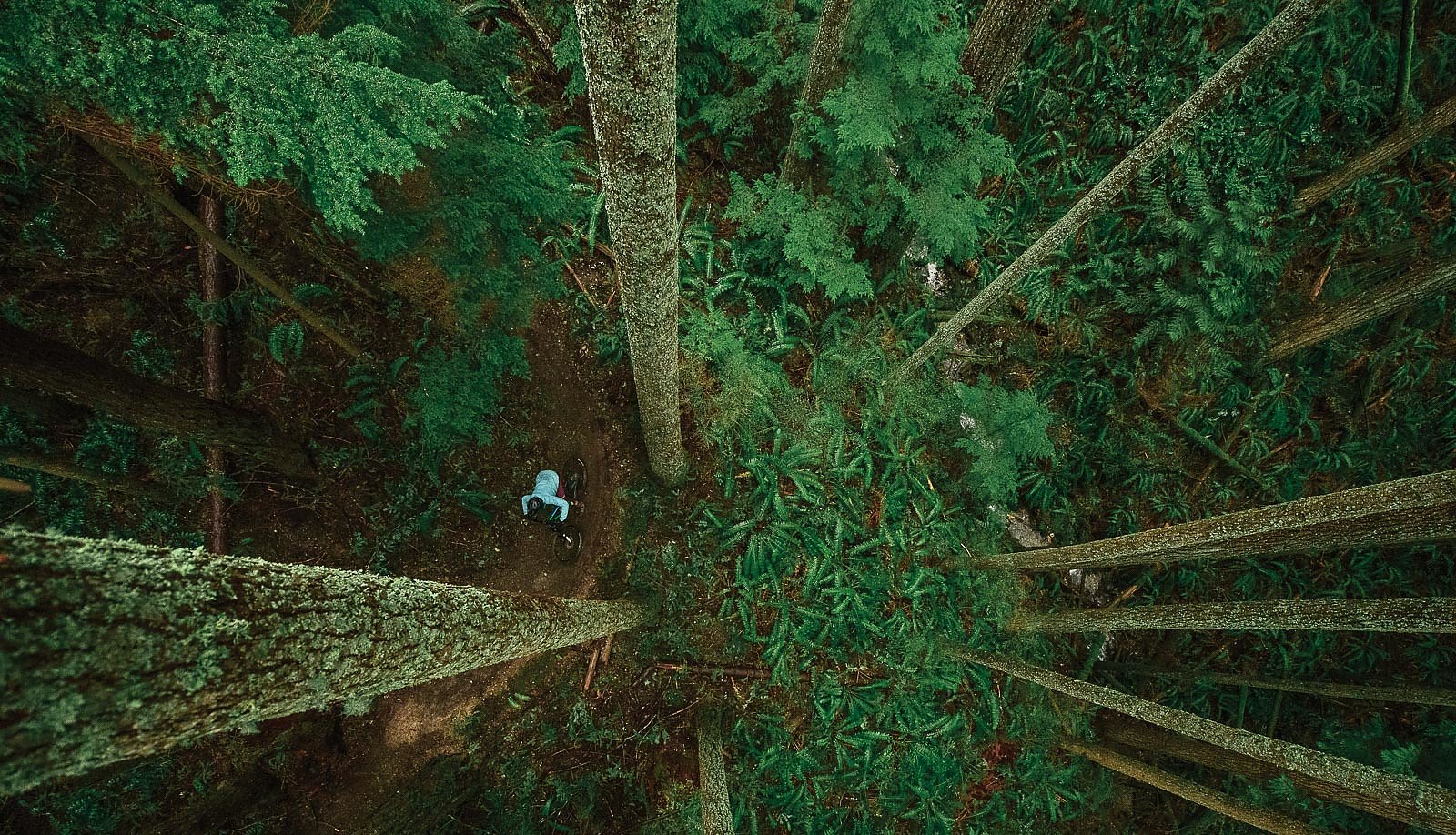 Drawing Her World Diversity, Inclusion and Connection with Brooklyn Bell
I couldn't help but sneak looks whenever she shifted her journal into view.
On the pages of Brooklyn Bell's small notebook were detailed and magical destinations, swirling with colors and full of mountains. We were sitting next to each other onstage in North Vancouver, speaking at a NSMBA conference on diversity in media. The confident and bright lines that had caught my eye were a stark contrast to Bell's nervously tapping foot.
The Bellingham resident in her early 20s may have appeared outwardly shy, but as soon as she began speaking, her strong voice and passion for change in outdoor culture radiated powerful energy. She captivated the audience as she told us about being a woman of color in mountain biking and about the future she sees for the sport. The next time we talked was over Skype, our interview slightly delayed so Brooklyn could fit in a ride after her college classes and before the short wintery daylight fades.
"I started riding my second year of college," she says. "I was working at a bagel shop in downtown Bellingham and I had a regular customer who would come in every morning. In the afternoons, I would go trail running on Gailbraith and I would see him mountain biking."
Finally, he asked Brooklyn why she wasn't on a bike. "I told him I couldn't afford it," Brooklyn says. "He had an extra bike and he took me on my first ride. I loved it. Loved it. Loved it! I dropped all the money I had in my bank account and bought a bike."
Brooklyn was still "processing through all the little puzzles" of progression a year into riding when she was offered a sponsorship deal from a big brand. She felt the offer was premature and she still had a lot to learn about mountain biking, so she turned it down.
"It was very evident that they were interested in sponsoring a woman of color and using me for advertisements," she says.
Turning that experience into something positive, the same day she turned down the sponsorship offer, she reached out to her friend Amanda Bryan who works for Kona. Brooklyn and a group of girlfriends had been riding the Kona Process and she felt a real connection to her bike.
Together, along with four other women, they founded the Kona Supremes, a Bellingham-based ambassador team that focuses on freeride and community and endeavors to empower women of all ages and skill levels.
"We wanted to take it a step further with the idea that empowering women would empower everybody and bring community to everyone," Brooklyn says. "As a team, we would have breakfast together, so we invited our community to be a part of this special thing we have. We did pancake feeds and hosted parties."
Over the last couple of years, they have done a shop ride every month and run pumptrack nights during winter. But the Supremes have also created the opportunity for Brooklyn to meld her passions for riding and art by doing the graphics work to promote these events.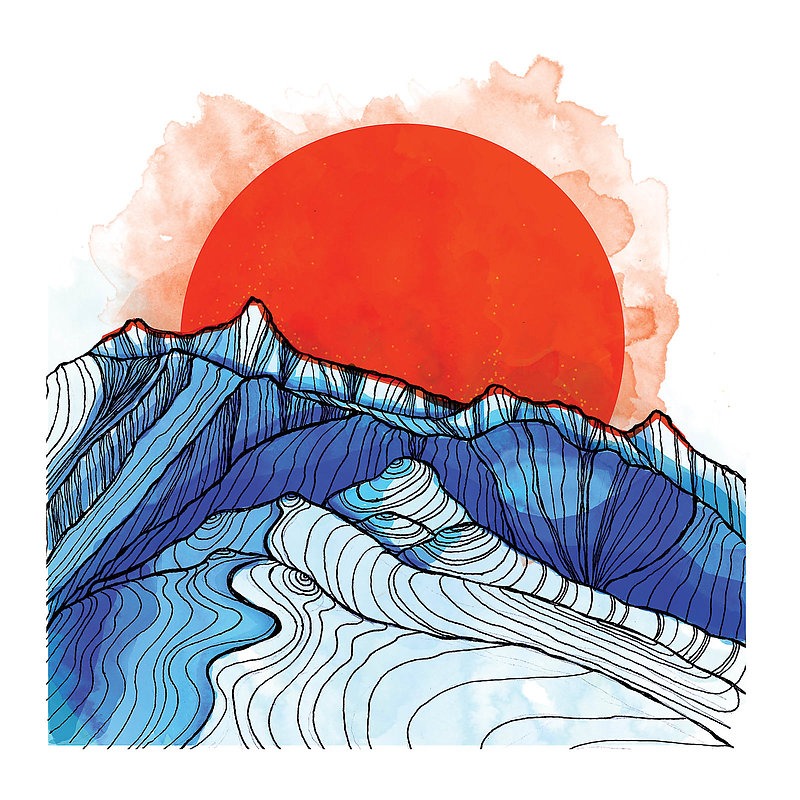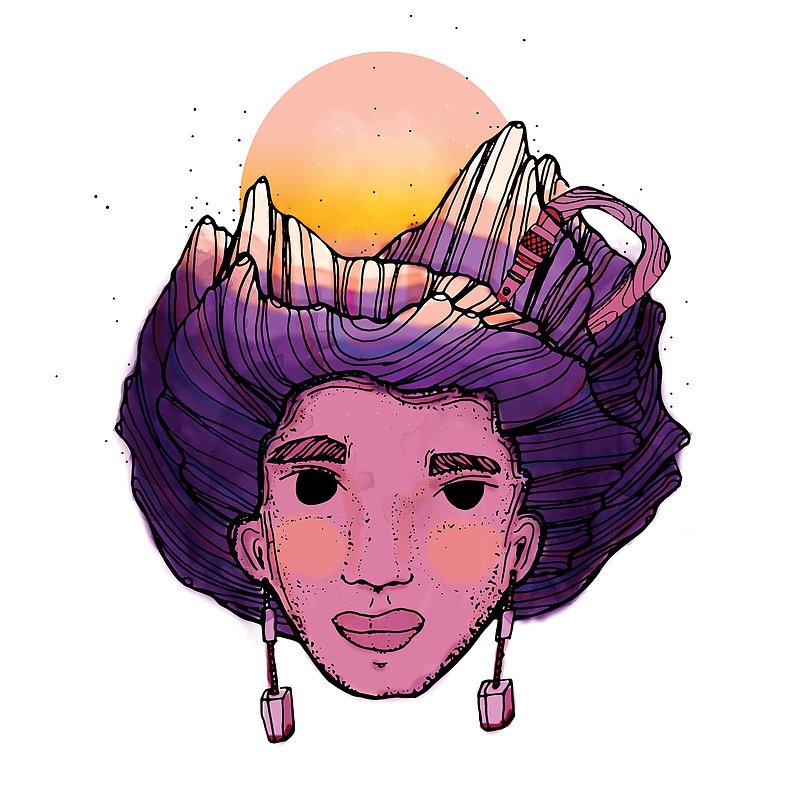 Much of her past experience and education came from being the yearbook editor at her high school, but when she graduated and no longer had access to the tools and technology at her school, she discovered a new passion— art. She combined this new interest with free design software and created some of her first digital work through trial and error.
"I still wanted to problem solve and create," she says, "so I started doing illustrations and teaching myself how to draw. I still use that same method today, it's just faster, more efficient, and I have an understanding of depth and light and color theory."
Now a design major at Western Washington University, Brooklyn's signature style has developed into landscapes and portraits that find the perfect balance between analog and digital, while using gritty textures and contrasting colors to produce art that is somehow both energizing and calm. When Brooklyn started creating illustrations of the outdoors and places she wanted to go, she could also foresee the person she wanted to become. This was the same time Brooklyn's aspirational alter ego Ruby J. was born.
"There's this twinkling little fire in me that is passionate about freeride mountain biking," Brooklyn says, "really excited to become a better rider, really wanting to pursue skiing, really wanting to be a big mountain skier, wanting to ski a big spine that I've seen in those crazy videos, and that's what I see Ruby J. doing."
Brooklyn holds up an example of a sticker she made for a women's film festival. The looping black lines give shape to a deep valley and a mountain range that disappears into the distance.
"The week after I drew this, I went backpacking to Sahale Arm," she says. "We start taking pictures and I look at them and I realize that I created this place from my mind."
The experience of creating the world she wants to recreate in and then realizing it has empowered Brooklyn to pursue creating the more diverse community she would like to see. She has experienced discrimination and it is something that has stuck with her—and motivated her.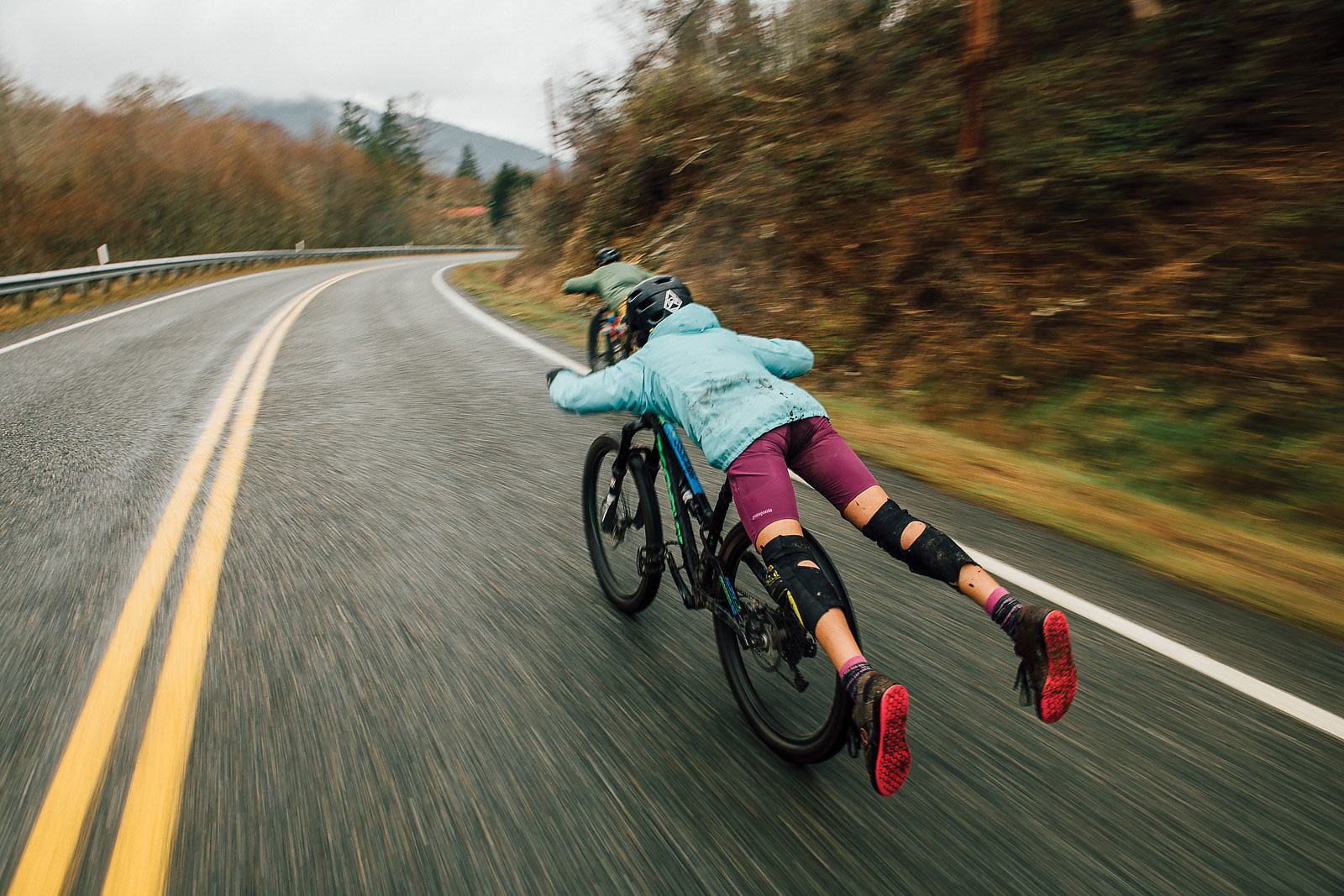 "It was a reminder of why young women of color need to be empowered, a very clear reminder of why I need to be empowered and why I deserve a role model that I can see myself within," she says.
Brooklyn has drawn the future she wants to see with the world of Ruby J. Her images tell the story of a mountain bike culture with more women her age participating in our sport and more people of color who don't feel as though they need to deny their culture to fit in.
"I want there to be fluidity and more sharing between different groups," Brooklyn says. "I don't want to feel like I'm some kind of unicorn when I go riding. I want a more diverse group of friends to go riding with. I love my group of friends, but there is something special when I go indoor climbing with Brothers of Climbing and Brown Girls Climb, and that's what I want my sport to look like."
When Brooklyn started riding, just like any other new mountain biker, she immersed herself in every aspect of the sport. She followed bikers on Instagram, looked at Reddit feeds, and checked Pinkbike every day, only to continually see the sport being portrayed from a narrow perspective. But a lot of times, that's because we unintentionally confine ourselves to those views and those outlets.
"I think a really simple way that people can open themselves up is to follow different people on Instagram," she says. "If that's how you're getting a lot of your media, then switch it up. It's simple and it's an easy way to digest something different." (Some accounts she suggests following include: @melaninbasecamp, @melisymo, @browngirlsclimb, and @nativesoutdoors.)
Brooklyn looks forward to a future in which, not only are trail signs in different languages, but they are also more informative. In which signs direct new riders to the up or down trails and include safety guidelines. A future in which companies with sponsorship and ambassador programs offer genuine inclusion and focus on building relations—not just putting people in or on their gear.
"I think there is so much room for these companies to make connections with people who are not necessarily like me," she says, "or what we would call the typical skier or typical mountain biker, or the typical outdoors person. I think those people should be brought into the conversation and creating art and bringing art and culture to what is happening."
As for her own role in all of this, Brooklyn believes her art is where she can bring the most change.
"I hope that me creating art will create room for other people who are artists to come and create art and bring their culture to the table and have so much more cross-culture and genuine inclusion. I certainly hope that I become a master at what I do, and what I do opens it up so that I can have conversations with other people and bring in new ideas. I am hopeful for the future."