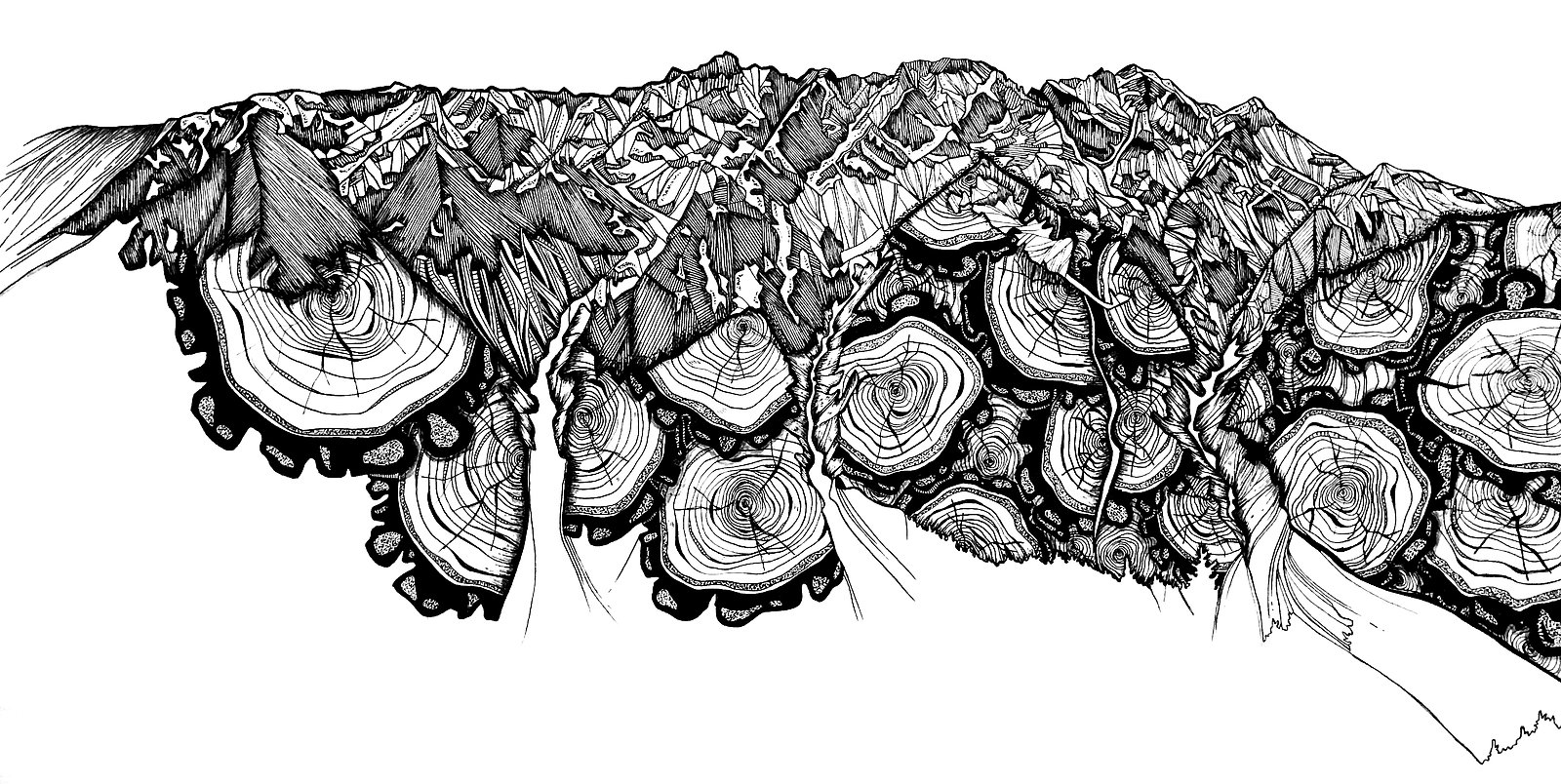 Elements of the Wild The Interconnected Art of Kate Zessel
You could say Whistler-based biker, skier and illustrator Kate Zessel's business started in the back seat of her family's car in the 1990s.
It was there that, while road tripping from Vancouver, BC to Whistler on weekends to ski with her family, Kate's dad would capitalize on the chance to impart some business knowledge to Kate and her two siblings.
"He'd put us in the car at like 3 p.m. every Friday and drive up to Whistler, which he saw as his opportunity to trap us in the car and talk to us about taxes and mortgages," she says with a laugh.
Though no doubt lame for a 10-year-old, the ski-trip lectures ultimately helped form the framework of Kate's illustration business, which has counted Sherpas Cinema, Patagonia, Whistler Brewing Company and Mica Heli Lodge among its many clients.
"I'm so grateful for those discussions," she says. "Whether or not I was listening, I do think I absorbed the information, which made it a lot easier to start my own business—it had been ingrained in me since I was a kid."
Though business sense is pretty important in Kate's life and work, it's hardly the most significant element for her; the lectures were helpful, of course, but the experiences she had in the mountains at a young age, facilitated by the weekend road trips with her family, were arguably more influential to her current path.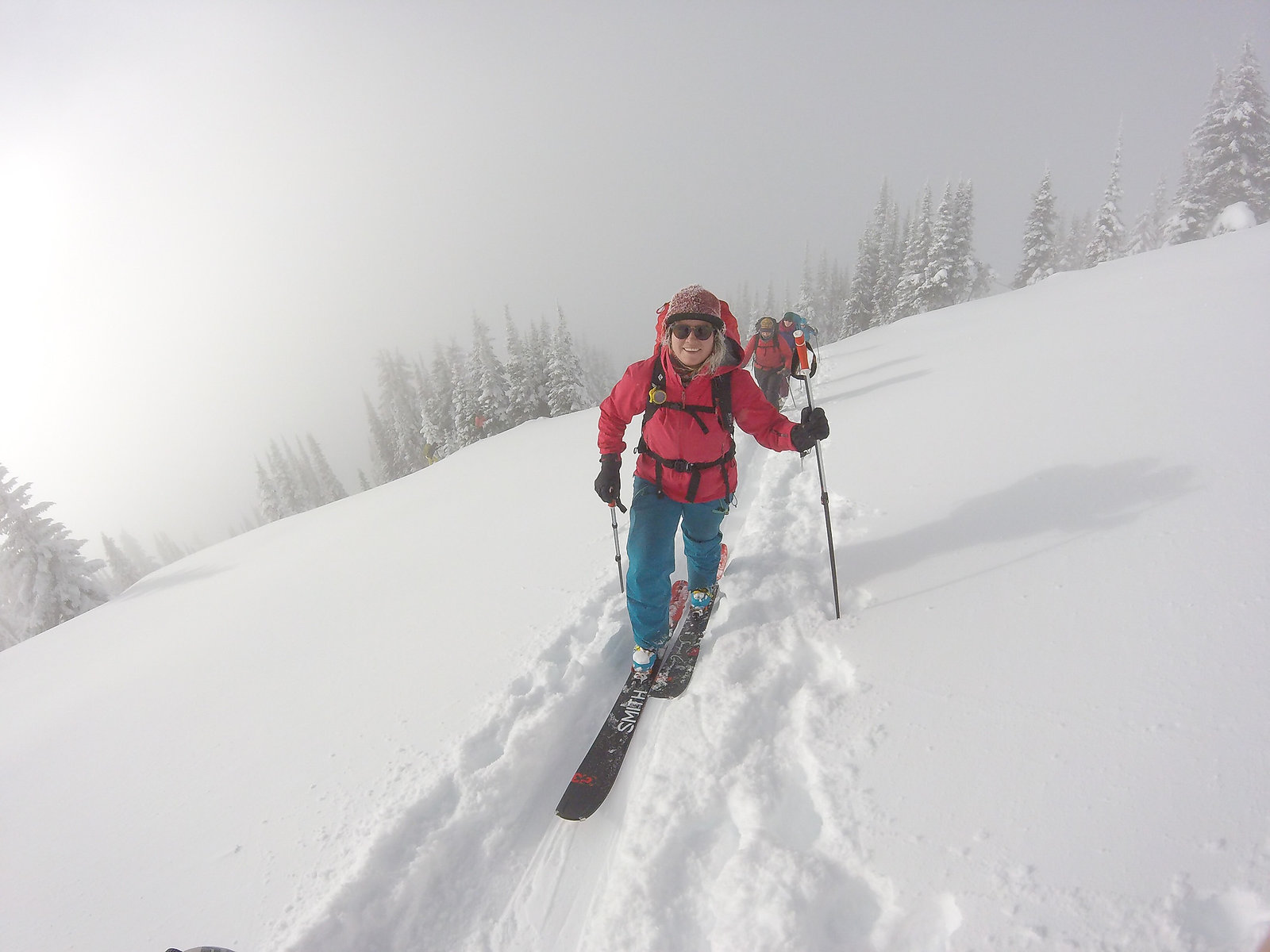 "Getting up and going outside, finding new huts or peaks and the euphoria of getting to the top of something is what drives me," she says. "I wouldn't have a job without the lifestyle I live— they both contribute so much to each other."
It's easy to see the inspiration the natural world brings to Kate's art, in which she uses intensely intricate line work and geometry to depict, among other things, mountain ranges, animals, forests and people. Sometimes, she includes all of these elements in the same piece, interconnected and overlapping, inextricably tied together in a collection of lines and color.
Sometimes, it's more simple—a black-and-white peak made up of innumerable lines, a wolf 's head among clean geometric patterns, a distant mountain range in a sea of white space, with little in the way of context or complexity.
For all its weaving of humans and animals and the spaces where we intersect, Kate's art has, unsurprisingly, resonated deeply not just in the Whistler community, but in the outdoor community as a whole. Last year, she drew and digitized a mural for The North Face's Whistler location, while during the 2017-18 winter, Whistler-Blackcomb named Kate as its featured artist, highlighting her work on their merchandise and apparel. She recently designed a snowboard for GNU and is currently working on a project for Lululemon.
Amid all of this, Kate attributes a big part of her ongoing success to knowing just when she needs to get outside and slog up a mountain on her bike or skis, or partake in some sort of Type 2 fun—to feel the energy of the mountains, as it were; a life of wild spaces, creativity and color so inextricably connected it could easily be one of Kate's own creations.