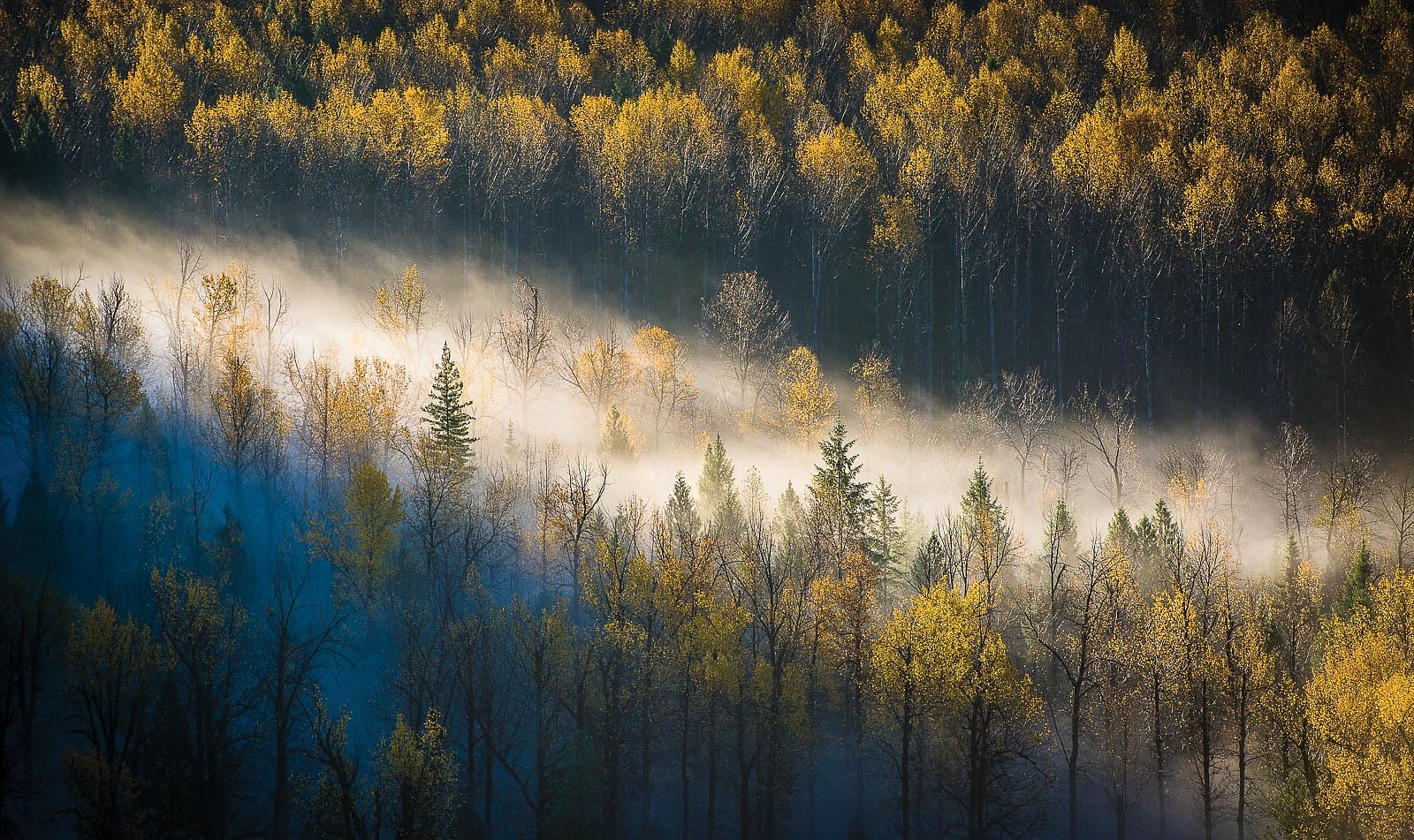 Fiercely Low Key Sweat, Booze and Family in Pemberton, BC
Pemberton, British Columbia is the land where bikers earn their turns.
Climbs are as brutal as the descents are steep, and any posts on the Bike Pemberton Facebook page alluding to shuttling ("gasp!") tend to earn a sizable community reprimand. As Ian Kruger, president of Pemberton's Off Road Cycling Association (PORCA), says of the local scene: "It's not necessarily for the timid, but provides some pretty incredible returns. Our climbing trails really define us."
Unsurprisingly, the area seems to draw people willing to slog uphill to enjoy the fruits of their labor. In the case of two local businesses, those "fruits" just happen to be alcoholic.
Take the Pemberton Distillery, a family-owned operation that produces the only organic potato spirits in the world. Tucked into the back of an industrial park, the award-winning, geothermal-powered distillery's headquarters is a nondescript metal building. Don't be fooled by its unassuming exterior; inside are Willy Wonka-esque hand-operated copper pot stills, oak barrels full of aging whiskey and a tiny tasting room that offers liquid lightning by the glassful.
The distillery was built from the ground up in 2008 by brothers Tyler, Jake and Jonathan Schramm, a trio who grew up riding the North Shore and Whistler together (Tyler previously worked for the chairlift company Doppelmayr, and Jonathan is a bike and snowmobile cinematographer). Tyler had been dreaming of opening a distillery since the early 2000s, and the brothers had originally hoped to build on Jonathan's potato farm. Instead, they found themselves ensnared by archaic and illogical rules, including a building and fire code that did not differentiate between a craft vodka distillery and an oil distillery. The hyper-rigorous construction demands were designed for oil refineries, a bureaucratic head-slapper that would have made a normal person chuck in the towel.
They didn't, an action that speaks volumes about the distillery founders, Tyler and his wife Lorien, and reinforces the theory that when an uphill battle presents itself, Pemberton's best don't back off.
Having previously studied organic agriculture, in 2006 Tyler took off to Scotland's Heriot-Watt University to earn a master's degree in brewing and distilling, where he defied the conventional wisdom peddled by his whiskey-obsessed professors and colleagues. Instead, he worked to prove the rarely crafted potato vodka could be as rich and complex as a single-malt scotch. He graduated in 2007, returned to Pemberton, and got to work. In the distillery's first year of operation, their "Schramm Vodka" won Double Gold at the 2010 World Spirit Awards in Klagenfurt, Austria—quietly but effectively making Tyler's point.
After perfecting the potato-based spirit, the Pemberton Distillery set its sights on whiskey, and have since crafted organic gin, organic absinthe and apple brandy, among others. Tyler's most recent objective has been to custom-design and hand craft a micro-malting machine that will germinate, kiln-dry, and wood or peat smoke small batches of locally grown barley and rye. The goal? Create a line of whiskey with true Pemberton "terroir"—in other words, with every characteristic purely Pemberton-derived.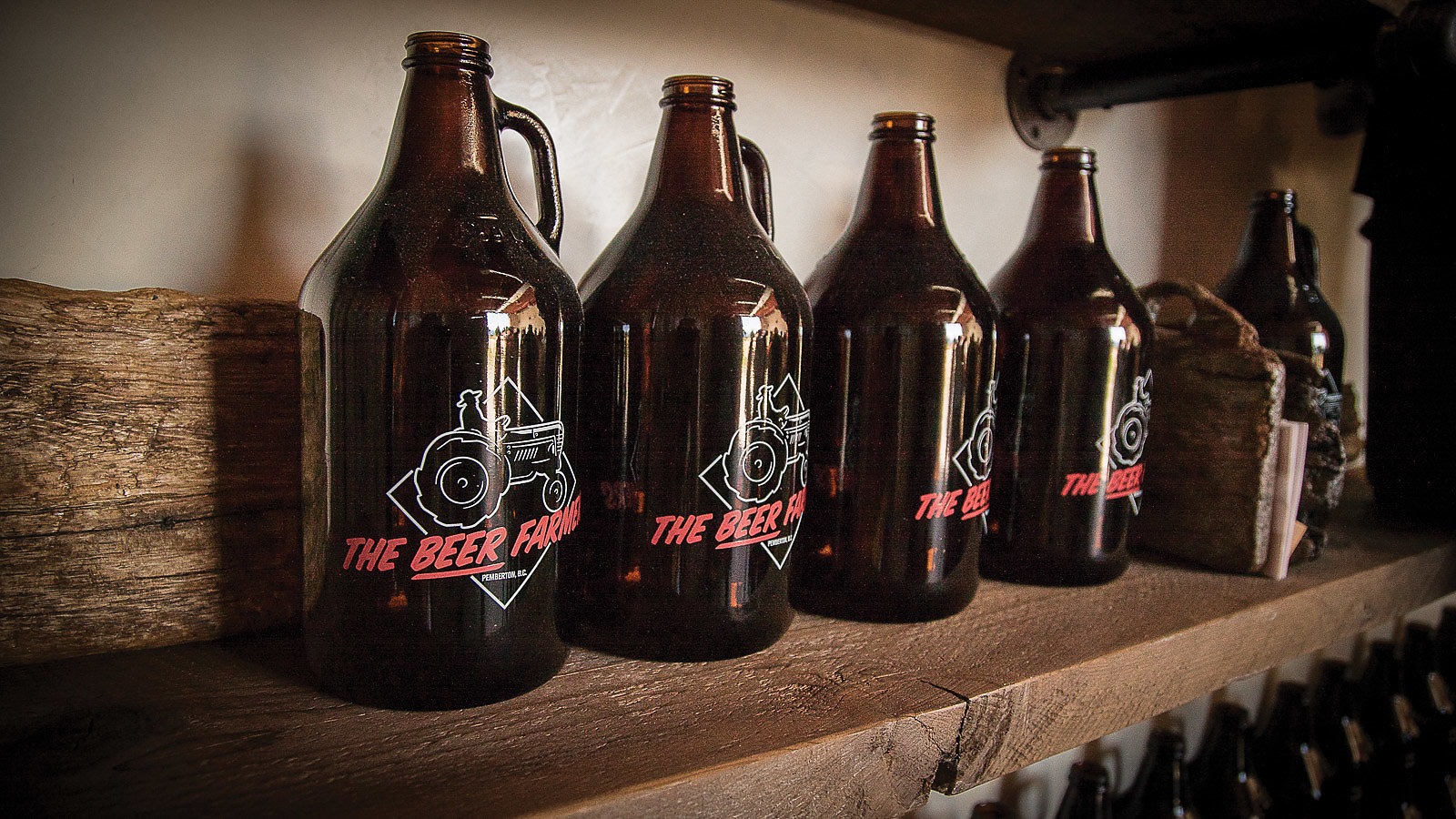 Beyond championing regional ingredients and classing up Pemberton's enduro after-parties with their cocktails, the locally minded distillers have had an outsized impact on the province's entire craft in- 39 Sweat, Booze and Family in Pemberton FIERCELY Low Key Words by Lisa Richardson dustry—they were particularly instrumental in developing British Columbia's Craft Distillery designation, a five-year, "often extremely frustrating effort," Lorien Schramm recalls.
"When we started in 2008, the regulations were so limiting that running a distillery was more hobby than business," Lorien says. "We were part of a group of five small craft distilleries who formed the Craft Distillers Guild of British Columbia. Our goal was to make craft distilling a viable industry here. Our little group spent many weekends and evenings traveling to hang out in hotel lobbies, pouring tastings for politicians and explaining our vision for a successful BC distilling industry."
The resulting designation subsequently opened up the distilling industry in British Columbia, which now boasts more than 35 operating distilleries.
Their lobbying also paved the way for Pemberton's newest, straight-uphill trailblazing effort: Pemberton Beer Farmers, a microbrewery established by the Millers, a family of fourth-generation organic potato farmers (and Schramm's spud supplier) who have been in the Pemberton Valley since 1895.
In June 2018, the Millers—consisting of mother and brewer Brenda, father Bruce, and son Will—opened Pemberton's second microbrewery at their Across the Creek Organics farm. Interpreting "farm-to-tap" as a personal challenge to literally have beer taps on the farm, the family successfully completed a four-year journey through mountains of paperwork and regulation, in time to pour their first publicly available craft brews at Pemberton's annual farm-tofork pedal-festival, Slow Food Cycle Sunday.
"To us, farmhouse brewing is about using what is available locally and developing regional styles," say the Beer Farmers, who've recently added organic barley to their potato field crop rotation.
PORCA President Ian Kruger sums up Pemberton's mountain bike scene as "fiercely low key," a description one could easily extrapolate to fit the craft scene. Pemberton isn't the right taste for everyone. It's fiercely proud of the demands presented by its unique terrain, and it's never watered down or generic.
If such a concentrated brew sounds appealing, you might find your "Pember-dise" in the shadow of Mt. Currie, post epic ride, with a local beer or cocktail in hand. Just don't expect any sympathy if you're bitching about the climbs. In this neck of the woods, everyone knows that nothing good comes without serious sweat.