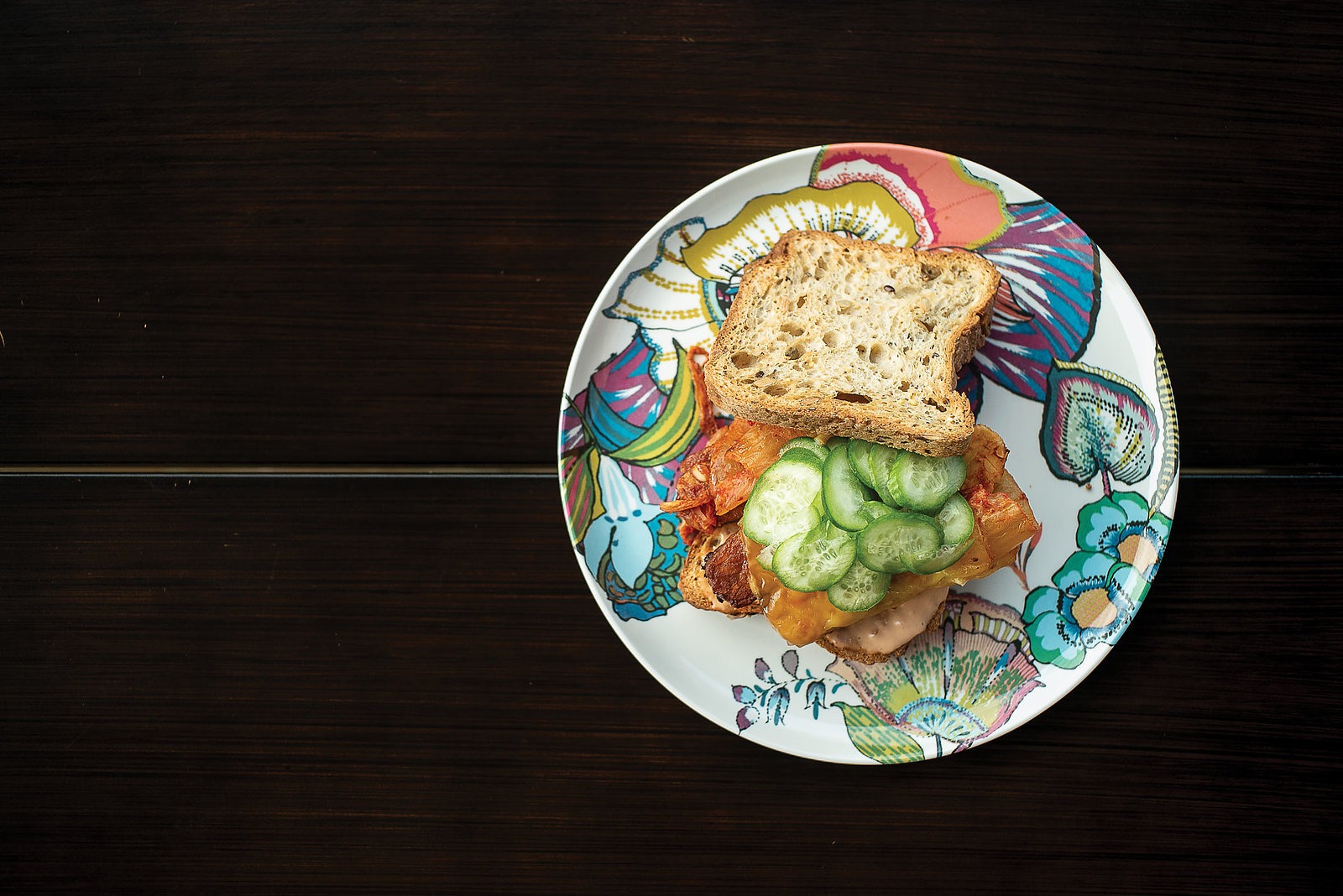 Frankenbike Sandwich Santenello's Snack
While new bikes are a beautiful thing, they never stay that way for long.
As parts begin to break and are slowly replaced—maybe a bent derailleur at first, then eventually a wheel—they become a heterogenous mixture of matching graphics and paint. These creations are equally as exquisite in their own right and often have more personality. Known as the Frankenbike—maybe even complete with different-sized wheels front and back—these pieced-together bikes are not only rippable, but they're also endearing. Below is the soul food to match: the Frankenbike sandwich.
THE INSPIRATION
The Frankenbike sandwich is directly inspired by a New York classic, the Reuben. The Reuben is a brilliant Jewish fusion of Irish corned beef, Swiss cheese, Russian dressing and German sauerkraut, all piled between two slices of toasted rye bread. A cross-cultural tour de force! But what if we added Korean kimchi, a Japanese-influenced marinade, Northwest smokiness and made it vegan? We have now entered Frankensandwich territory!
INGREDIENTS
1 package tempeh
8 slices of rye or gluten-free bread
1/2 jar kimchi or kimchi-spiced sauerkraut
1 cup thinly sliced Japanese cucumber
8 slices vegan smoked gouda (Follow Your Heart brand)
For tempeh marinade:
2 tbsp. soy sauce (or GF alternative)
2 tbsp. maple syrup, honey or brown sugar
2 tbsp. Dijon mustard
For Kim Jong-Putin dressing:
4 tbsp. Vegenaise
1 tbsp. prepared horseradish
1/2-1 tbsp. Gochujang Korean chili paste (can choose hot sauce of choice, adjust amount accordingly)
1 tbsp. ketchup
METHOD
Heat oven to 400 degrees.
In a mixing bowl, combine the tempeh marinade ingredients. Slice tempeh bacon-strip thick and add to bowl. Let marinate for 15 minutes.
In a separate mixing bowl, combine the Kim Jong-Putin dressing ingredients.
Toast the rye bread.
In a sauté pan, sauté the tempeh in a splash of sunflower oil or oil of choice. Spread out tempeh, cover with kimchi and smoked vegan gouda, heat in oven until cheese melts.
Spread dressing evenly across one side of the toast. Cover four pieces of toast with sliced cucumbers. Pull tempeh/kimchi/smoked vegan gouda mix out of the oven and divide evenly over toast with cucumbers. Top with the other four slices of bread.
Slice and serve! (Makes four sandwiches)