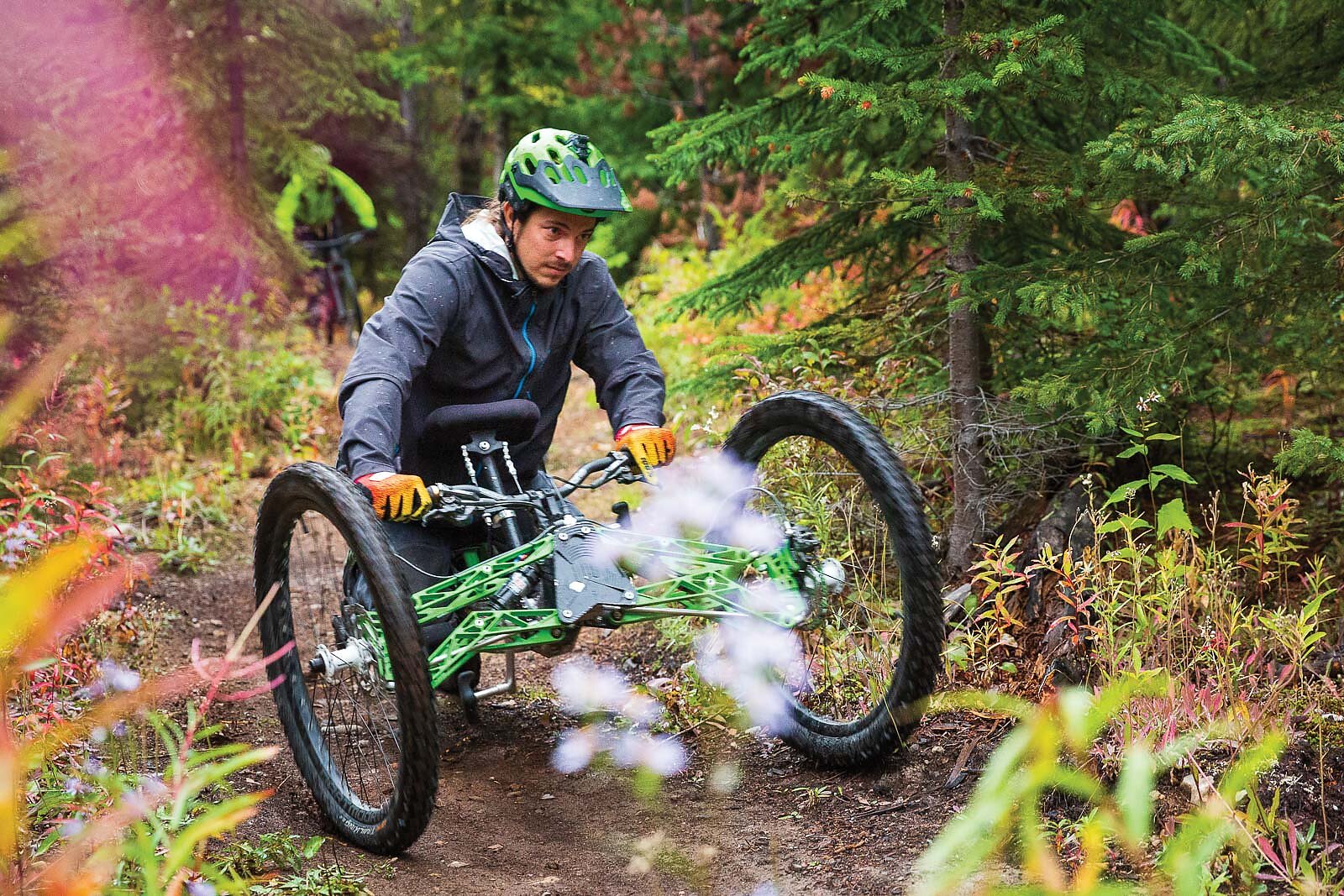 This is Freedom The Fast-Paced Progression of Adaptive Mountain Biking
The air is rich with the thick scent of dirt.
Trail-side blackberries accompany beautiful vistas at each stop. The muffled sound of tires cutting turns through deep loam is etched into the mind. A weekend of riding equates to mountain lakes, remote towns and warm nights drinking beer around a campfire with your friends. This is life at its best for a mountain biker. Yet these experiences are something we often take for granted, and in reality are not accessible to everyone.
For people with disabilities, these settings are substantially more difficult to access and enjoy. Sometimes people don't have these experiences at all because straying from a paved path can be impossible. For those born with a disability, or adapting to a new reality after a life-altering accident, the happiness and freedom of the outdoors should be attainable. Enter Kootenay Adaptive Sport Association (KASA) and adaptive mountain biking (aMTB). KASA's mission is to help everyone access nature, get people onto—or back onto—mountain bikes and spread that joy as far as possible.
What aMTB riders seem to value most while on the bike is the fact that they are completely autonomous and can enjoy mountain biking exactly as it's supposed to be—not some watered-down version that relies on other people. aMTBs are one of the few means by which adaptive athletes can move through the backcountry in a self-reliant way, on their own terms and time lines.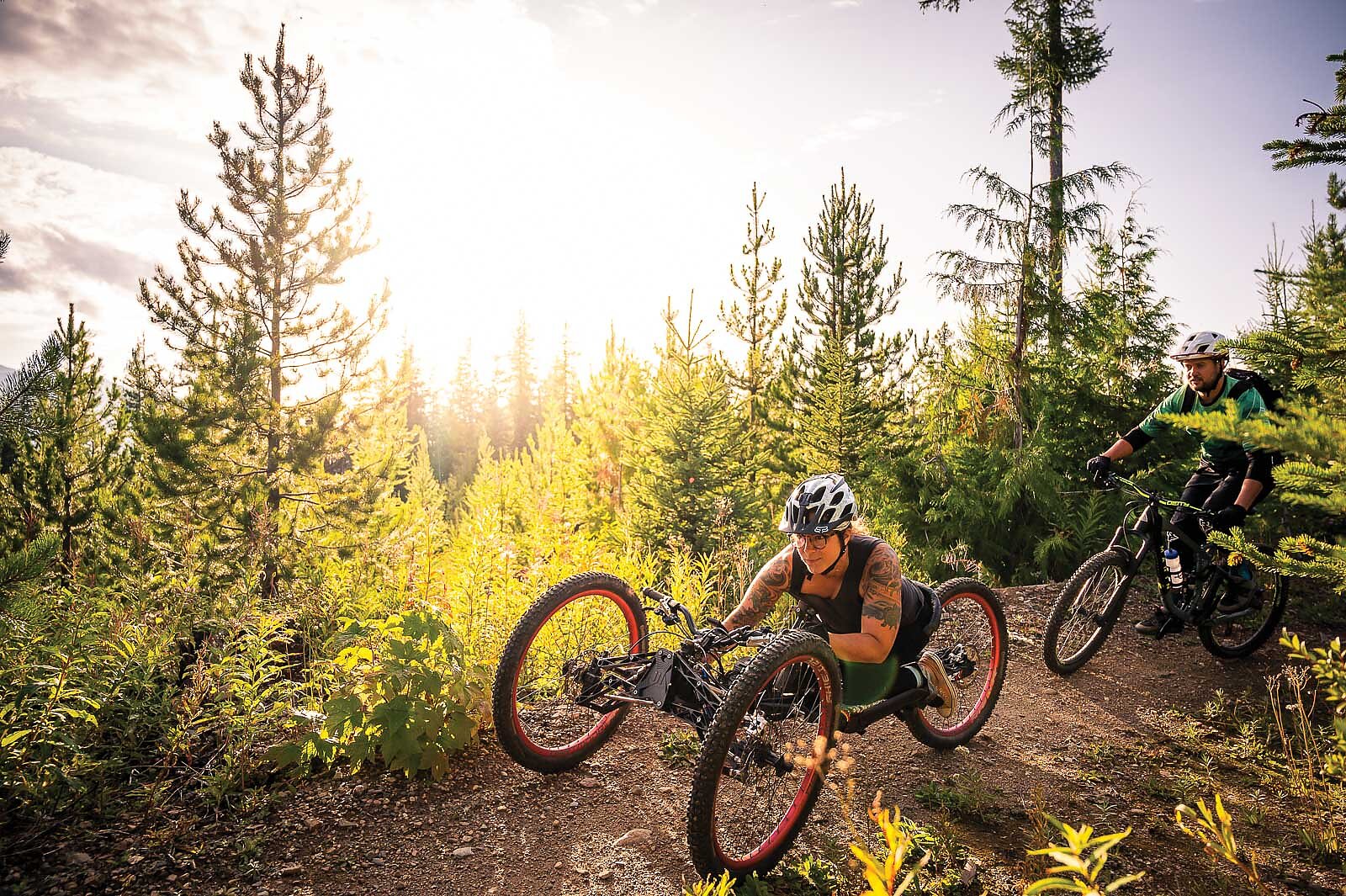 "This is freedom," says Jocelyn Maffin, a lifelong wheelchair user and self-labeled city slicker, referring to her newfound aMTB addiction. She discovered the sport by chance while assisting with programming in her role as a manager with Spinal Cord Injury BC. Until recently, she had zero interest being in the woods since the experience always came with a caveat.
"I hadn't been in the forest since I was a kid because it's such a pain in the ass," she says. "I felt like there were all these beautiful spaces that just weren't fulfilling to me because they were so hard to get around in."
Most forested areas aren't accessible by wheelchair and Jocelyn values her independence. The idea of being pushed around among the trees by someone else sucked all the joy out of exploring nature for her. Now she's found bliss in the heart of the wild and wonderful Kootenays.
In the middle of what could politely be called "nowhere" in the Kootenays, sits the tiny town of Rosebery. Looking at Rosebery on a map, it takes a lot of zooming out before there's anything but trees and lakes. And outside of Rosebery, way up a gnarly access road, lives the Spine Trail, a showpiece adaptive trail created by the North Slocan Trail Society. It's remote, funky and kind of hard to get to—meaning the trail features all the best things about Kootenay riding. It flows and winds down through a sub-alpine meadow with panoramic views of Slocan Lake, and on through a thick fir forest. Spine Trail was built with new-school flow, meaning that any aMTB athlete, or two-wheeled rider of any skill level, can enjoy it. Nothing about the experience has been watered down to make it aMTB rideable, it's just a great trail.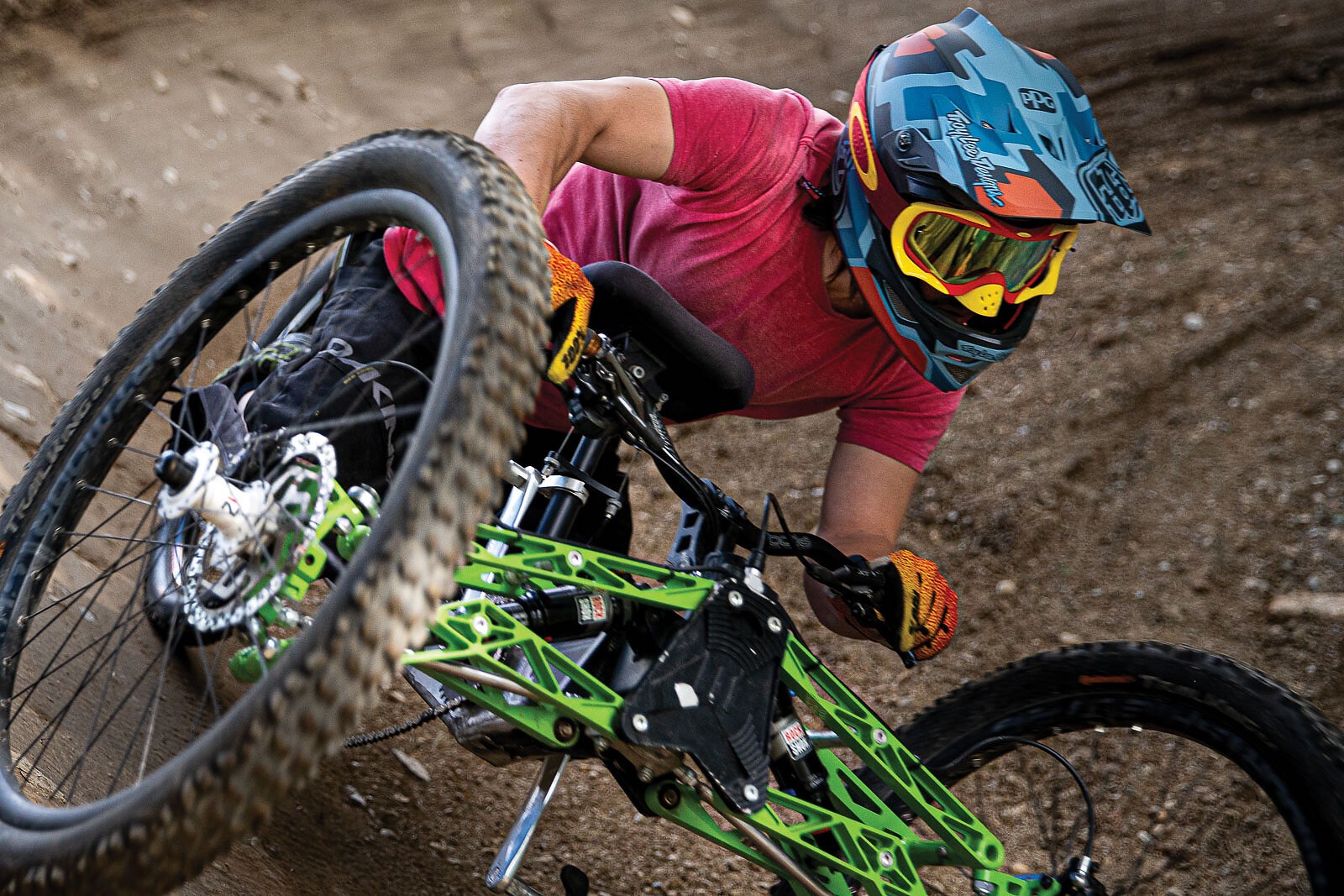 The team at KASA, headed by the tireless Mike Riediger, has put in an unprecedented amount of effort on behalf of accessible trails and aMTB in general in the Kootenays. They are working to raise awareness about aMTB trailbuilding and conversion issues, putting sweat equity into trailbuilding and maintenance, and acting as a resource in countless ways to raise the profile of adaptive mountain biking in British Columbia.
In 2019, KASA organized a huge point-topoint adaptive trek from Revelstoke to Nelson, using kayaks and adaptive bikes. Part of the trek utilized the Galena Trail, an adaptive-accessible trail that local trail organizations have been putting serious effort into upgrading. Throughout five long and often rainy days, athletes Ethan Kreuger and Tanelle Bolt tested their endurance traversing 150 miles using arm power alone. This feat was a unique opportunity to show that adaptive athletes can excel physically and take on challenges most people would find daunting.
Ethan comes from a mountain bike background and was a high-level rider when a heavy crash in 2010 cost him the use of his legs, and almost his life. Desperate to get his mountain biking lifestyle back, he found aMTB. In the past few years, he has become a worldwide leader in the sport, hitting black-diamond trails and progressively larger jumps. After only a short hiatus, those bike weekends are back in his life and beers around the campfire aren't just memories anymore.
"We're still doing the same things," Ethan says. "We're still camping, we're still biking, we're still doing the same things we were doing before—it's more or less how we're doing them."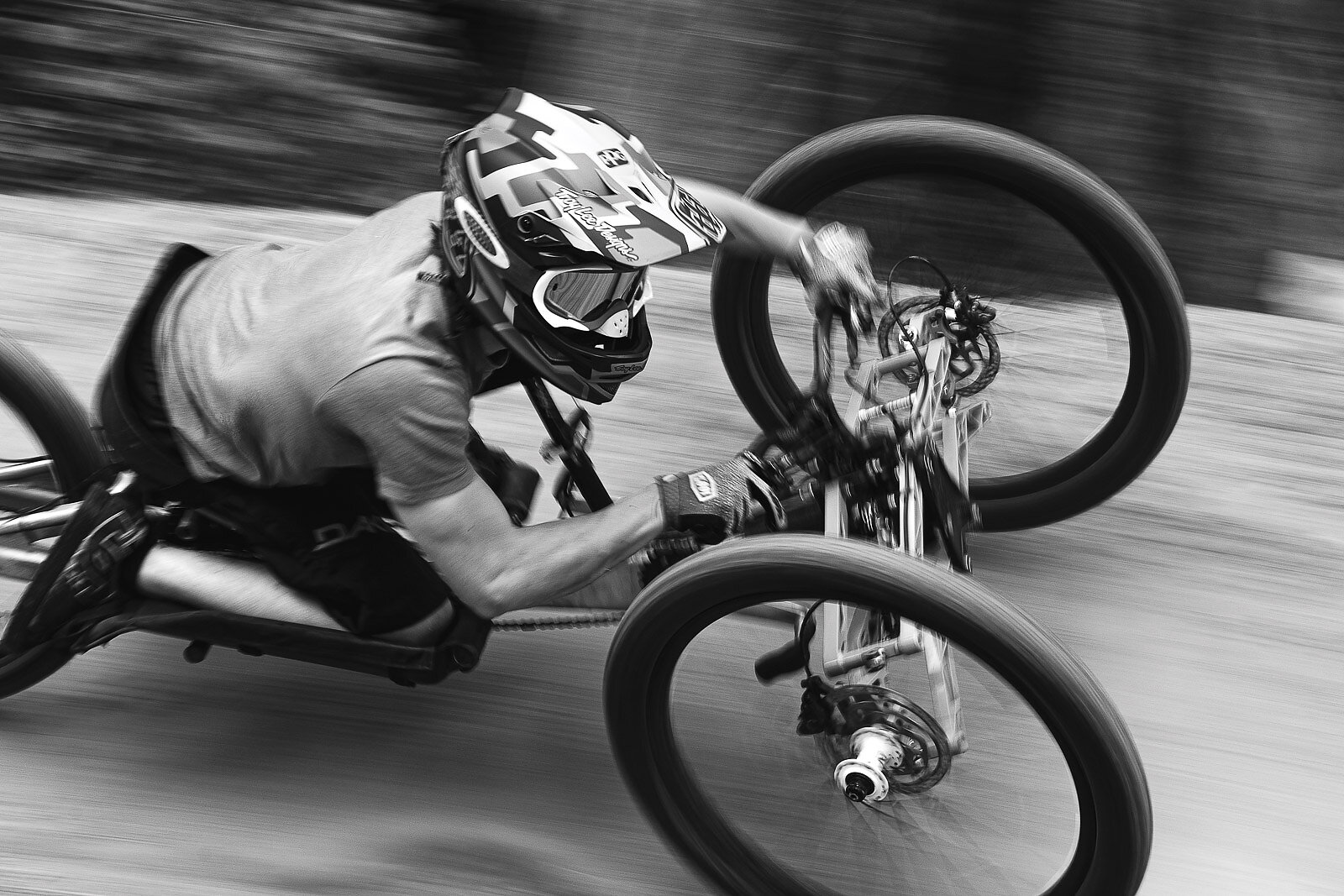 Much of that "how" comes about thanks to pioneers like Ethan and organizations like KASA. As the nonprofit expands its presence in the region, they're offering aMTB rentals and training, an aMTB Gravity Tour, a retreat devoted to plotting a path for adaptive sports in British Columbia, and a lot of other opportunities for athletes and contributors to grow the sport. The Gravity Tour will bring adaptive mountain bikers to several downhill resorts in the Okanagan, showing the world what aMTB athletes can achieve in a bike park, raising the sport's skill level, and giving new riders an opportunity to try cutting-edge aMTB equipment in some of the world's best downhill parks.
Progression is the big word in aMTB right now, both for equipment and riders. The sport has a big evolutionary advantage over twowheeled bikes in that most of the technology and skills already exist—they just need to be adapted to aMTB. Because of this, the sport's evolution is on a fast track.
"I want to see [aMTB] on the same kind of stage as regular mountain biking," Ethan says. "[It] is still mountain biking. We're still cranking pedals and we're still going up and down mountains. I mean, the trail may need to be slightly wider just to accommodate the wheelbase of these three-wheelers, four-wheelers, things like that. But other than that, the concepts haven't changed. The atmosphere hasn't changed. The vibe hasn't changed. If anything, the vibe is enhanced. I'd like to see it even in competition, get an aMTB class going."
So if you run into an adaptive athlete on your local trail, give them a massive high five. They are sculpting a brand-new sport that is every bit the equal of two-wheeled mountain biking in stoke, fun and speed. And if you think mountain biking is liberating, imagine if it was the only way you could get into the wilderness. This new sport is pure freedom and joy.