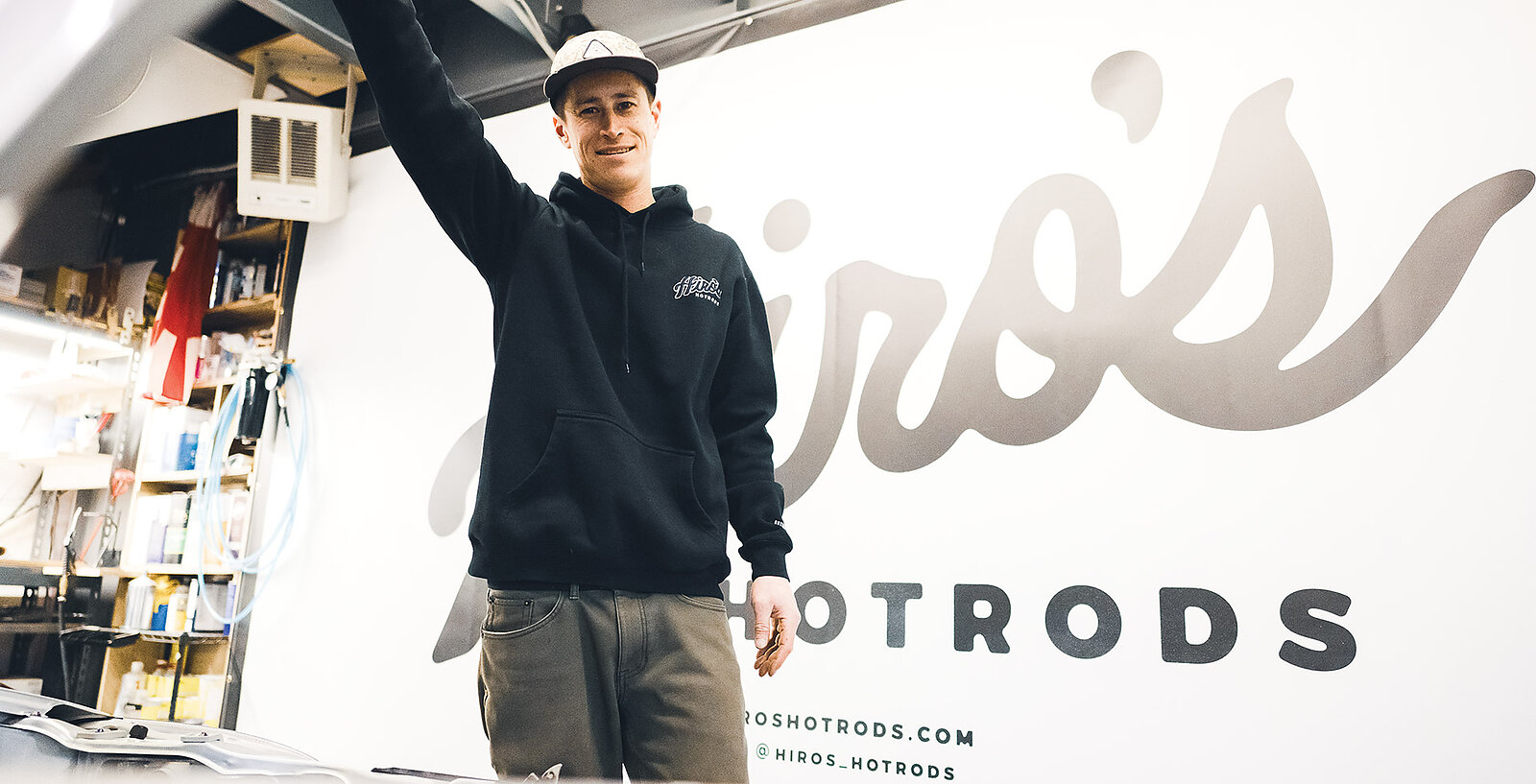 Grease & Grit Austin Hironaka Is on a Mission to Hotrod the World
Don't tell Austin Hironaka what to do. In high school, his soccer coach told him he should quit snowboarding to focus on training more—so he quit the team and fully dedicated himself to snowboarding.
The move paid off and he spent the majority of his 20s traveling the world as a professional snowboarder, a dream realized by only a handful of the most talented athletes in the sport. But when that reality ended abruptly with a single phone call terminating his contract, all he knew was he wanted to do something different.
Even though snowboarding had been his focus for a decade, the constant throughout Austin's life has been motors. He grew up riding quads at Oregon's Coos Bay sand dunes and going to hotrod shows, sometimes sneaking in by hiding under the rumble seat of his dad's 1931 Model A Highboy Roadster. During his snowboard career, he'd often get sidetracked while having fun riding his snowmobile in the backcountry, wearing himself out before the snowboarding even began. And in the summer months, free from nine-to-five obligations, he taught himself how to work on cars by building up a Honda Del Sol and CRV that garnered the attention of the hotrod world.
"[Snowboarding] enabled me this free time to hone my skill in cars," Austin says. "It's almost like that was a transitional period for me. I was snowboarding, but I felt like I was setting myself up for the next chapter because you always have to have a backup plan, and I always told myself I wanted to open a shop."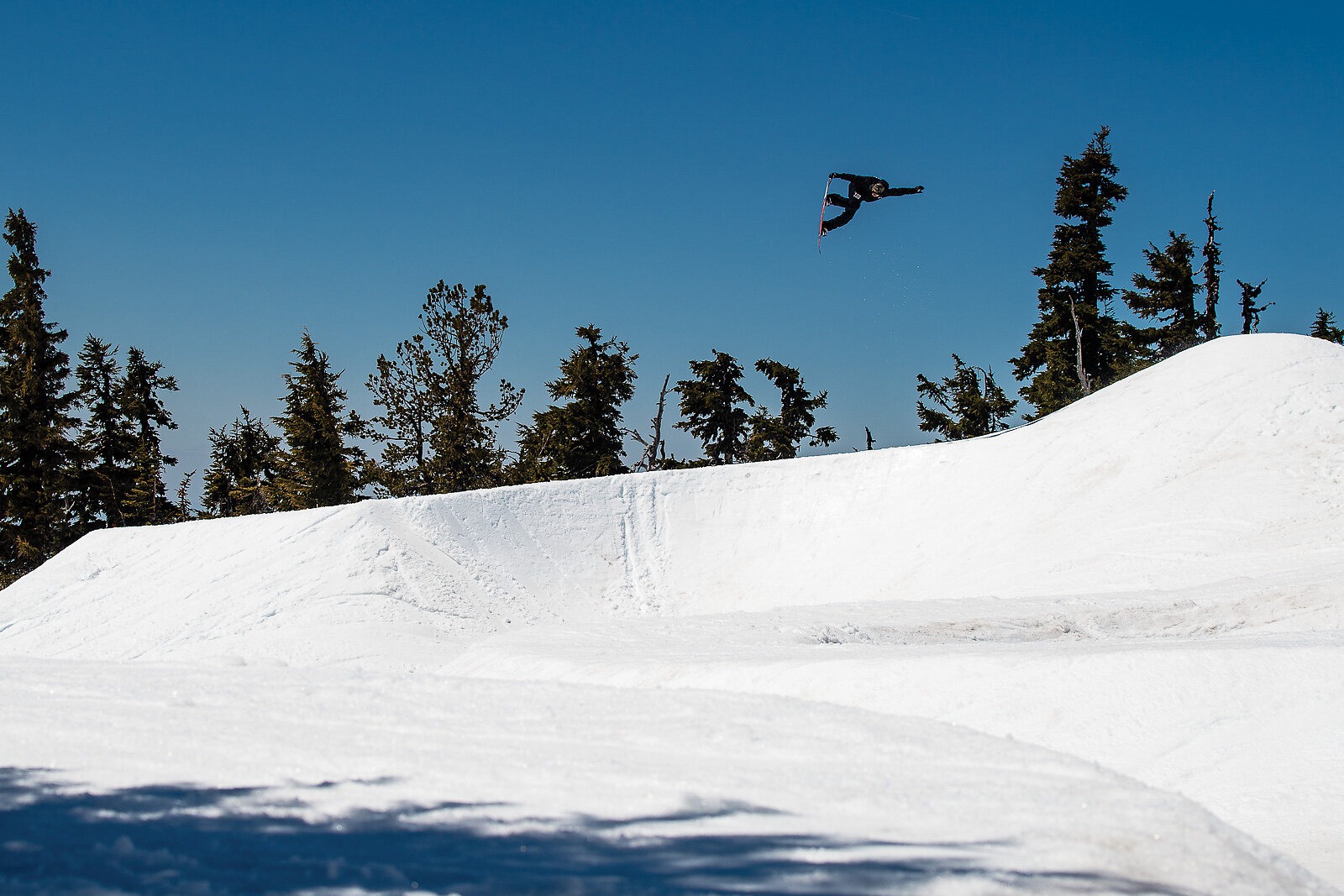 After snowboarding he worked construction for a while, a phase that taught him valuable skills and allowed him to clock out at the end of a long day. But it wasn't motors. He didn't feel he had enough knowledge to open a shop and, despite building two internationally recognized hotrods, Austin had never worked as a mechanic. Fate, and a recommendation from a friend, eventually landed him a job wrenching at Racecraft, a specialty shop in Woodinville, Washington.
"I loved so many different aspects of that job," he says. "I was learning stuff every single day, you name it … wiring, forming metal, milling—just how to be better at building a car. If you listen and pay attention to these older dudes, there's so much knowledge that's ready to be passed down."
But life happens, and he met a girl. After a year and a half at Racecraft, Austin left the shop in late 2019 to move to Revelstoke, British Columbia. While the gravitational pull of his relationship, a renewed spark for snowboarding and the work-less-ride-more mountain mindset put a hiatus on the full shop experience, they did nothing to dampen his obsession with building cars.
To help him make ends meet, Austin's longtime friend Eric Anderson, who also lived in Revelstoke at the time, hired him to build an '85 Honda Civic into a race car Eric could take to the track and shows. Austin began the project in December 2019, but in January 2020, a snowboard accident left Anderson unable to walk for months. Without Canadian health insurance, Eric's medical bills stacked up, putting the hotrod build on hold. Eventually, Austin and Eric were faced with a choice: sell the car to try to recoup their investments, or double down on their vision. They chose the latter.
"Together, with this budget that we had and my skills and abilities, we created a fucking masterpiece of a car," Austin says. "It served many purposes. It gave [Eric] something to focus on so he didn't lose sanity during a year-and-a-half recovery, and it gave me something to work on and build a business off of."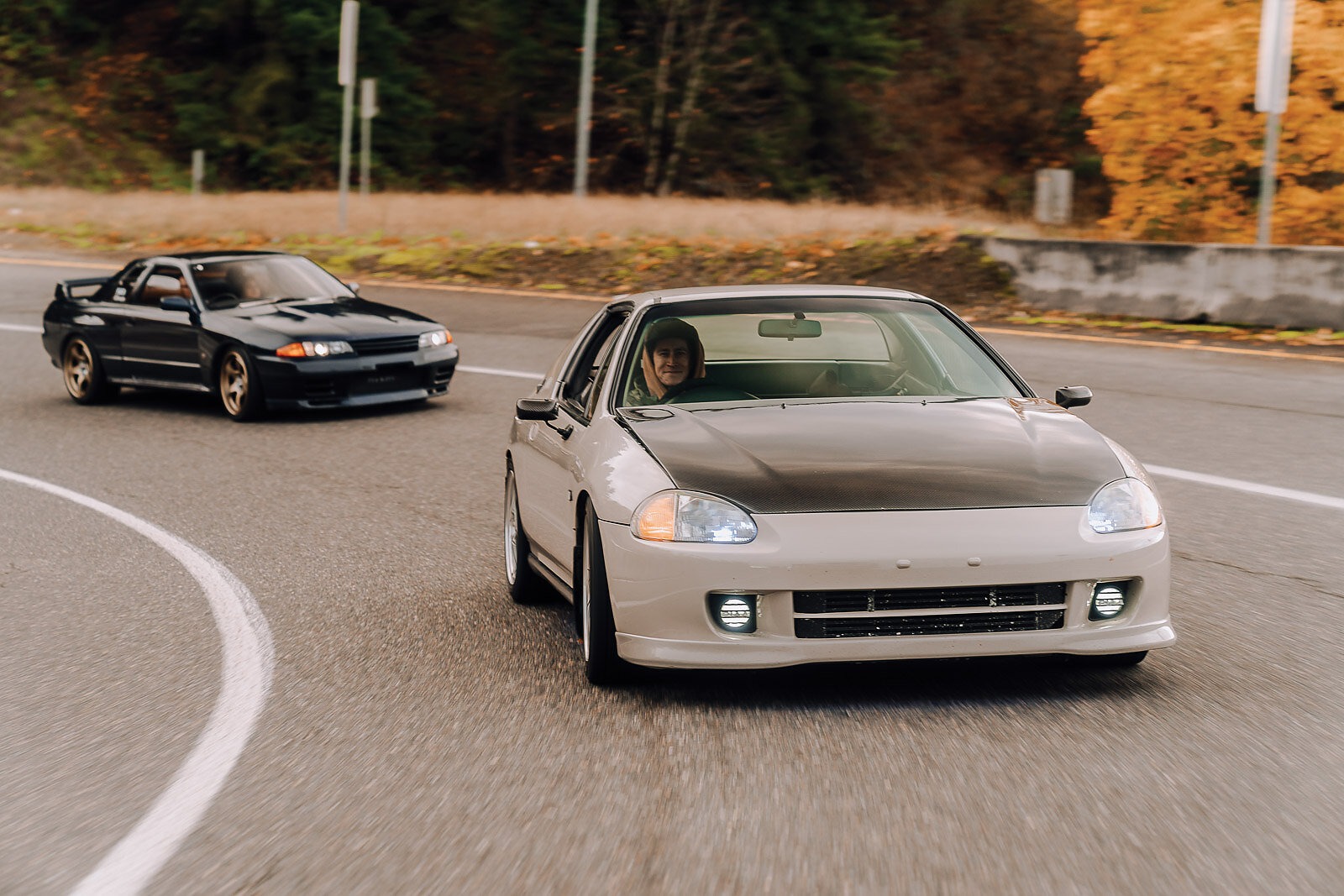 The car symbolized friendship, trust and a collective dream of something to take to the tracks and give the crusty old-timers a run for their money. Austin rented space at a friend's shop in Shelton, Washington—where he lived and worked for four months—to finish the Civic's paint job before moving his shop to Bellingham in November 2020. The hard work paid off in full when they debuted the car in August 2021 at Wekfest in Seattle, taking home best in show.
"There's no other better way to come onto the scene as a hotrod shop than build a car and take top honors at the import show for the Pacific Northwest," Austin says.
After moving on from Racecraft, Austin told himself he needed another year of experience working in someone else's shop before his was ready to open his own. But riding the high of their Wekfest accolade, tired of city life and with a new shop space in Bellingham, Hiro's Hotrods was undeniably already rolling and ready to cruise. It turns out that a penchant for getting greasy, Austin's tireless work ethic, some "YouTube University," as he likes to call it, and an incredibly supportive community go a long way.
"When you take this leap off the cliff, you find that a lot of people in your [community] see you and respect you for it—and want to help you along with it," he says. "So, when I did step up and create the LLC and say, 'This is going to be a thing,' people had my back so heavy from the start of it. In order for me to get this shop to where it's at, in this time frame, I feel like I've given it more than everything I've got."
And one only has so much to give. The things Austin has sacrificed throughout this journey stack up: a relationship, work-life balance, snowboarding… But if this were a race, he's barely on the first lap. His eyes are set on the long game. While hunkered down in Revelstoke during the early months of the COVID-19 pandemic, Austin got to work on a project that had always been in the back of his mind. Known as a Honda specialist, and with an affinity for Elements, he designed a swivel bracket for the car's seats. For Elements converted to campers, his mod delivered a new level of luxury and he knew there was nothing else like it on the market. After months of research and development, numerous handmade prototypes and the tireless process of finding a manufacturer, he finally launched the Honda Element swivel bracket in March 2021.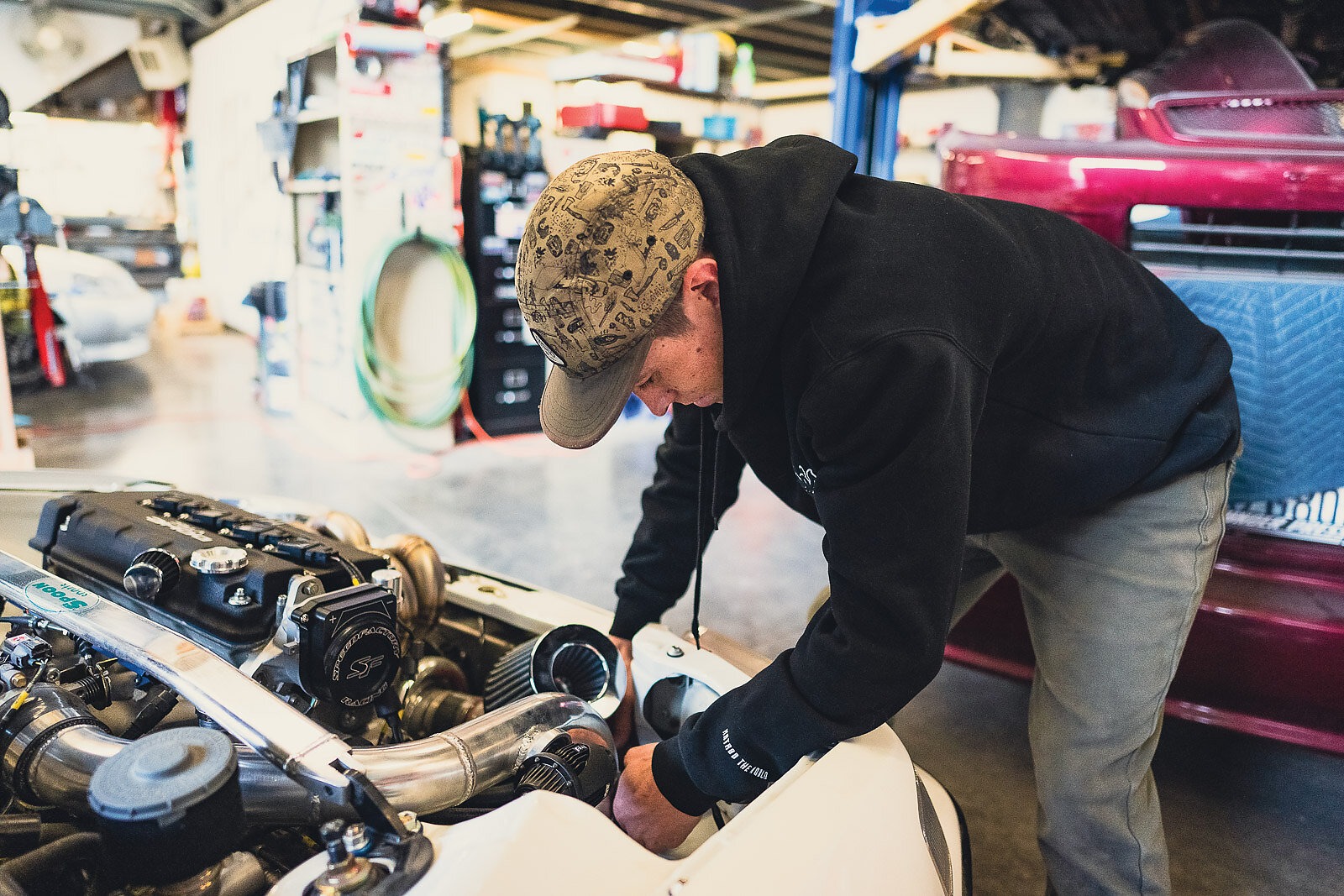 "In my head, I'm thinking, 'If I can create this product and this merch line to generate passive income, it'll allow me to hotrod in the shop at a more leisurely pace or not have the deadline pressures that stress me out and burn me out.' I want to enjoy this process; this is my art outlet," Austin says.
Between manufacturing the swivel seats, installing them for customers, selling merchandise and running the shop space for Hiro's Hotrods, Austin is essentially running two businesses. The to-do lists are long and the grind never stops, but that means business is good. A few cars rotate throughout the shop, each on its own timeline and with some unique request and creative problem-solving needs. For Austin, it's a dream come true—and just the beginning.
"I decided to go all in and give everything I had to this business, and it's been 14-to-16-hour days for the last year, six or seven days a week—but I fucking love it here," he says. "I'm so happy in this little dojo I've created."