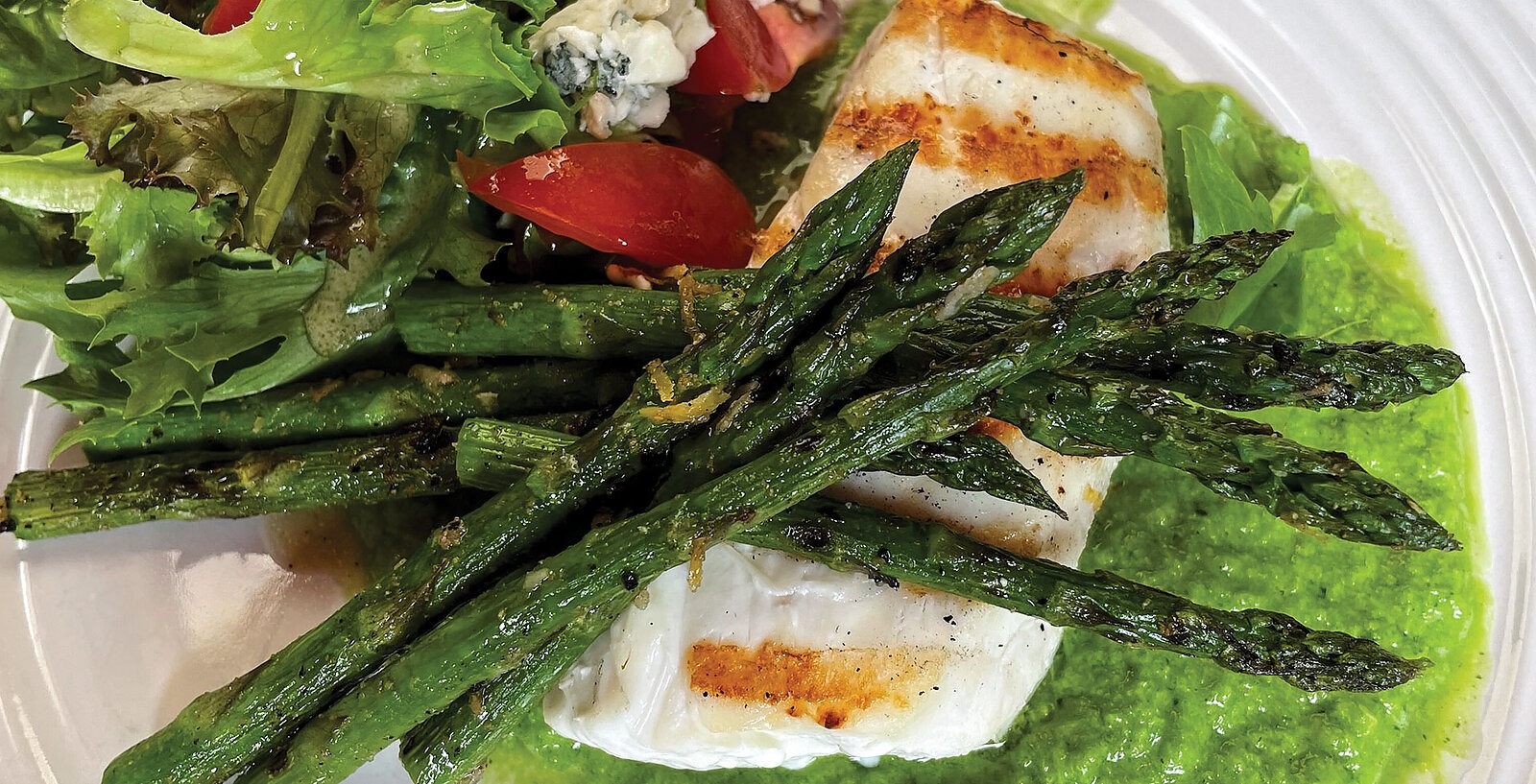 Halibut for Mom Santenello's Snack
Returning to my Vermont roots after two years spent on a Hawaiian island was refreshing.
Riding East Coast tech, with its jumbles of roots and rocks, is much different than the flavors of tropical terrain I've become accustomed to. On one of my first nights back home, I found myself preparing to cook a casual summer dinner for one of my most revered eaters—my mom! Scanning the local market for the freshest ingredients, I put together a quick and clean backyard grilled halibut dish complemented by a green sauce as an ode to the Green Mountain State with a slight Montreal flare. I had a great experience cooking for her, and it turned out to be an easy dish to pull off. Time with mom on a back porch after a few years away was priceless!
INGREDIENTS
HALIBUT
4 halibut fillets, 6 ounces each
Season with olive oil, salt and lemon zest
 ASPARAGUS
2 bunches of asparagus
Cut off bottom tough part of stalks
Season with olive oil, sea salt, coriander powder and lemon zest
FENNEL PARSLEY JALAPENO SAUCE
1 large fennel bulb trimmed, rough chopped
2 cloves garlic, chopped
¼ cup white wine
1/2 cup water
1/8 cup cream or non-dairy replacement
1 jalapeño seeded (leave some seeds for more spice)
1 bunch rough chopped Italian parsley
Pinch of salt
Splash of white wine vinegar
METHOD
Sauce: Slowly sauté the fennel and garlic in a little bit of olive oil. Try not to get any color on it and, rather, give it more of a sweat (think long summer climbs). Add water, wine, cream and a pinch of salt. Cover and simmer until the fennel is soft and liquid slightly reduced. Let cool a few minutes and pour into blender. Add jalapeño and parsley and blend until smooth. Be careful to not over blend after texture is smooth to retain an emerald-green color. Taste and adjust flavor with salt and white wine vinegar. Pour into serving bowl and set aside. Serve at room temperature.
Halibut: On a hot grill, cook halibut until just barely done. For cooking, a partially covered grill is best. Allow for 5-6 minutes per side.
Asparagus: Repeat cooking process for halibut but with a touch less time on the grill.
Finishing: Place a generous amount of sauce on plates and top each with halibut and asparagus. Enjoy!