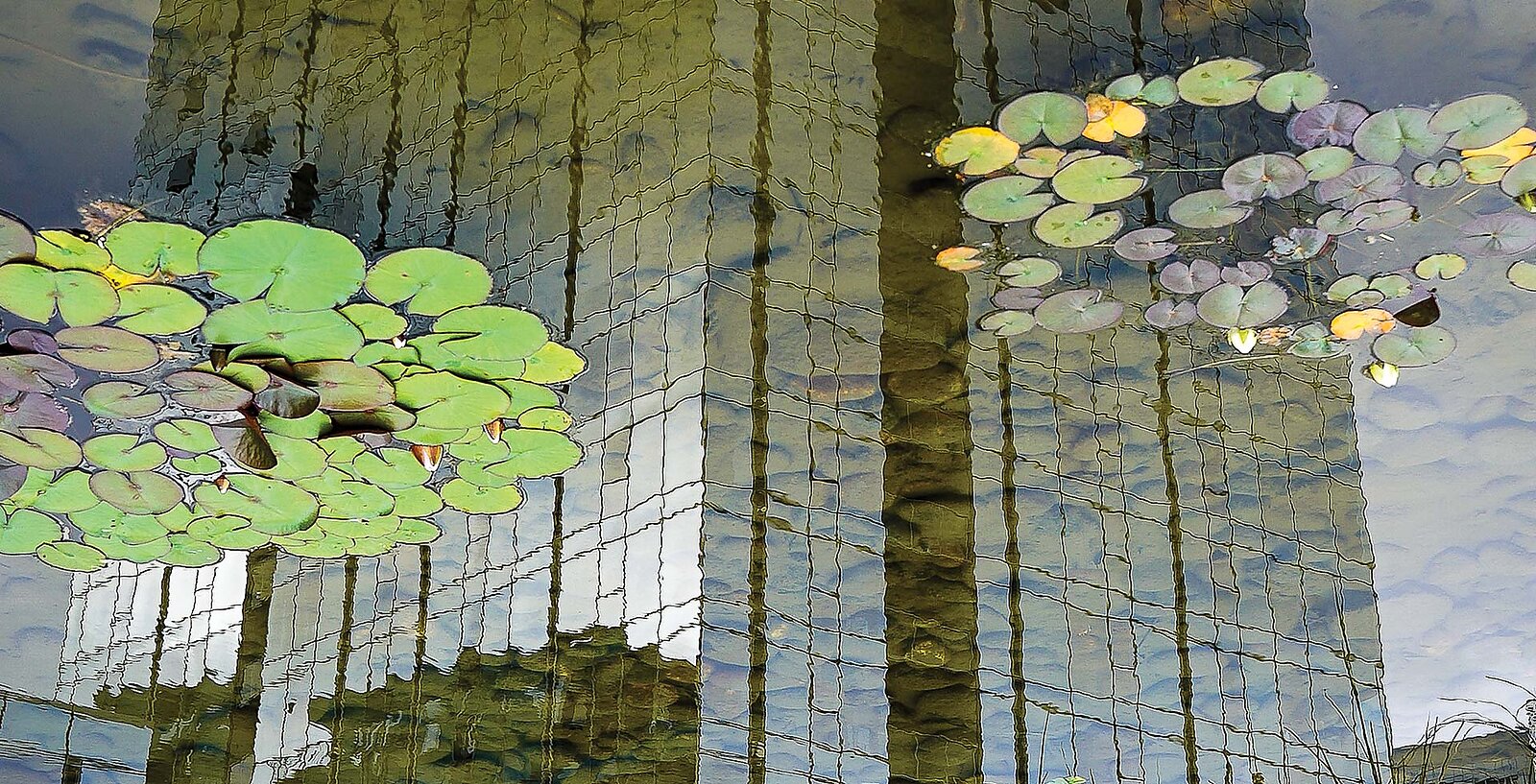 Here, Outside Portland Walks Encourage Hyper-Local Exploration
Environment and Awareness
Our chests expanded with each inhalation as Jade Szczepanski reminded us to take note of the space around our hearts. When the breathing exercise ended, I blinked my eyes open to see our group of seven framed by a heavy gray sky and patchwork of rectangular mixed-use buildings.
We were gathered for the ninth iteration of "Here, Outside," a walk that takes place each week in Portland, Oregon, that combines mindfulness, urbanism and local sightseeing with a revolving set of discussion points. Jade and I began hosting these free group outings in early 2022, though on this spring day, something in the air made it feel like the walk was at a turning point.
Perhaps it was because, after months of exploring various enclaves, we were about to cross one of the Rose City's many bridges into the much-hipper Eastside. As our small group assembled in front of Studio Kinesphere, a creative space run by Jade, revelers in rainbow-themed clothes made their way toward a massive crowd growing two blocks west—a reminder that, on this day, we were sharing the city with other groups seeking to use its corridors for celebrating Juneteenth, Father's Day and Portland Pride.
Our walk started similarly to the gatherings of weeks past. As usual, there were no sign-ups or surveys beforehand; I took a quick verbal poll of the group's familiarity with the centerpiece of the morning's walk, Burnside Skatepark. Before long, we stood around the perimeter of its sculpted concrete, watching and listening as skaters whizzed by.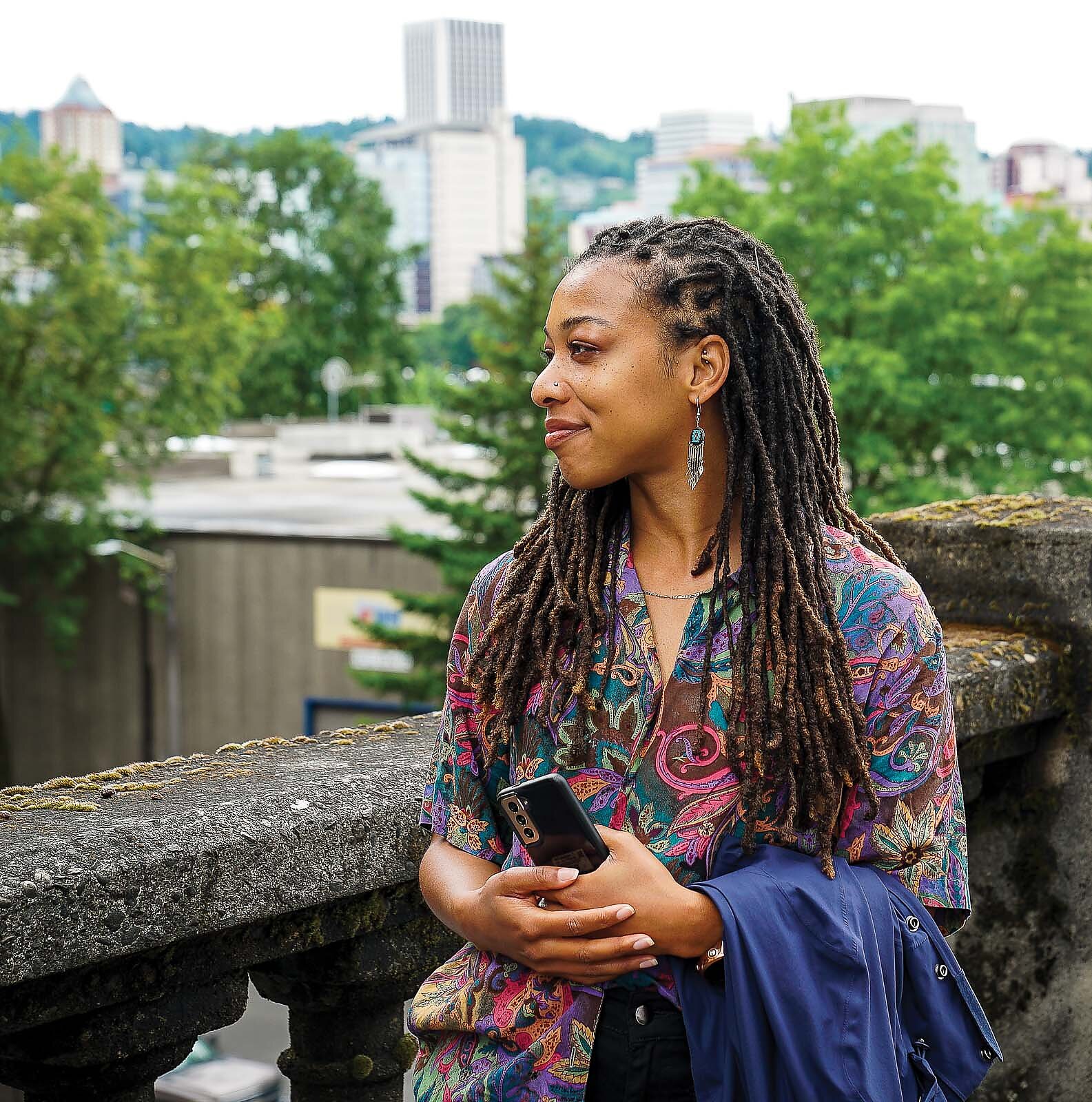 Burnside Skatepark, a DIY structure under the Burnside Bridge created by a community of skaters in the '90s, is a part of a tradition in which Portland residents use art and physical space to foster movement. Just across the Willamette River from the skatepark, the city's Chinatown neighborhood is becoming a hub for community-based physical activity. Deadstock Coffee Roasters, a nearby Blackowned cafe, has hosted a running club on Tuesday evenings since mid-2021. An art studio around the corner becomes a no-cost yoga studio for one hour every Saturday.
In the summer of 1990, a community of Portland skaters looked at a neglected underpass and decided to create what has become a globally recognized skatepark. Now, 30 years later, another community is addressing a need for human connection and movement in a downtown area coming to grips with a tumultuous past few years by creating local, diverse, low-barrier opportunities for physical and outdoor activities that can happen rain, shine or lockdown.
The Here, Outside series was born from a similar need for motion, and from a need to observe and take notice of the subtleties of urban living. Jade's passion for movement, evident in her holistic personal training sessions and her eagerness to talk about the intricacies of proper foot flexion, provided the groundwork for planning each walk's mindfulness sessions. While, as a distance runner, I like to move, I leaned more on my professional background in designing urban greenspaces to provide location ideas and potential topics to explore.
For one memorable edition of the walk, which we themed around water and life cycles, I designed a discussion and walking route that centered on stormwater management, a topic I'd first taken a casual interest in while working alongside conservation advocates on the Los Angeles River. Before we embarked to examine Portland's various drains and waterways, Jade led the group through an ocean breath meditation that involved visualizing inhales and exhales as seamless waves. That same meditation came in handy once more to set the tone for another walk focused on the history of Portland's iconic Benson Bubbler water fountains. Our separate-but-complementary approach to each week's theme results in outings that can be appreciated by wellness buffs and urbanism nerds alike.
"Here, Outside city walks is the type of community engagement that I was hoping for when I moved to Portland last November," Clare Penny said during a recent stroll, her Australian shepherd Toffee, another weekly regular, in tow. "I am excited to expand my view of the urban landscape and learn from our own front yard."
"I am excited to expand my view of the urban landscape and learn from our own front yard."
—Clare Penny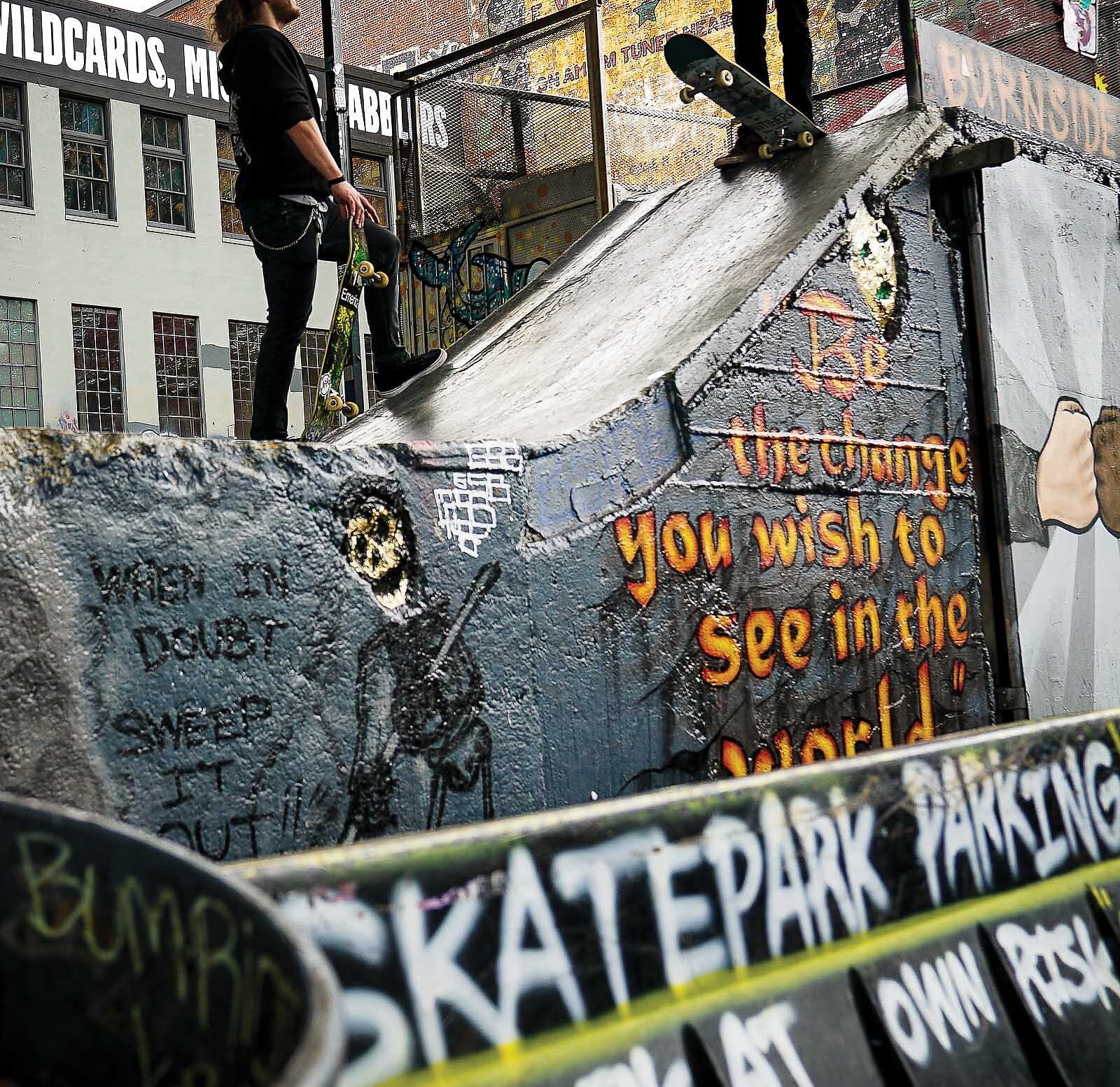 Urbanism, defined loosely as the study of urban environments and how people interact within them, is most useful as a concept when viewed as how city infrastructure either meets, or forgoes, a society's needs. With that in mind, each walk is an invitation for participants to notice aspects of their surroundings that may otherwise go unseen. Oregon is home to plenty of attention-grabbing outdoor marvels—the slopes of Mount Hood, the curves of the Sandy River, the outdoor playground that is Bend—but there's plenty to take note of within Portland's boundaries as well. The city's park spending is more than double the national average, at about $223 per capita. It's also known for having the largest car-free bridge in the country and the smallest public park in the world.
The construction of Burnside Skatepark, while technically illegal, sparked a boom in DIY skateboard culture that continues to ripple out through much of the globe. It also spurred the development of a citywide skatepark master plan, and inspired the founding of professional skatepark construction companies such as Grindline Skateparks. This history blends into the fabric of daily life in the City of Roses, invisible to most as they speed by on their way to work or sweat through a jog along the waterfront. Each walk is a time to slow down and observe an environment that, intentionally and otherwise, shapes all experiences contained within it. This is how Here, Outside finds its rhythm—nudging participants to expand their attention beyond what is at eye-level and into new heights, depths or nooks that many urban dwellers have stopped noticing.
"There are so many buildings I've passed by without giving a second thought," Renee Estrada said during a walk in May that discussed the role Portland's street trees, bioswales and 200-plus green roofs play in managing stormwater runoff. That day ended at Tanner Springs Park, a study in ecology and architecture with its own rainwater pavilion and an ultraviolet water treatment system in its pond. After the stroll, Estrada echoed a sentiment common among many Here, Outside attendees: "The walks made me feel more connected to my city!"
Taking time to notice what exists in a built environment can provide people with the tools to notice what does not. Like so many other bits of rogue urban landscaping, Burnside Skatepark sought to fill a void for locals living nearby. So, with visions of the skatepark fresh in their minds, walk attendees were tasked with noticing other, smaller examples of "DIY urbanism" and to consider what needs those instances may have been trying to fill. Most of the examples seen were of the artistic variety—tags, murals, even a lone purple-painted bridge column that brought color and personality to a zone otherwise filled with dreary walls and sidewalks.
Some murals were still in progress; spectators chalked new designs onto streets and storefronts while waiting for that day's Portland Pride parade to begin. At the skatepark, our group was just as enamored with the murals on its perimeter as they were with its massive concrete bowls.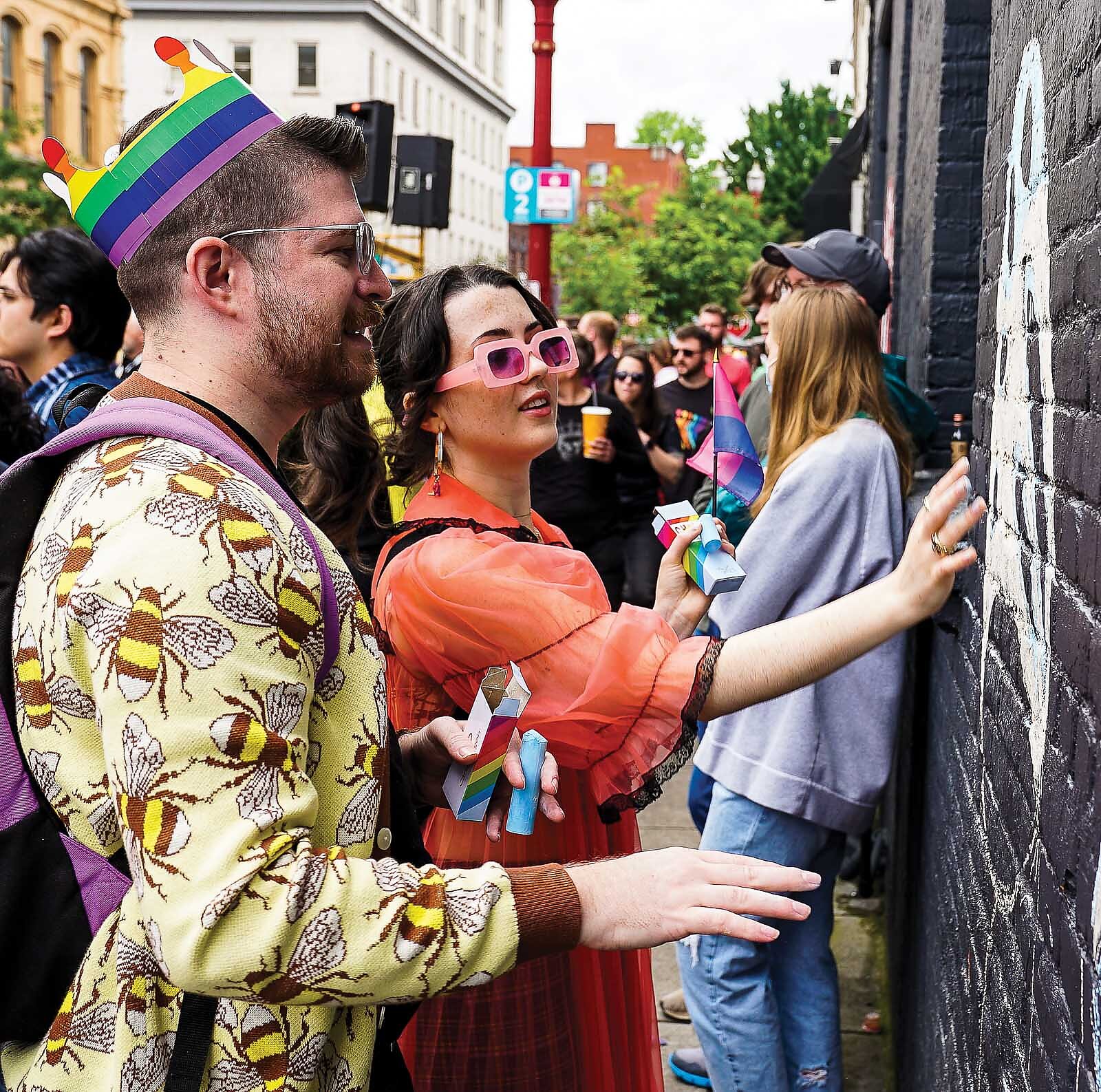 "Did you see the [American Sign Language] painted on the wall over there? It says 'Burnside!'" Sadie Cook said. Another wall had the entire alphabet spelled out with vibrantly painted hands in an inclusive spectrum of skin colors. The sign-language mural at Burnside Skatepark was a timely companion to observations made on the walk about how urban projects—DIY or otherwise—are still limited by the experiences of their creators.
If DIY urban designers aren't held liable to certain standards, "accessibility could be an issue," Cook observed. On the walk back from Burnside, Penny noted the park could feel "a little unwelcoming to female skateboarders," an unsurprising side effect of a community space and sport whose designers, advocates and users seem to be overwhelmingly male or male-presenting.
While skateparks did exist prior to Burnside, they often weren't designed with the experiences of skateboarders in mind. Part of what elevated Burnside as a model for skateparks around the world is the fact that skaters' perspectives are inherent to its ability to function well. As more people of various gender identities and disability experiences shape the future of the sport, small shifts in how skateparks are designed and operated are bound to follow.
If people of many varying identities felt as empowered to identify needs within their built environments as skateboarders in 1990 did when they banded together with concrete, a dream and no support from local government, urban landscapes would avoid stagnation and represent a broader range of perspectives. Here, Outside asks its attendees to think critically about public spaces, but the deeper hope is that each person will walk away recognizing their own power to advocate for the world they want to live in, and to make space for the experiences of others who'll be sharing that world as well.