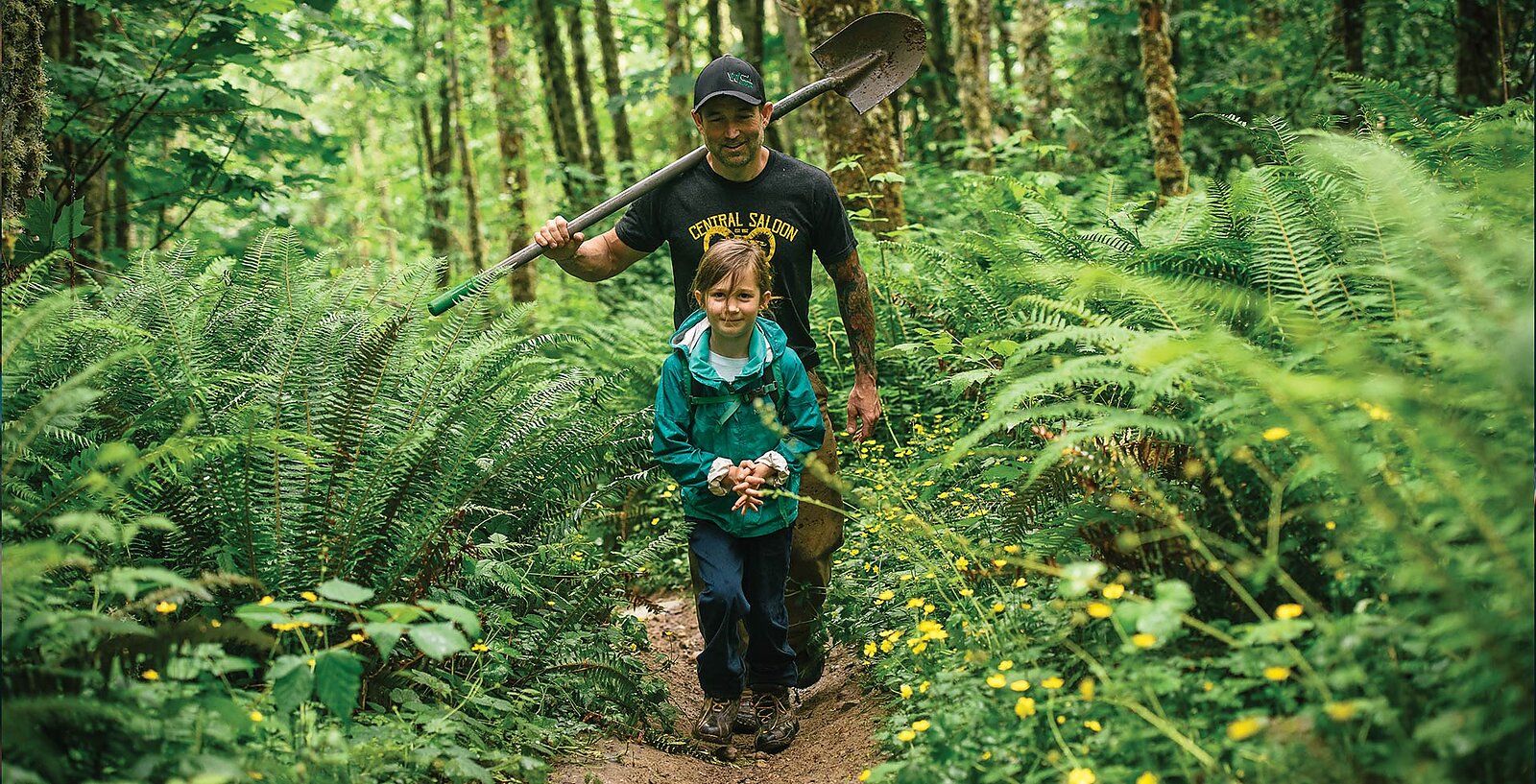 Mabel's Monkey Wrench Todd and Mabel Zimmerman's Quest to Slay Trail Building Dragons
Picture this. The Hulk and a hobbit have a love child.
He comes out built like a brick shithouse, wears cut off shorts, has knuckle tattoos that say, "Dig Trail," and a has a full sleeve on his left arm. Locals call him a legend. Kids call him Mr. Z.
Todd Zimmerman is an amalgamation of many personas: Sixth grade math teacher, lone wolf trail builder, a father and a dude with a lifelong man crush on Burt Reynolds. Today, we can add dragon-slayer to his ever-growing list of personas thanks to his daughter, Mabel.
Long before trail building became a trendy way to pass the COVID-19 times, Todd, or TZ as he's commonly called, could be found (or lost) deep in the forests surrounding Bellingham. He built some of the trails you know and probably ride often: the beloved neighborhood gem, Geneva Connector, a slew of trails dedicated to said man crush out in the bigger mountains of Whatcom county and Gnargus—call it Waterfall and watch the veins in his forehead fill with fury. Hulk, remember?
There are a few rules in trail building. Number one: Don't talk about fight club. Number two: Don't alter someone else's trail without their permission. Number three: Bestow your craftsmanship on only those deemed most worthy. When that recipient is six years old, you know you're forging a special bond. While TZ may have the lone wolf reputation, don't be fooled by hearsay. He's a dad first and has a heart of gold. Mabel was raised in the woods. She scampered up and down some of the wildest trails he shaped by hand. She slid down rock rolls taller than your house and helped pack in berms. She knows the names of all different species of owls found near Bellingham and will serve you up a delicious bouquet of edible flora along with a cold Rainer that may or may not have been stashed in a trail-side pit she helped dig. Mabel is a true nature's child and, in the winter of 2019, TZ decided they needed a new project to work on together.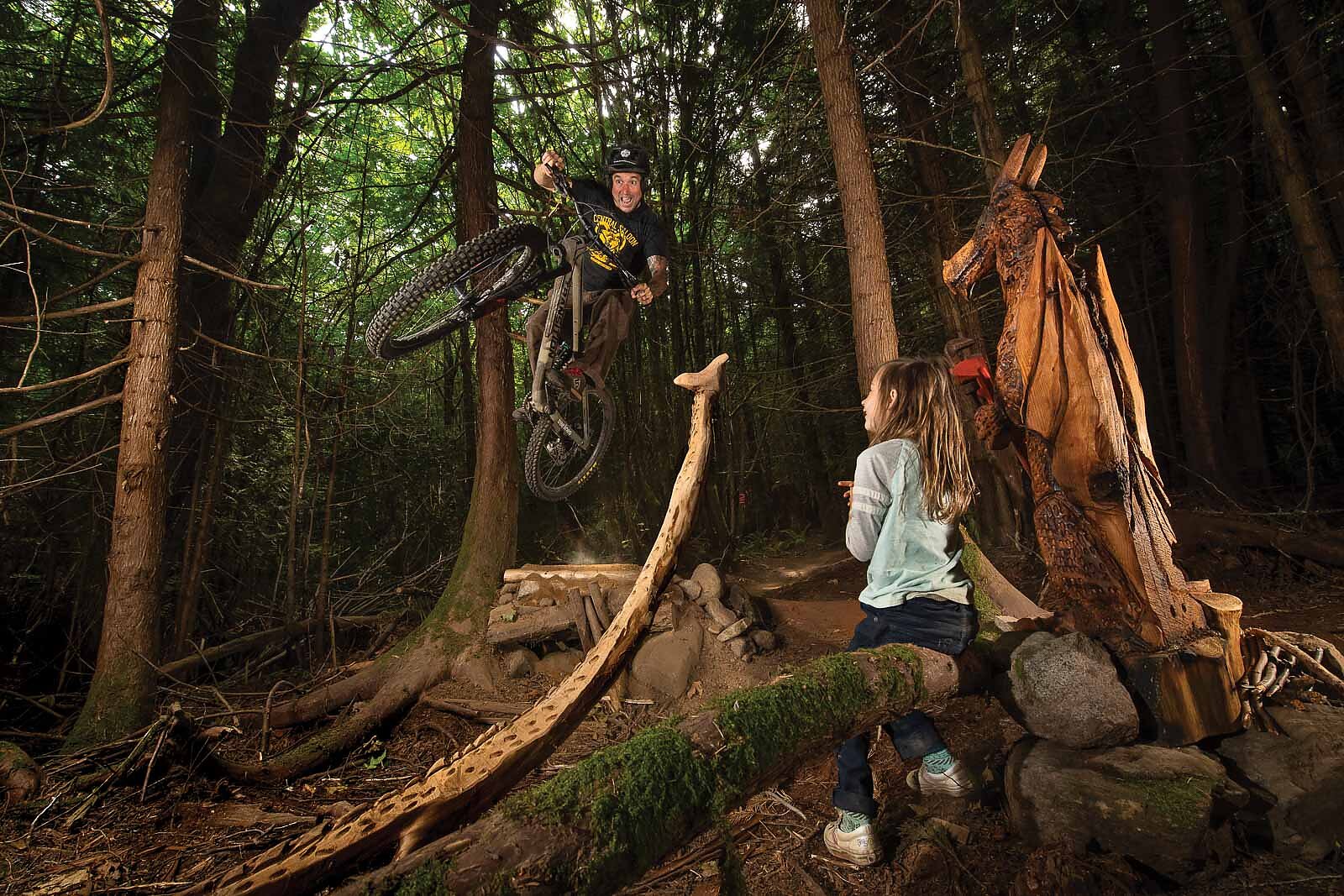 During a short hike in the woods one day, they found what they called "The Zone." Lush, low angle and full of potential, TZ dreamt of a trail filled with high-speed jumps, extra slappy corners and a design that would make even the shyest rider hoot in excitement. They laid out their plans together and got to work. Mabel was an eager helper.
"Daddy, can we go to The Zone today?" she asked constantly. Rain or shine they marched up to the woods in their rubber boots with their shovels—including a mini shovel for Mabel— and started roughing in the line that would soon become one of the area's greatest hits. One day while foraging, Mabel dug up an old monkey wrench stuck in the dirt. It was big, heavy and looked as if it had been there for decades. It was a treasure in the truest sense, found while hunting for the ultimate booty: loam. Todd kept the wrench in a safe place during their build for no other reason than he didn't know what else to do with it.
While winter dumped furious amounts of northwest rain, TZ and Mabel kept digging. The trail was taking on excellent form. The pandemic came and they dove even deeper into the work. As a teacher he found himself with more time to spend in the woods and more time to parent Mabel. Neither one could go to school full time. The crown gem of their work came in the form of a technical jump near the end of the trail. A slight hip to the left launched riders between a tree and a huge, curved limb. It was an intimidating sight. One inch too far to the left and you may clip the limb with a pedal. One inch too far to the right and you're punching the trunk mid-flight. Only the most confident would hit it and only the most stylish would grease it.
The trail was gaining in popularity due to its creative pacing and final jump, but no one knew its name. Unbeknownst to TZ someone had taken it upon themselves to call it Brass Monkey. It was signed and posted. This brings us to the fourth rule in trail building: in no circumstance is it ever okay to name someone else's trail. That's akin to naming someone else's child. The Hulk came out, tore down the sign, found the old monkey wrench and, with a piece of plywood and a Sharpie, Mabel's Monkey Wrench was born.
A trail with a name, massive popularity and a signature feature. It was too good to be true.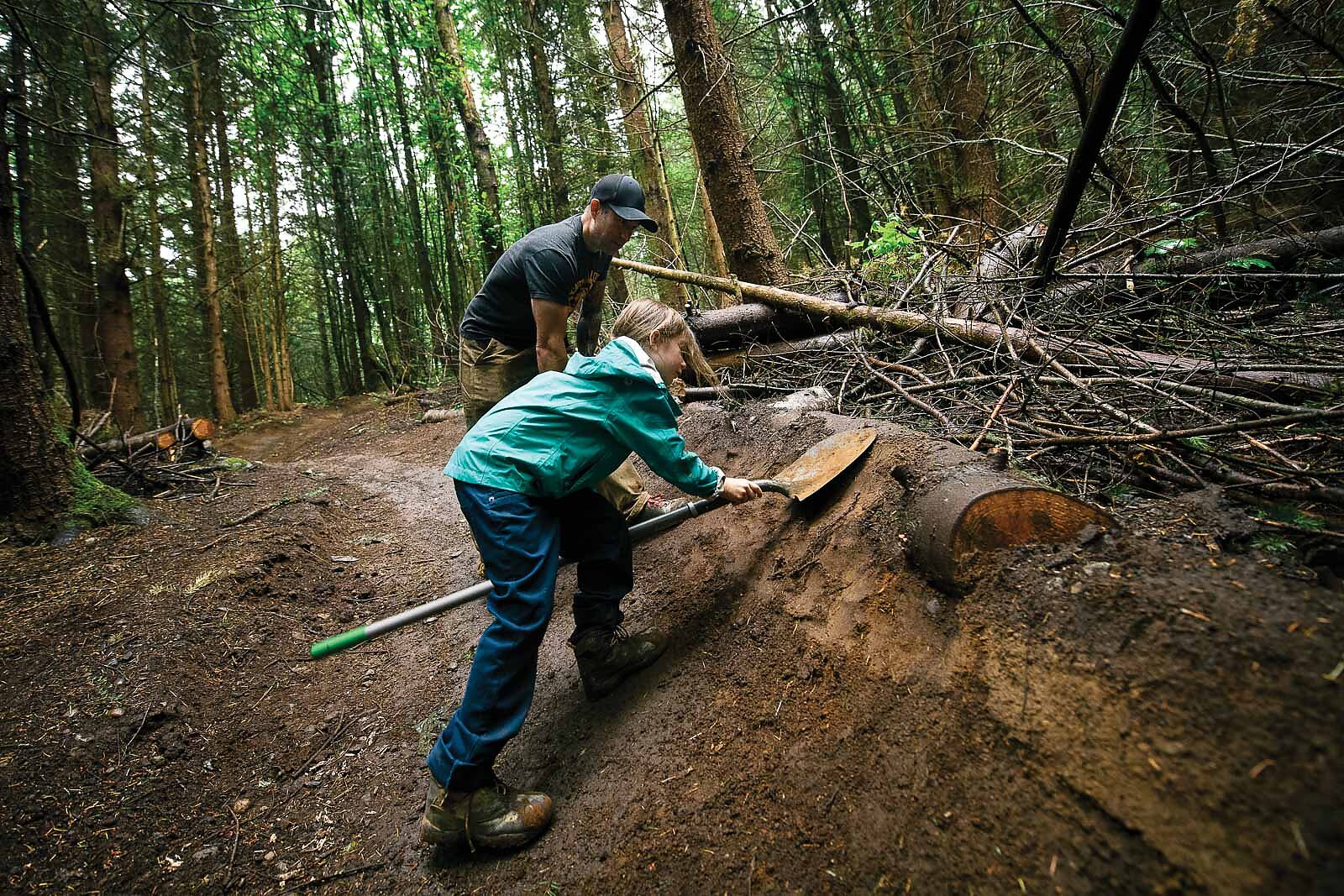 On a fall day about a year after they started the trail, one of TZ's friends called him with gut-wrenching news. Someone had taken it upon themselves to neuter the final jump that left so many in simultaneous emotions of awe and fear. The tree limb that acted as a goal post was sawed off leaving a plain-old-boring left hip. TZ was furious. The neighbors were outraged. The community was flabbergasted. Trail builders were pissed. Rule number two: do not alter someone else's trail. The hive mind couldn't wrap their heads around who would do this or why they would do it. The jump was intentionally built to be challenging, a stand against the seemingly constant dumbing down of trails.
Months passed and no one figured out who the perpetrator was. TZ ebbed and flowed between anger and acceptance. It was a bizarre mystery with no closure until another local builder, Shae James, decided to do something special for him. She learned that Mabel's favorite animal was a dragon. What six-year-old girl who slaps dirt and scales rock walls doesn't love dragons? If you spend time on Galbraith, you've likely seen the handiwork of chainsaw wood carver Leigh Woody, owner of Proud Squirrel Chainsaw Art. Her sculptures dot the mountain and bring joy to everyone that pedals past. Together, Shae and Leigh dreamt up the ultimate guardian of the jump: a four-foot dragon holding a massive monkey wrench.
On a rainy day in May, Shae gathered a small group of TZ's friends and lugged the huge, heavy beast up the hill. It was muddy and slippery. The nettles did their job—stinging hands and eliciting curse words from the group—though, eventually, the dragon was propped up and installed right next to the gap between the lip and the landing. TZ and Mabel were summoned up the hill for the surprise. Mabel squealed in delight at the creature that was taller than she.
"Its name is Toothless!" Mabel exclaimed. TZ was awestruck. While installing the dragon the crew found the original tree limb that had been sawed and tossed aside to rot. Leigh took the limb, carved it into a dragon's tail and secured the piece back in its original location, bringing the original goal post back to life.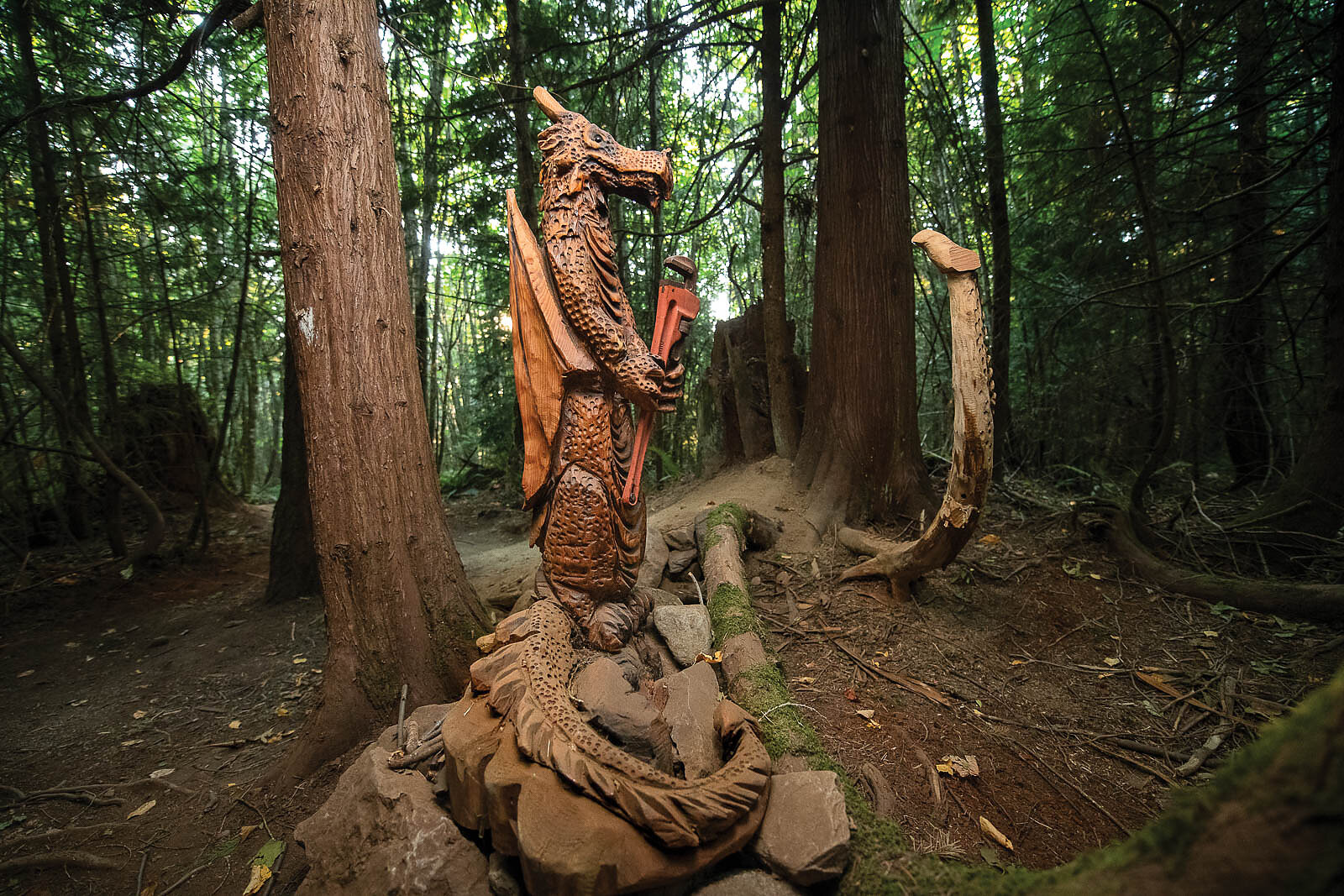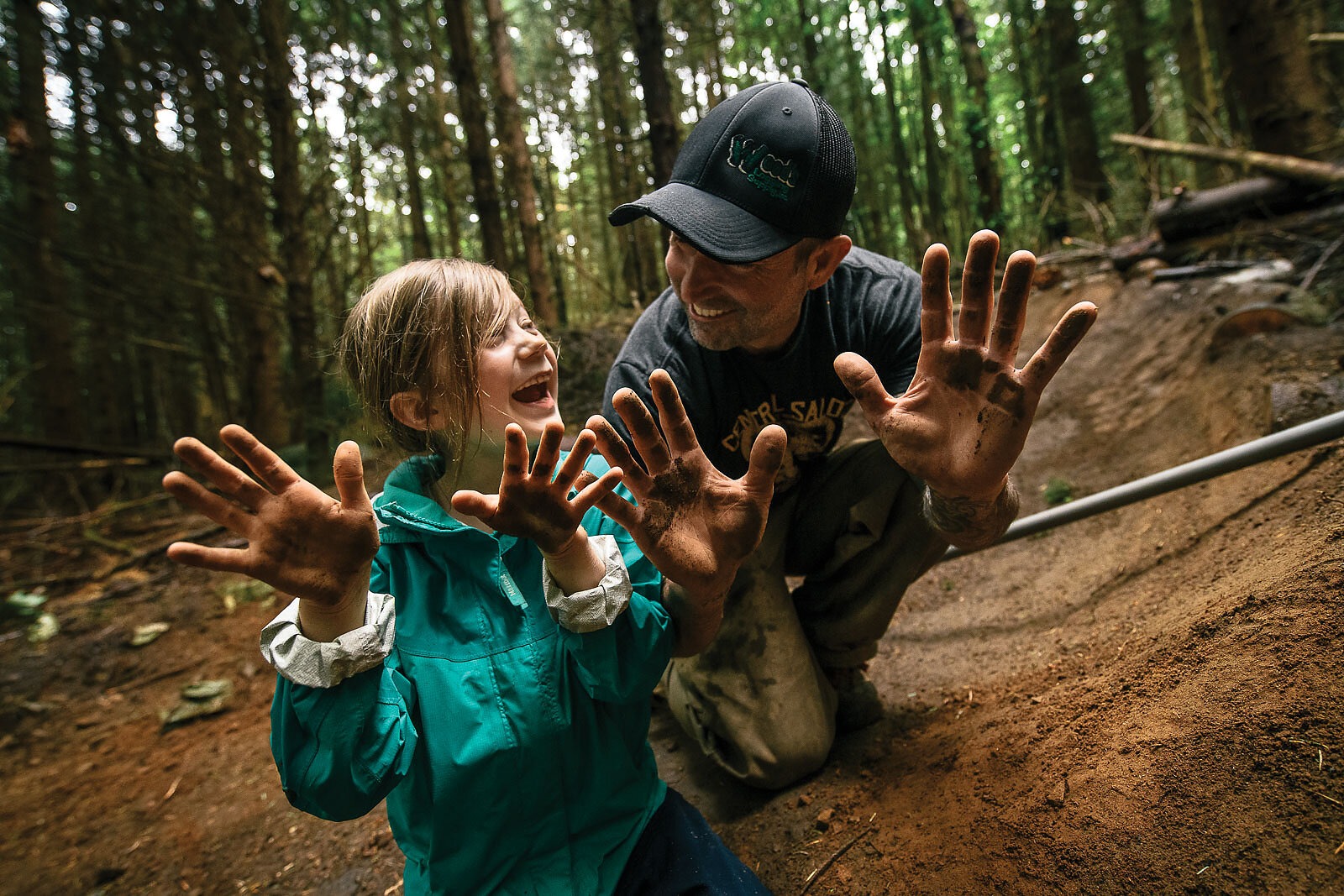 "Todd has contributed to the mountain bike building community since dinosaurs have walked the earth. He deserves a lot more than some hack hacking his trail," Shae said. "I wanted to turn this negativity around, and in its place put something that gave people something positive to talk about, to get stoked on. It was just an added bonus that it also was a giant 'fuck you' to whoever did that in the first place. What better way to ward off unwanted trail changes than with a giant, pointy dragon?"
For TZ and Mabel the addition of Toothless the dragon brought an emotional fairytale ending to a frustrating situation.
"I was genuinely moved that people in this community would show such kindness and generosity," TZ said. "I'd never met Leigh and seeing something that cool put in that spot after what happened there ... I'm so used to seeing the other side, the dark side when people manipulate trails."
Mabel couldn't agree more. When asked about the dragon and how she feels about it, her response pretty much sums it up: "It's so awesome."