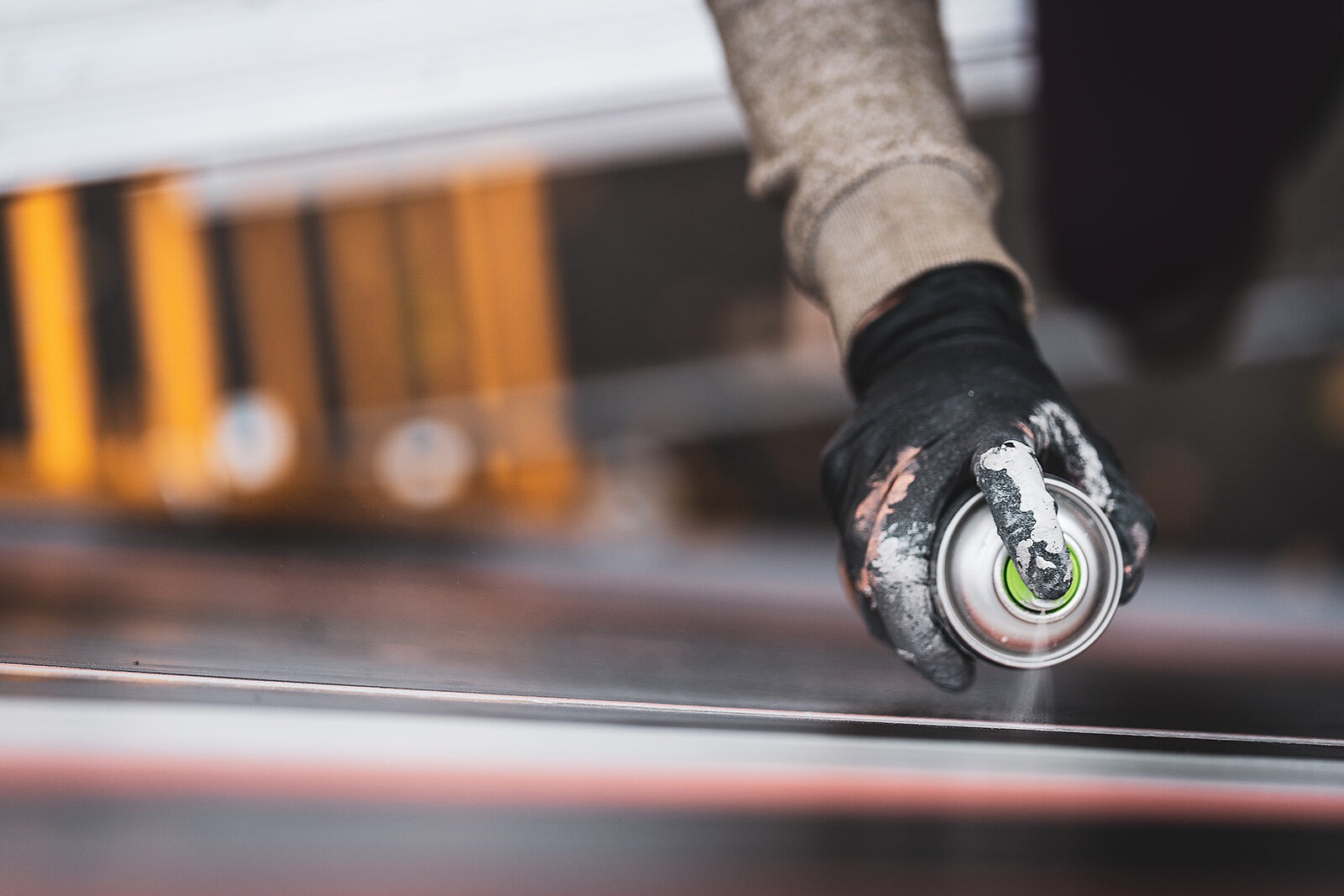 Mountain Shrines Gretchen Leggitt's Church of Creativity
It's 1:00 a.m. in November. Gretchen Leggitt's breath hangs in the cool, dark night like slowly billowing smoke against a black abyss.
Twenty-five feet above the nearly frozen ground, she's perched upon metal scaffolding and intimately close to a stucco wall. Shadowy figures lurk in the alleyway nearby. She moves methodically against a pre-imagined grid that, when finished, will reveal an astronaut whipping its bike in a wonderland full of ferns, twisting trails, magical-looking mushrooms, plump white clouds and Sasquatch walking among towering mountains. It's an image that's been brewing in her mind for ages, and she's finally found the perfect wall upon which to bring her vision to life.
Spend even a short amount of time roaming around the quaint downtown of Bellingham, WA and you're bound to see Gretchen's colorful creations adorning the gray, beige and brick walls. Her style is unmistakable. It's not just the stunning visuals that make her work so impactful, but also the stories behind her work. In the purest sense, Gretchen's goal is to bring joy to the world by intertwining beauty with the daily chaos of life.
Her drive to balance art, community and sport started when she was young. Living in a family of artists, creation was church for the Leggitts. "My brother and I virtually lived out of studios, museums and galleries growing up and were surrounded by artists," she says. "Creating was our norm from an early age." She loved to draw figures as a child and carried that with her until her mid 20s and throughout her schooling at Colorado State University, where she earned a triple major in studio art, art history and education.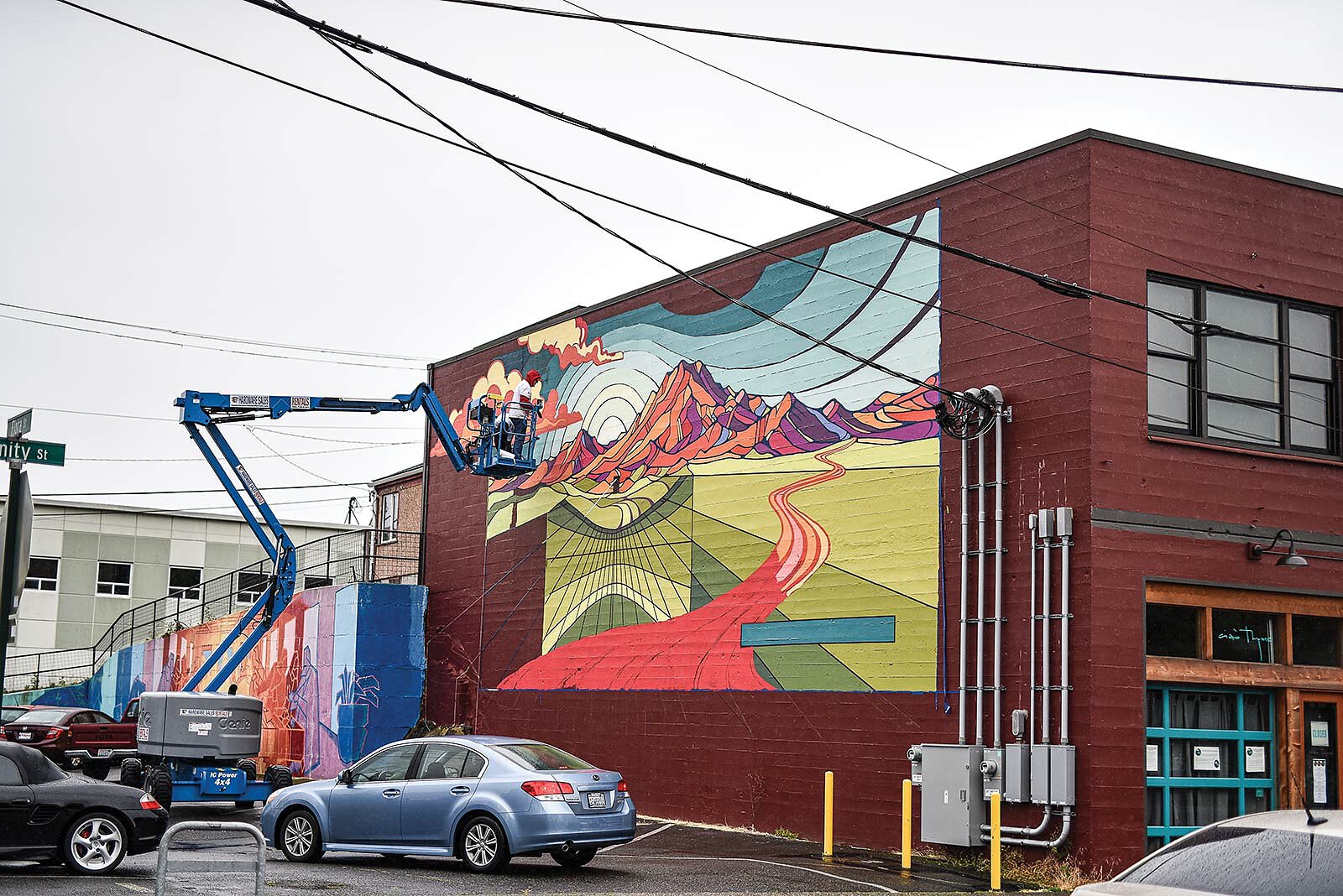 Her style began to evolve in 2006 with a move to the Northwest. "I just exploded with inspiration when I moved to Seattle," she says. She was surrounded by musicians and visual artists while teaching art at two schools, including the Gage Academy of Art. While in Seattle, Gretchen also found her passion for cycling. She grew fond of stepping outside her comfort zone and challenging herself on big rides over mountain passes. Soon she began infusing her work with inspiration culled from the land.
"My creative focus transitioned from figure to landscape because that's where my passions were moving," she says. "We are surrounded by and play in such magnificent, inspiring lands. The transition felt very natural."
Before long, Gretchen was lured by the recreational possibilities of Bellingham and moved north, where she continued the dance of teaching art while creating for personal joy. In June 2018 she painted a small mural on the outside of Culture Café in Bellingham's Herald Building. It's a pale blueish green with a heron standing on rocks alongside a grove of Madrona trees. It is simple, but beautiful and whimsical.
She had no real intention of painting other murals, but enjoyed the process. Acting on an impulse, Gretchen submitted a design to a local sundial mural competition—and won. She dove headfirst into the process. The resulting piece is a vibrant, effervescent mountainscape with "Savor the gifts of this hour" scrawled across the bottom and a shadow-casting element (technically referred to as a gnomon) affixed to the center of the piece.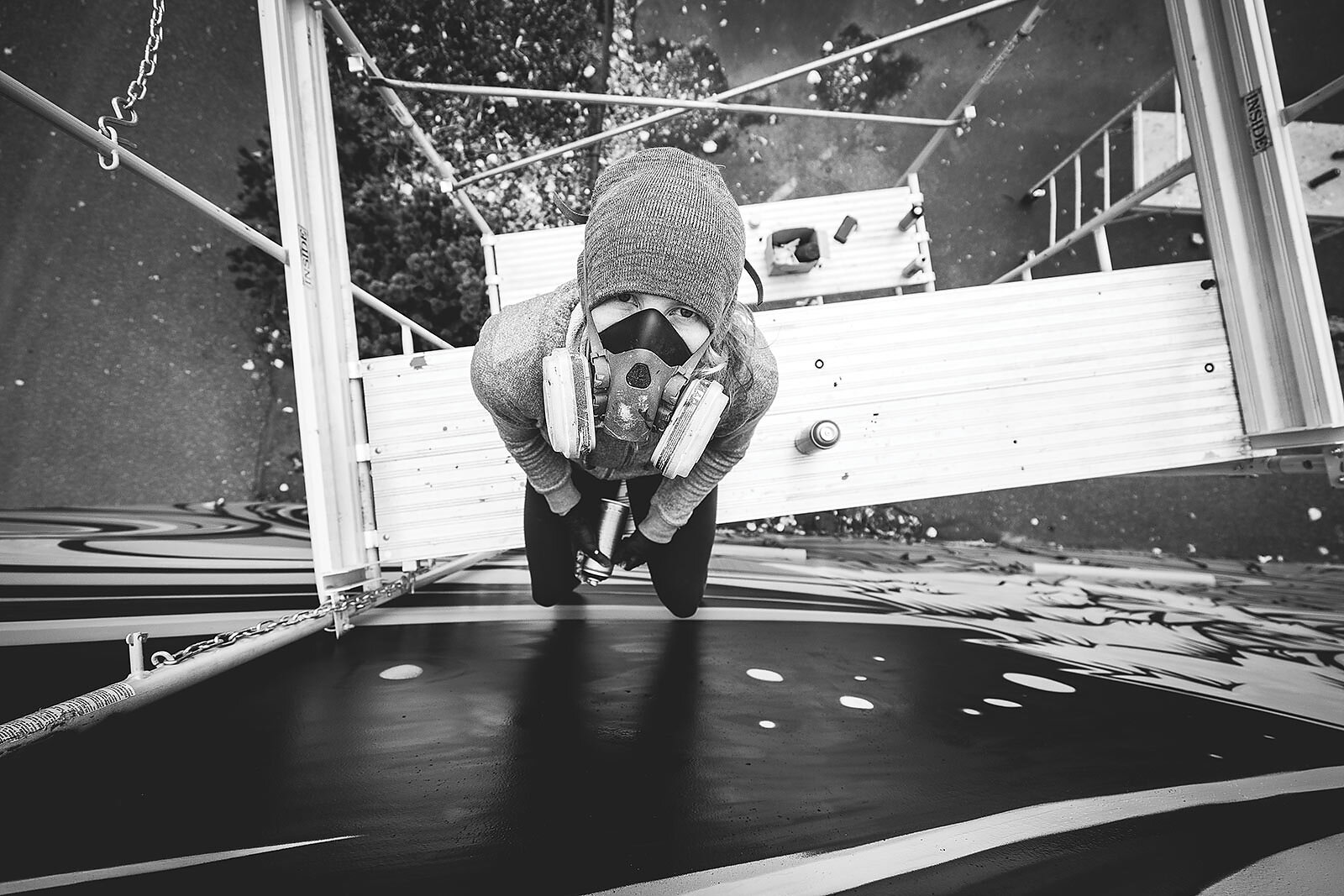 The finished product is so stunning that it has evoked raw emotion in its admirers. "I had a disheveled 16-year-old boy pause with tears in his eyes to tell me the mural was the most beautiful thing he'd ever seen," she says. "It was at that moment that I knew the purpose of my art. It can transform a space and it can move people."
As Gretchen started to leave her larger-than-life marks around town, a friend encouraged her to consider taking a leave of absence and shoot for the moon with her artwork. She was happy and content with teaching but considered the idea. Relying on her ability to maneuver through the challenges of the unknown, she took a leap of faith into full-time freelancing.
Shortly after came the opportunity to create what is now the largest mural in Washington State on the side of a Bellingham industrial building. Looking at the empty wall and thinking about what she could bring to the people who would see it daily provided inspiration for her design. "There are a lot of homeless people living in this corridor and I thought about what I would want to see if I woke up there every day," Gretchen says. "I decided to bring the mountains to them. I wanted to provide them something they may not have the privilege of experiencing firsthand."
One month, 60 gallons of paint and 110 cans of spray paint later, there's a nearly 22,000-square-foot rendering of the North Cascades mountain range—a million-dollar view and a gift Gretchen was honored to create.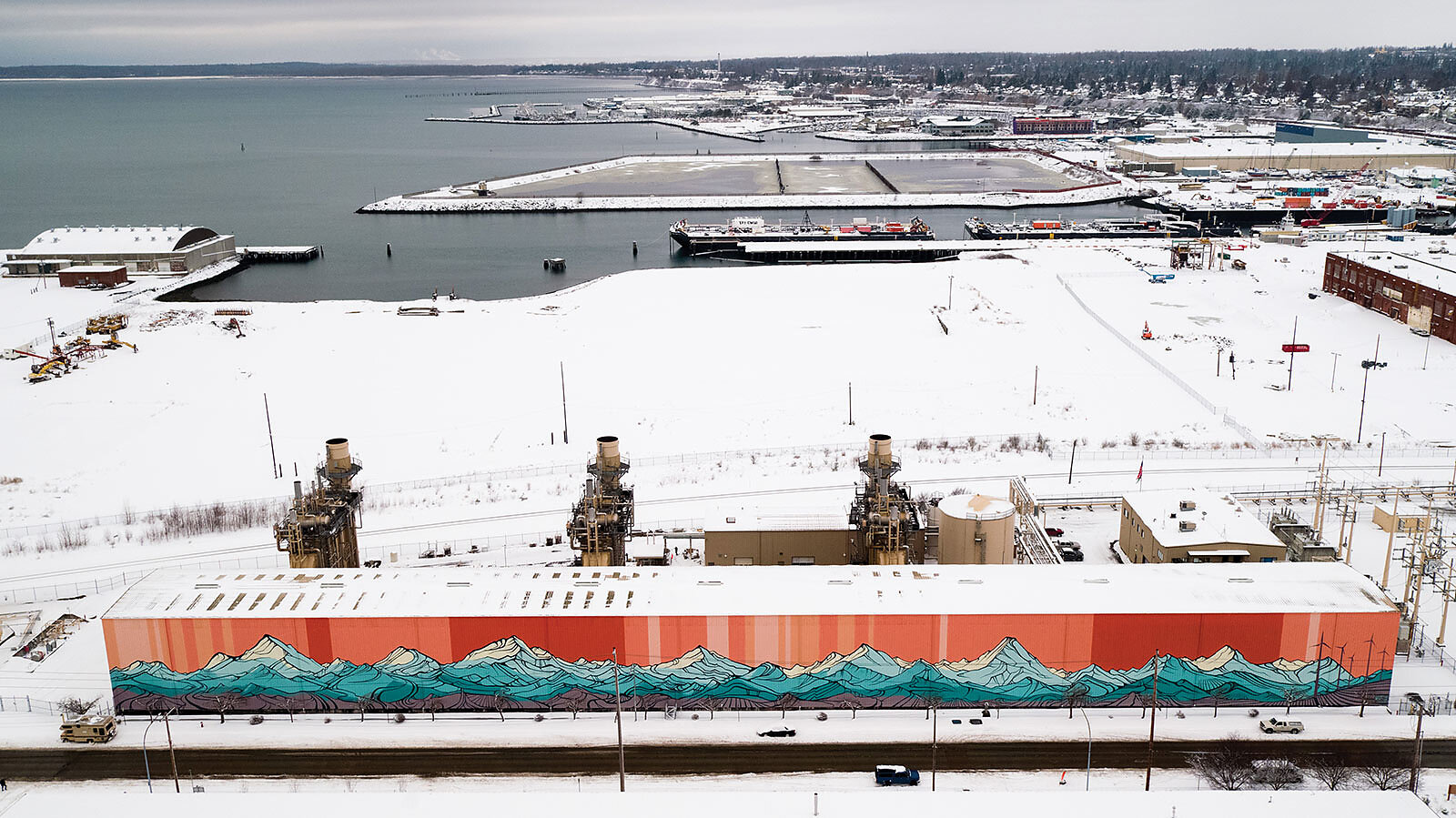 That mural opened the floodgates for her and within a few months, she had seven more large-scale projects lined up throughout Bellingham and Seattle. She credits her time on her bike and snowboard for helping her style evolve to where it is now. It allows her to tap into her flow state, which comes to life in all of her pieces. Her art is synonymous with fluidity and her linework is impeccable. It's impossible not to see motion in everything she paints.
While there's no doubt Gretchen's talent and dedication are the driving forces behind her success, she's quick to credit the local community with lifting her up. "I am surrounded by so many passionate people," she says adamantly. "I couldn't be prouder of my friends. Everyone strives to excel and it's a snowball effect. It is totally inspirational."
It's impossible to recreate without the word "create" and Gretchen is a purveyor of both in so many ways. She shares these loves with friends and strangers alike. From instigating group bike rides to transforming bland walls into stunning views, she inspires those around her with whatever she does. Equally important though, she allows herself to feel the joy she puts out to the world.
"Sometimes I'll be riding down the Interurban Trail and catch my big mural out of the corner of my eye," she says. "I'm like, 'Damn! That's massive! I can't believe I did that!'"