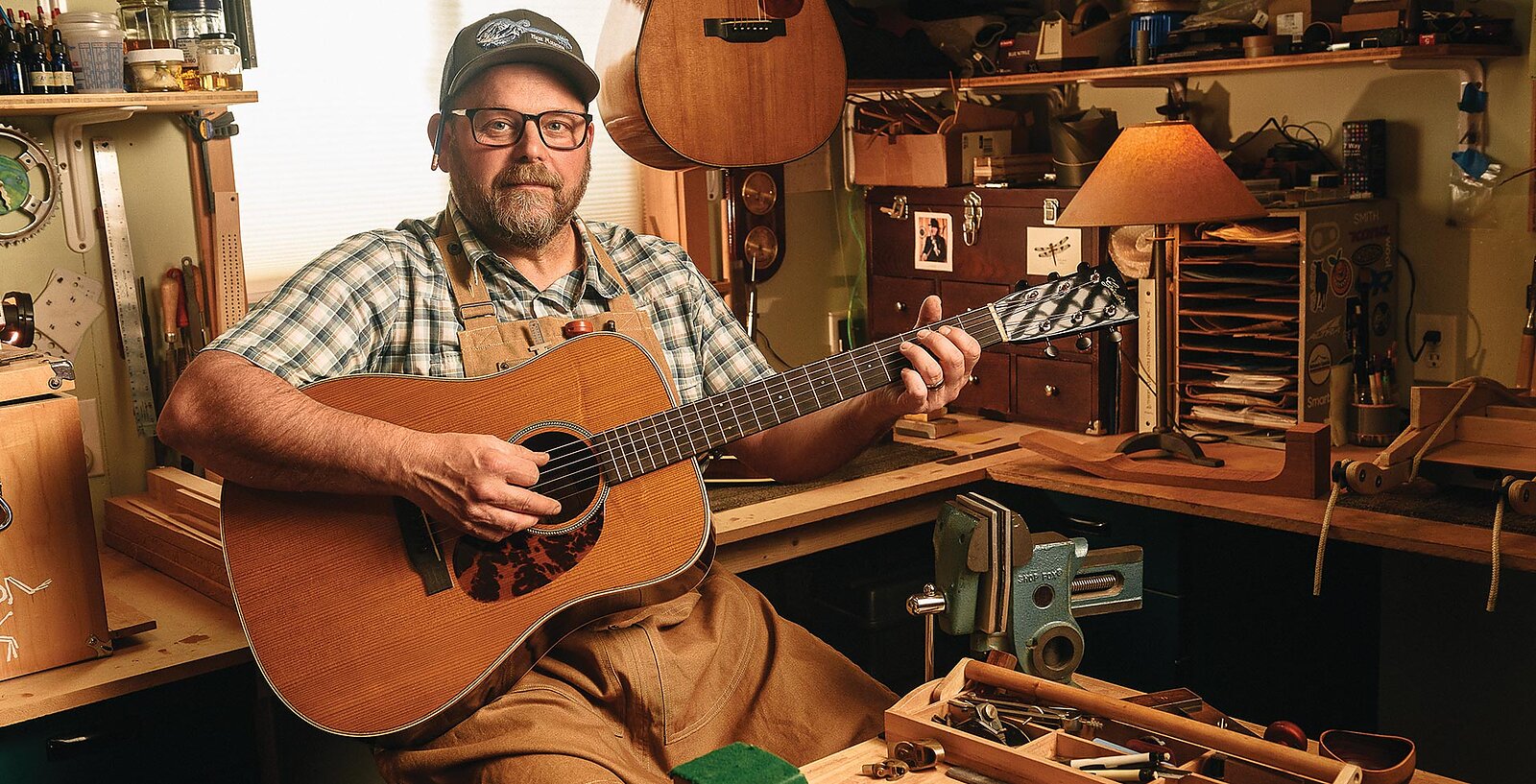 One Sound Leads to Another Kurt Gisclair's Sonic Odyssey
Luthier Kurt Gisclair stands at his workbench, gripping a thin wooden panel between his thumb and index finger.
Though his craftsman's hands are rough, he holds the quartersawn panel delicately, careful to not mute its acoustic potential. The wood is striking even in its raw, unfinished state, with a richly patterned grain and golden- red hue. Lifting the piece close to his ear, he taps it gently with a felt-padded hammer removed from an old piano, listening intently.
"Each new guitar or mandolin is a journey," Kurt says. "I'm always listening for wood that produces round, complex, musical tones, but every build has its own unique needs."
A dry, percussive tone provides a bit of punch to help a bluegrass musician drive a fast-paced tune, Kurt notes, whereas a lighter, more airy sound might better complement the music played by a fingerstyle guitarist.
"The right wood brings an instrument to life for the player," he says.
Kurt taps on several pieces before selecting two, satisfied that what he hears will suit the character of the instrument he intends to build. Laying them on the bench before him, he carefully aligns the mirrored grains of the bookmatched panels before taking a template from a nearby hook and using it to painstakingly trace the outline of the back of a guitar onto the wood. The build is underway.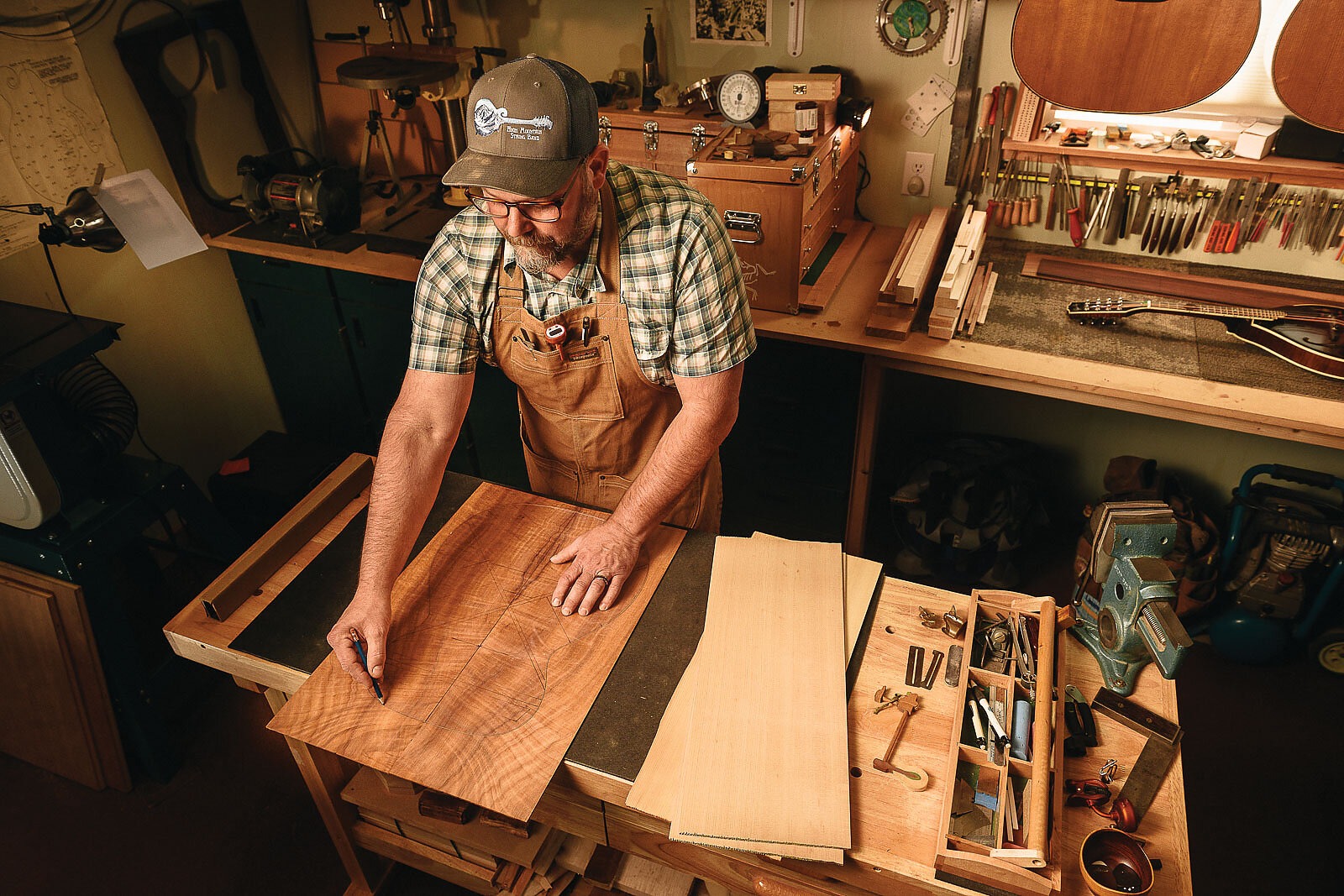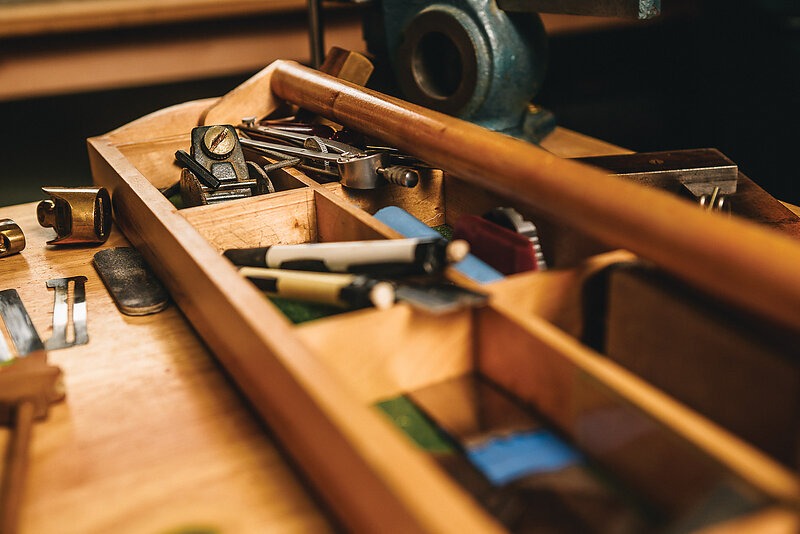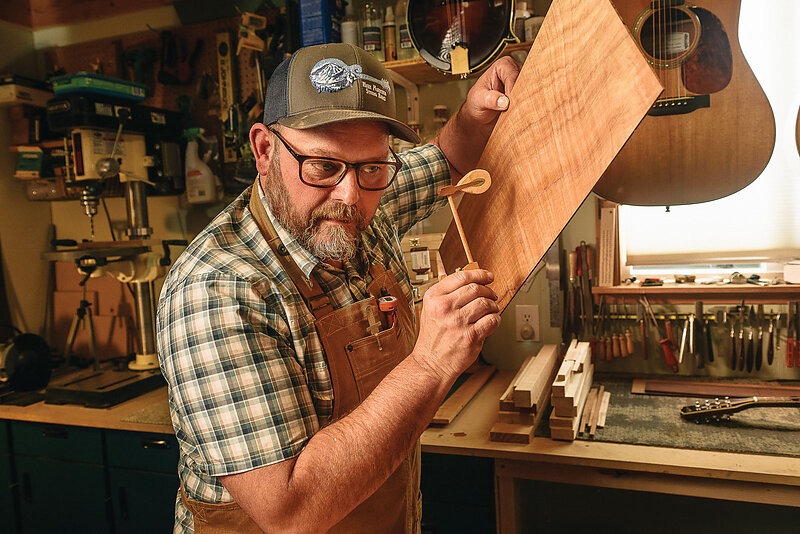 Based in Bellingham, Washington, Kurt has built dozens of guitars and mandolins for clients as far away as South Africa. During the past two decades, he has developed a reputation for meticulous attention to detail and for producing instruments that are both visually stunning and musically responsive. He began, however, with just a single client in mind: himself.
"There were a bunch of us living in this big old house in Wyoming together," Kurt says, recalling his younger years. "[We were] skiing Teton Pass every day we could and just trying to get by as cheaply as possible—basically eating Crockpot chili all winter and working only when we had to."
A friend introduced Kurt to the Jerry Garcia-led band Old & In the Way, which in turn led him to explore other bluegrass music. As someone who grew up listening to the Grateful Dead, the group essentially served as a "gateway drug" to bluegrass for him.
As his interest in the genre grew, Kurt decided he wanted to learn to play the dobro (a type of resonator guitar), but after wandering into a music shop in Idaho Falls to buy one he quickly discovered it was far too expensive for him to be able to afford. Leaving instead with a cheap mandolin, he dove into learning to play, rapidly outgrowing the modest capabilities of that first instrument. Unable to afford anything better but with the confidence of youth on his side, he decided to simply make one himself. After buying a how-to book, a handful of basic tools and some raw materials, Kurt slowly built his first mandolin on his kitchen table over the course of several months.
Remarkably, the instrument turned out to have a decent sound. He'd achieved his goal of building a mandolin—and that might have been the end of it if it weren't for an instrument-dealer friend who invited Kurt to accompany him to the International Bluegrass Music Association festival and trade show in Louisville, Kentucky. Once there, the friend suggested he put his instrument on display. The event, in the heart of the bluegrass world and frequented by many of his musical heroes, was an intimidating place to put out a first-attempt instrument for all to see, but after further encouragement, Kurt relented.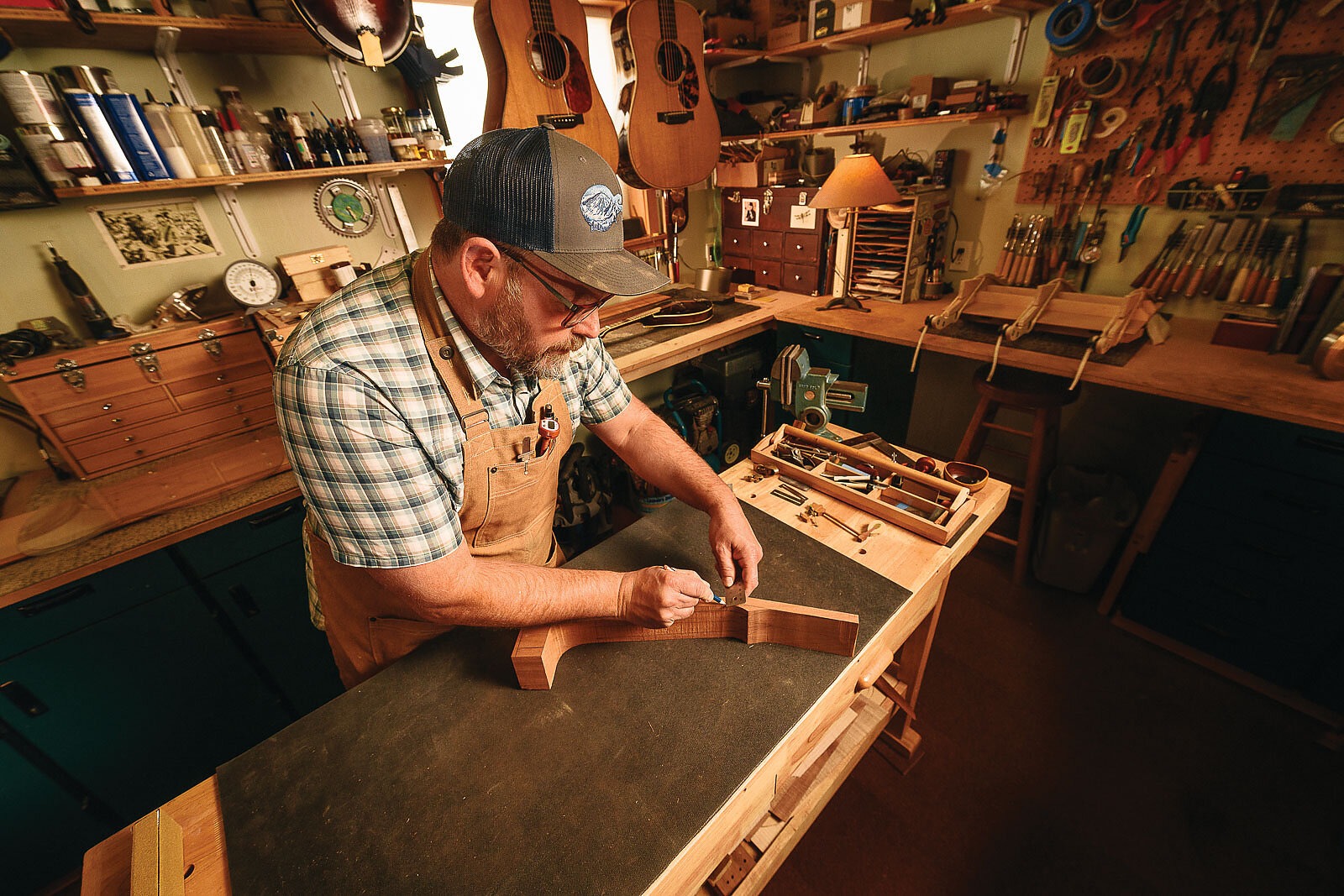 Partway through the show, a musician stopped by their table and asked if he could play it. After picking through a few tunes, he offered to buy it on the spot. Kurt was stunned. At first, he hesitated. After all, this was intended to be the only mandolin he was ever going to build, he remembers thinking. Ultimately, he agreed to sell it and, two days later, Kurt watched the musician play the instrument on stage.
"It was really overwhelming, seeing someone play an instrument that I had made," he says. "It was such a cool feeling."
The experience was inspiring. Returning home, Kurt made two more mandolins during the next year. Selling those, he tried his hand at building guitars, quickly selling those, too. Slowly he improved his skills and upgraded his tools. Along the way he built a network of mentors in other luthiers to whom he could go with questions or ask for feedback about his work.
"Everyone was just so willing to share," he says. "Even when I was just beginning, these master luthiers who I looked up to would take time to offer suggestions. I feel lucky to have had that."
These days, Kurt returns that favor by offering his own insights to other luthiers, but he still gets feedback from his colleagues on every instrument he builds. They don't hold back. The honest critiques are part of the process, akin to how a writer seeks out an editor to read their work after months of toiling.
"Sometimes when you are working so closely on something for so long, it's tough to see the big picture," Kurt says. "It's critical to have a fresh set of eyes and ears to help keep things on course."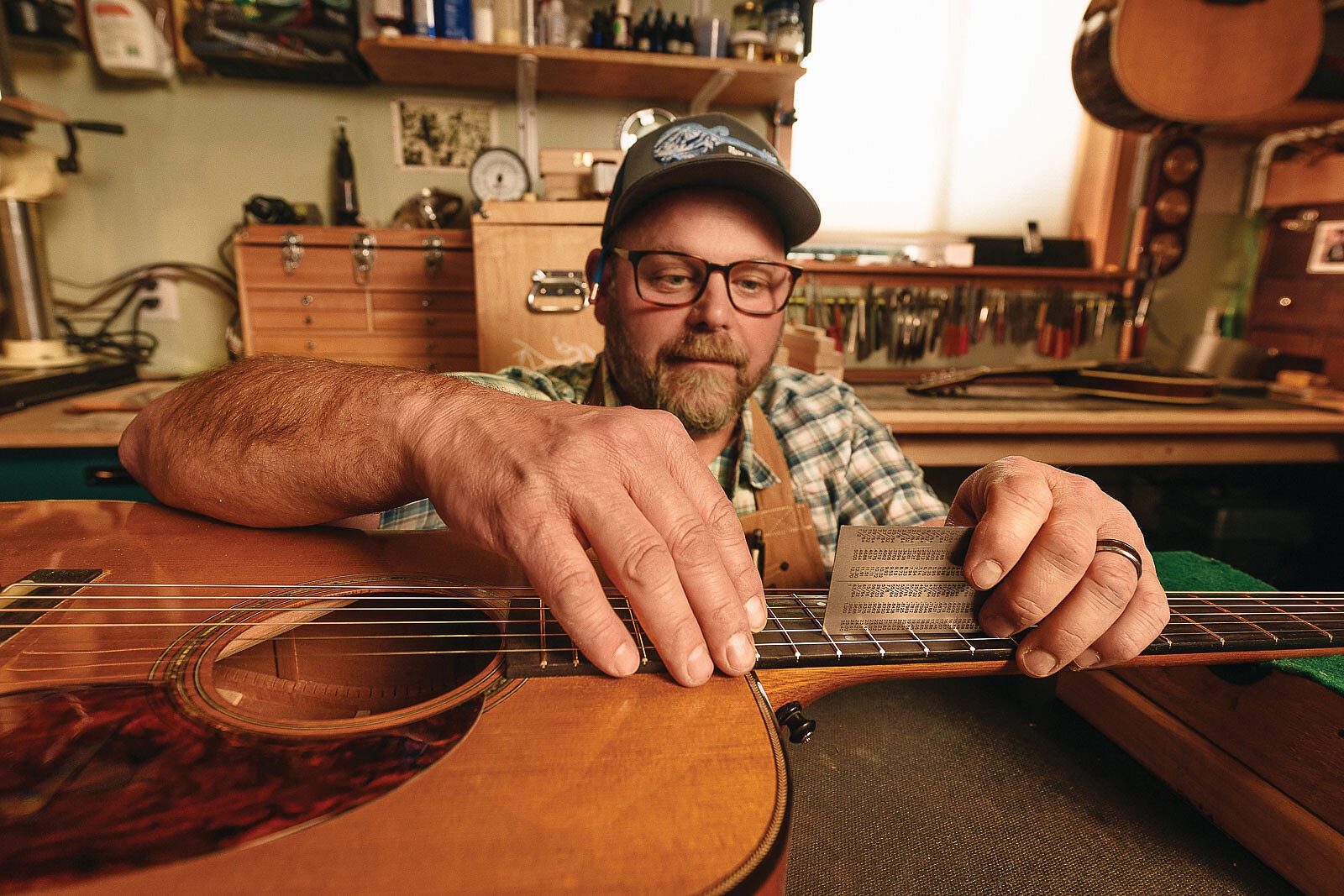 To help retain that imparted knowledge, Kurt keeps a journal with notes about every instrument he has built—what worked, what didn't, things to try for the next build.
His detailed approach has paid off. Kurt does little in the way of advertising; the instruments he builds are all the marketing he needs. Clients find him by word of mouth, usually after having seen one of his instruments in the hands of a fellow musician. When someone approaches him for a guitar or mandolin, he often tells them to first go and play a variety of instruments from other makers. Then, if they truly feel that one of his builds is the right fit, he will work with them to understand their playing style and what they are looking for from an instrument.
"I love beginning that process with a new client," he says of working together to craft an instrument that fits their style and personality. "It's really a collaboration, and it is so rewarding to watch them play the finished instrument for the first time."
It's rewarding for clients too. Scott Kiefer, a guitarist residing in Ocean Shores, Washington, describes the initial experience playing his new Gisclair guitar, a small-body Venetian cutaway with a slotted headstock, as "a joy." The instrument is crafted from spruce and koa, a Hawaiian wood prized for its warm tone and beautiful appearance.
"It's drool-worthy to look at," Kiefer says, "but the performance exceeds the beauty. It's incredibly responsive, with a wonderful open voice that's lush but somehow still precise."
Kiefer says the guitar responds instantly to changes in picking style, which allows him to experiment and play completely in sync with the instrument. "It's like it's hinting at what I should do next."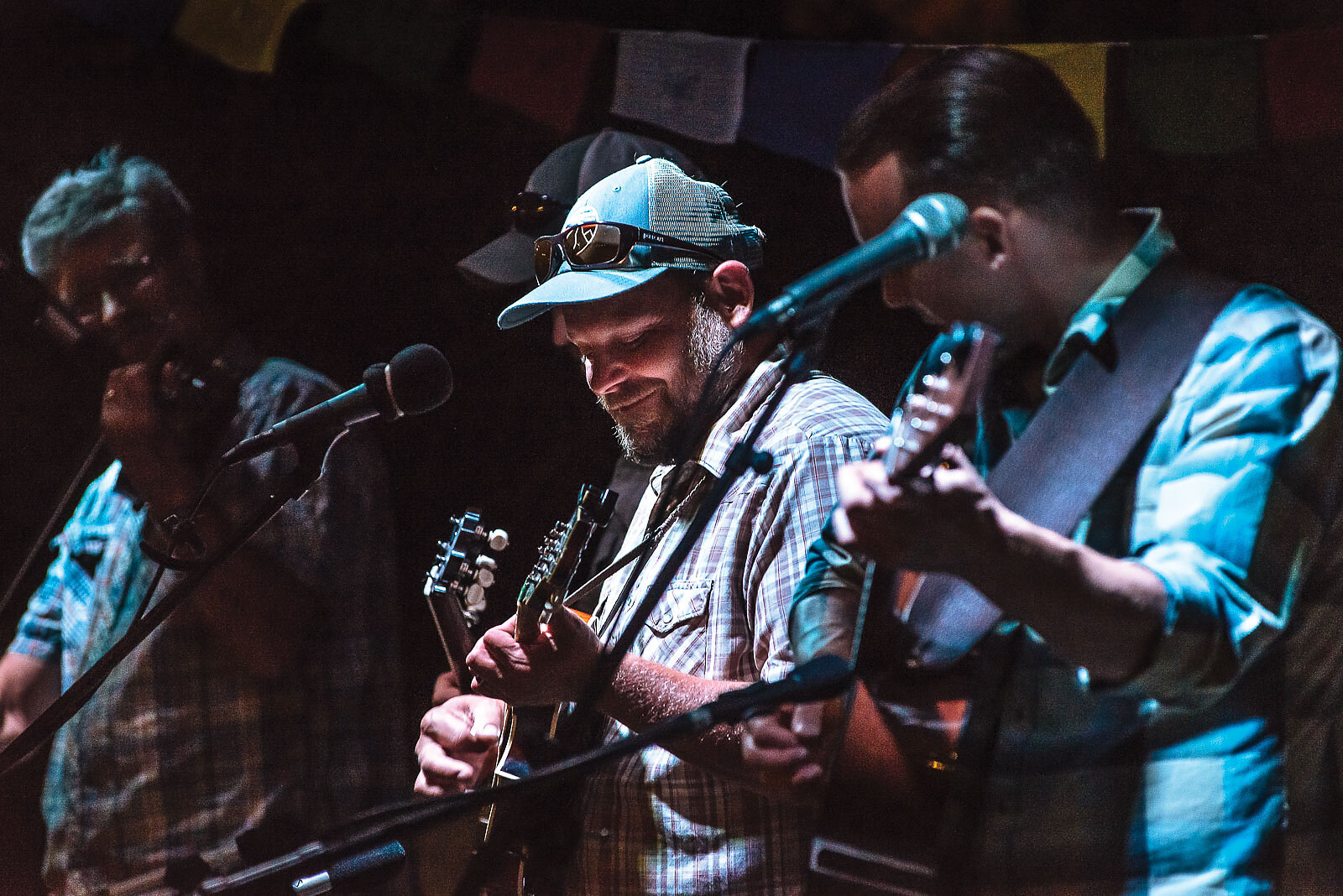 Kurt's small workshop, attached to his home in Bellingham, is immaculate. Like the cabin of a sailboat, everything in the cozy space has its place and purpose: rows of chisels and hand tools line the walls, handmade shelves hold an array of glues and lacquers, a table saw occupies real estate on the floor alongside its band saw neighbor. Overhead, forms and templates are arranged by size, dangling from the undersides of tall racks holding milled pieces of spruce, koa and maple. On the east wall of the shop, two finished guitars and an intricately carved F-style mandolin hang above a window, the shop lights reflecting off their glossy, richly colored finishes.
Back at his workbench, Kurt carefully tightens the fittings on a press holding the freshly glued panels of the guitar back he has just assembled. Approximately 200 hours of intricate labor from now, they will make music in the hands of his next client. The process is slow, and Kurt sometimes finds that playing music takes a backseat to building; it's a fact of the luthier trade that doesn't bother him in the least.
"Seeing people playing my guitars and mandolins, making music and memories on these things I built, is so gratifying," he says. "I love it every bit as much as playing music."
For now though, the glue must dry, so he puts away his tools, turns out the lights and heads off to pick a few tunes with some friends.
Kurt Gisclair's bluegrass band, the High Mountain String Band, plays regularly at venues in Bellingham. See their schedule at highmountainstringband.com