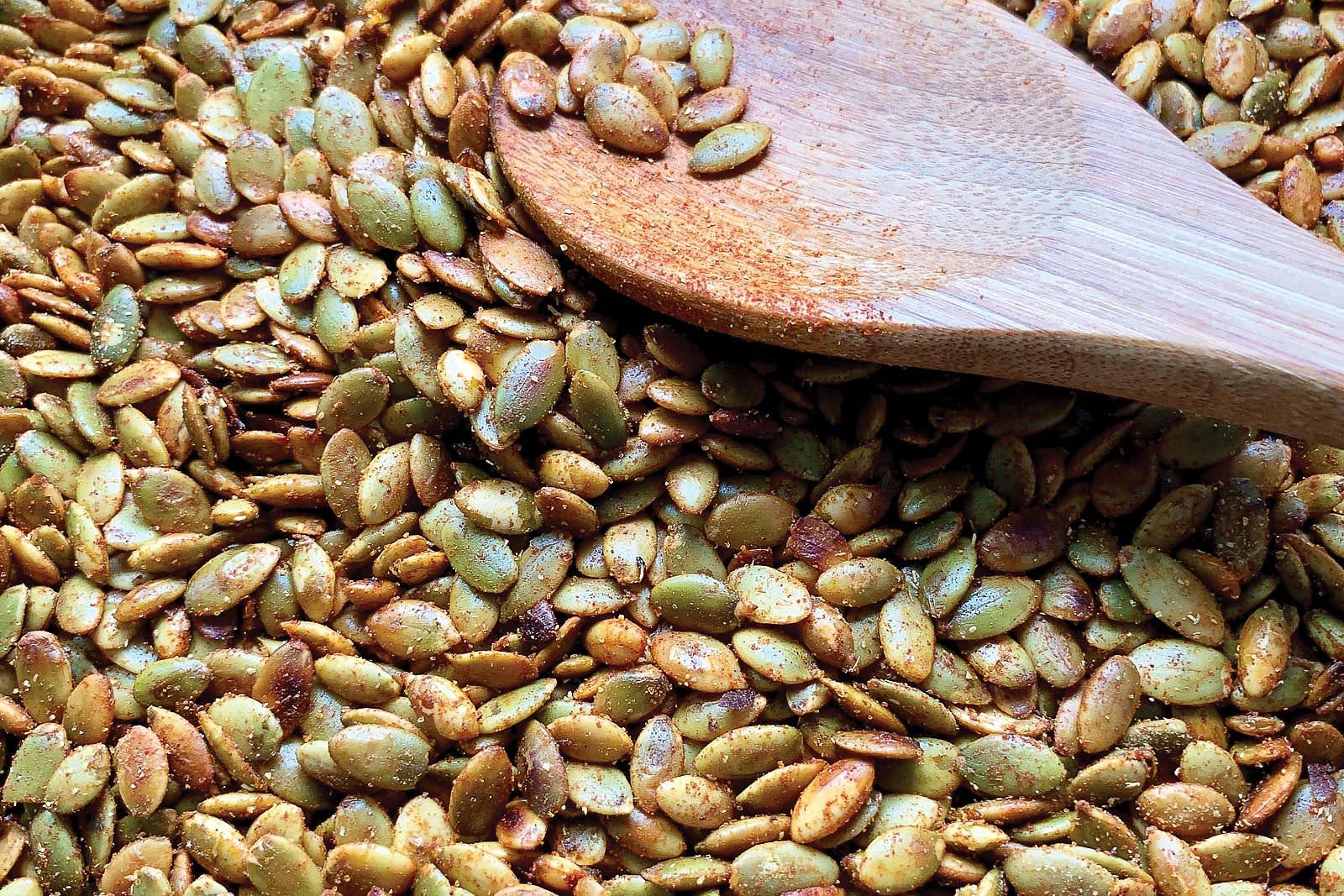 Popped Pumpkin Seeds Santenello's Snack
We all need a great riding snack.
One that cures our noshing needs yet delivers 25 percent more pop* to our session. Before and during the shred, or with aprés drinks, nothing leaves me more pumped than pumpkin seeds. Loaded with great flavor and crunch, pumpkin seeds are a lot of nutrition in a humble, affordable package. Health benefits include: high levels of magnesium, zinc, iron, B and E vitamins, help controlling blood sugar, omega-3 fats, aid in sleeping, and they can even improve fertility and sex drive!** All of which are good after a big mission on the bike. So the question is, how do we make this vegan wonder food taste like bacon? I have a surprisingly easy plan of attack.
---
INGREDIENTS
• 2 cups raw pumpkin seeds (You can get them at co-ops, Trader Joes or Whole Foods.)
• 1 ½ tsp. olive oil
• 1 tsp. smoked paprika (or other mild chili)
• ½ tsp. ground fennel seed
• ½ tsp. ground coriander seed
• ¾ tsp. sea salt or smoked salt
• Cayenne or chipotle chili powder to taste
METHOD
• Toast pumpkin seeds in a large, dry cast iron or sauté pan over high heat until they begin to pop. A little blister or char is good. Continue tossing until most seeds are popped.
• Transfer seeds to a mixing bowl while still hot. Toss in olive oil and spices. Mix evenly and serve!
NOTES
Try with other spices/oils of your choice. Avocado oil, curry powder, harissa, ancho chilis and coriander or sesame oil with togarashi spice are some of the many possibilities. Be imaginative and have fun!
Spencer Santenello is a private chef who has been mountain biking for 15 years and cooking since he was a grom. When not behind handlebars or in the kitchen, he can be found in either Whatcom County or Kauai, HI, surfing, riding, building trail or drinking lavender americanos.
*There is no scientific evidence to back up this claim. | **Sources: Health.com, BBC Food