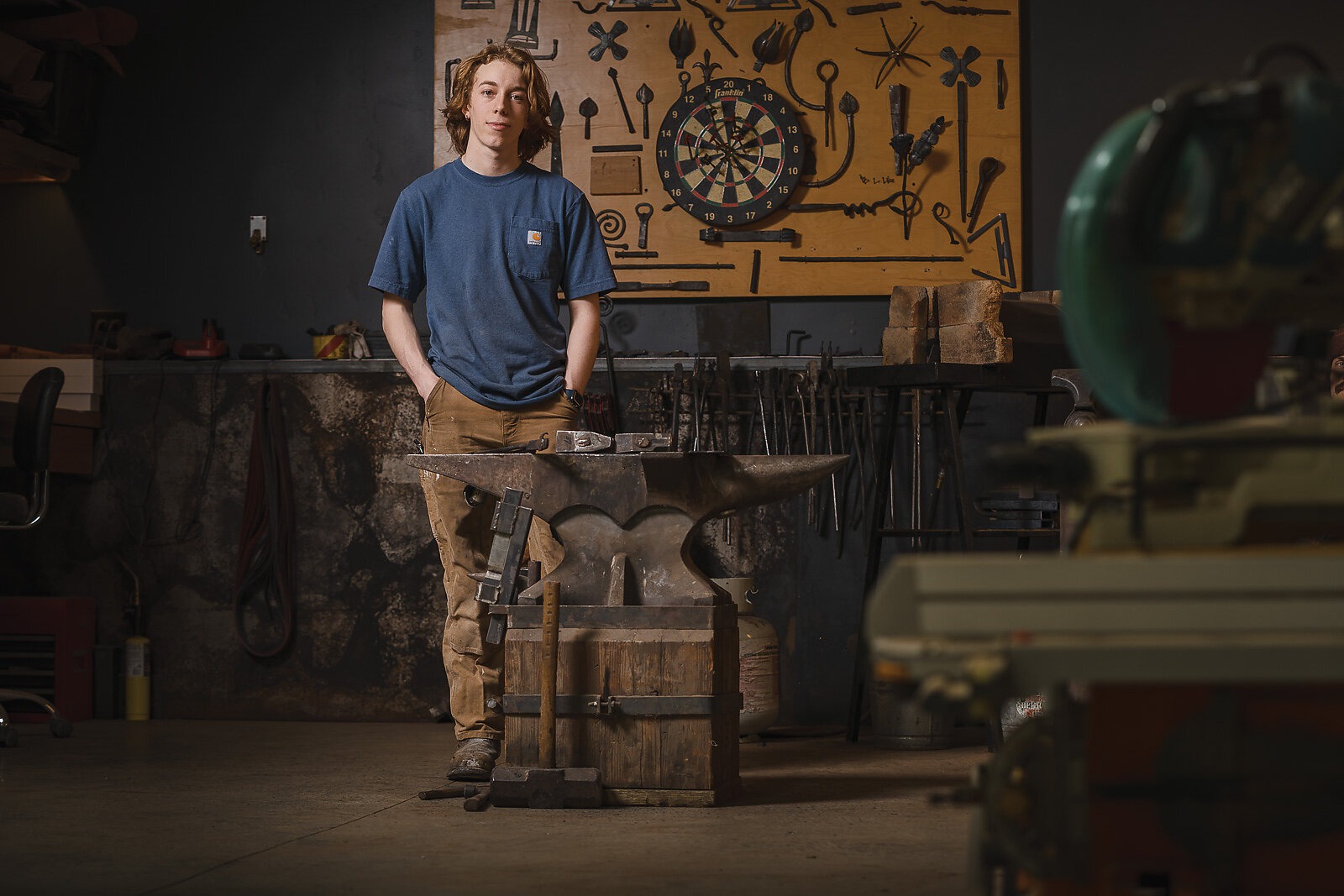 Precious Metals Angus Kellems Forges His Own Path as a Bladesmith
Traces of his work are still embedded across the Columbia River Gorge. Forged in fire, they now glisten in the sun at private homes and popular haunts around Hood River, Oregon and White Salmon, Washington. A circular medallion that adorns the oven at Solstice Wood Fire Pizza. A footrail at Double Mountain Brewery. The door handle at Feast Market and Delicatessen, formerly Everybody's Brewing. A chandelier made of mica and steel. Numerous railings, tables, and other custom fabrications.
These pieces are the work of Van Kellems, a nonconformist who lived life the way he saw fit—first as a young man on Whidbey Island, then as a student in Portland where he met his wife, Sarah, and then as an apprentice blacksmith in Bozeman, Montana. In a converted school bus, he moved with Sarah and their young son, Angus, to White Salmon in 2002 where he quickly became known for his fierce loyalty to those he loved and his iron artistry. In 2009, he died in a motorcycle accident. He was 34.
Angus, now 17 years old, doesn't remember Van very well. But his father's creativity runs in his blood. Angus is already a highly skilled blacksmith in his own right—a bladesmith, in fact—with a portfolio of work that would be impressive for any craftsperson, let alone someone just finishing high school.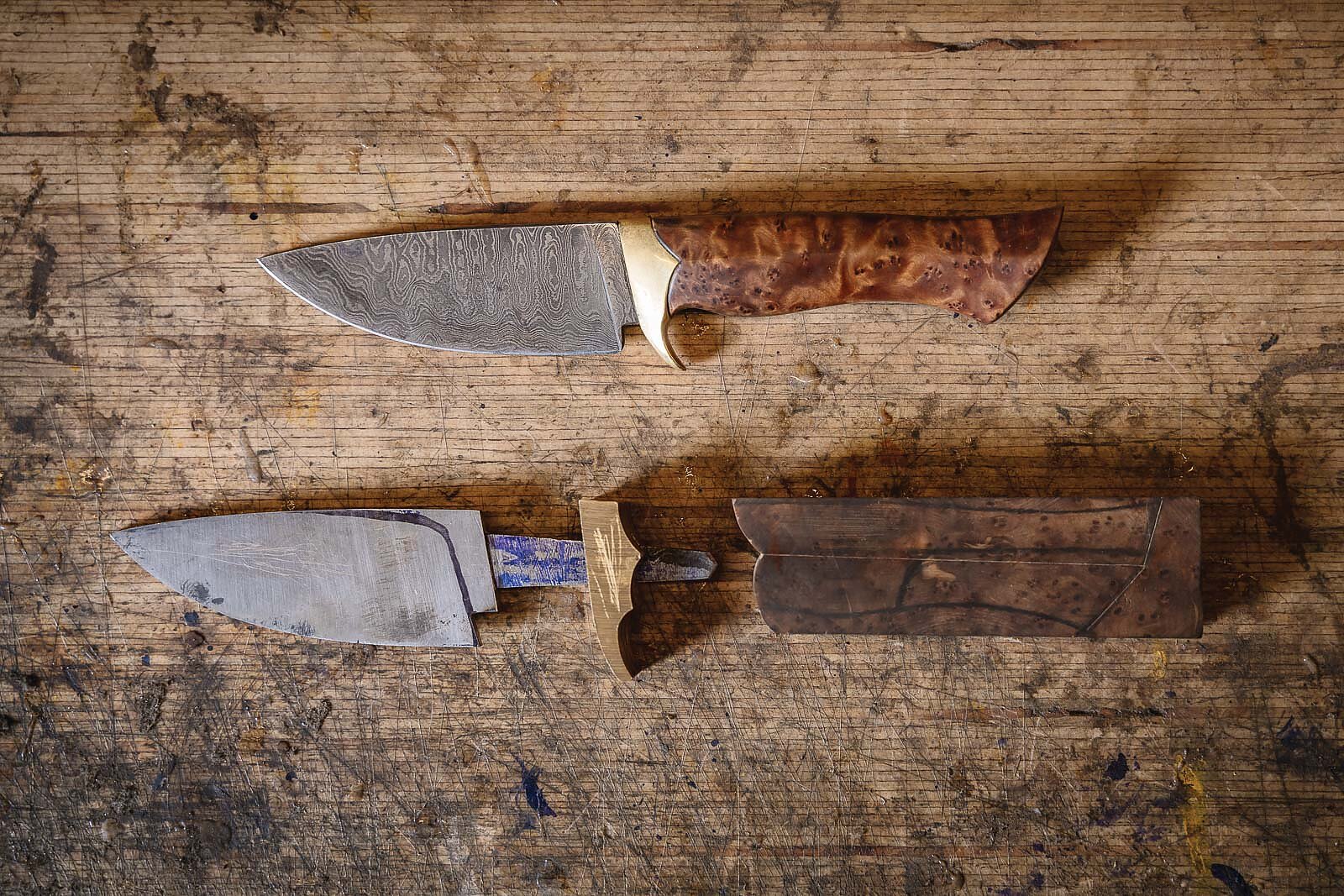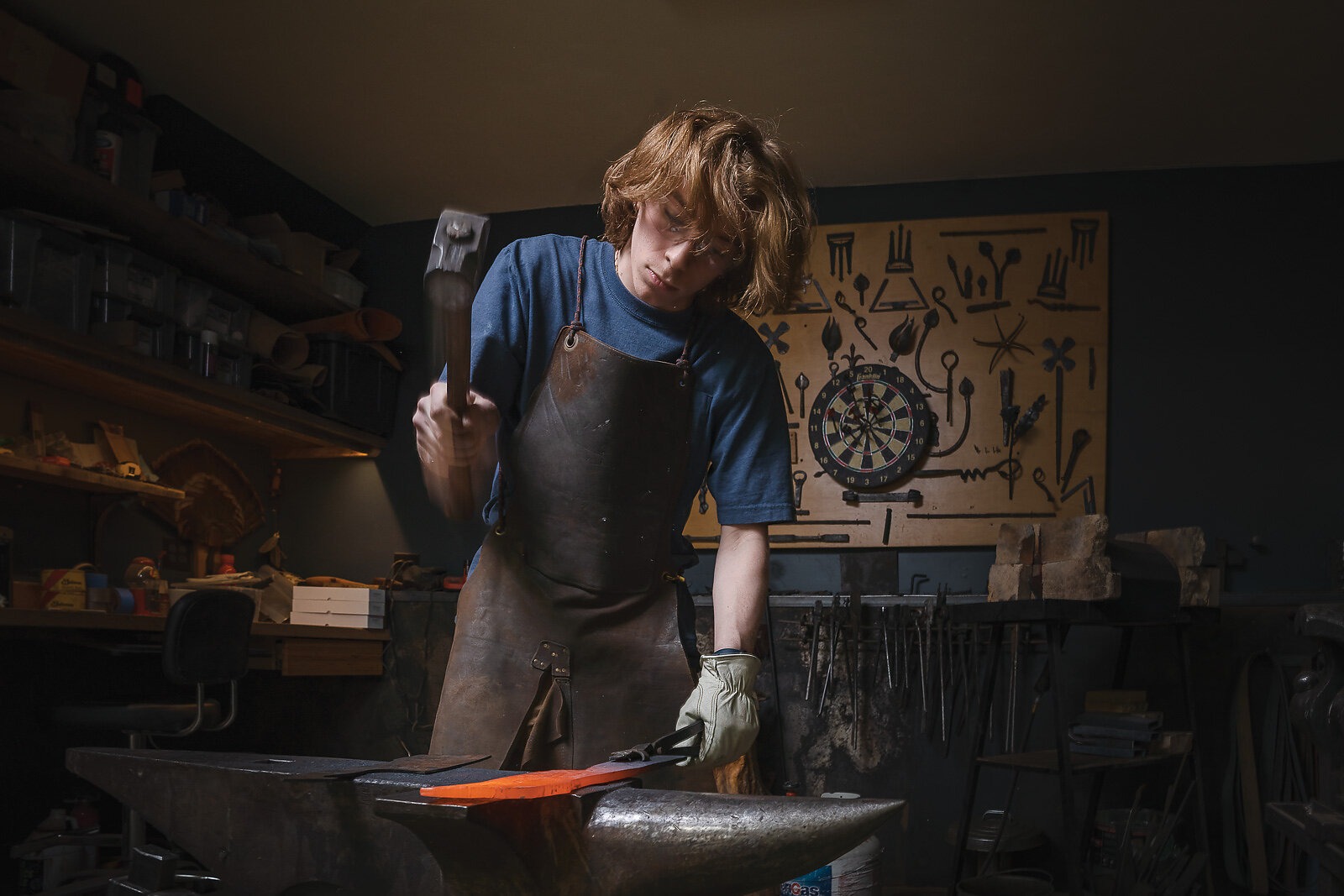 "I was drawn to it in my own way," Angus said of his introduction to blacksmithing. "That we both have shared physical experience and knowledge was an interesting and special connection."
That connection first began forming at 10 years old, when he took a primitive forging class and started experimenting with making obsidian spearheads. His skills progressed quickly as he fully immersed himself in his hobby. He hand-filed the wooden handles of his first knives and did all the blade sharpening by stone. Small equipment upgrades allowed him to work more efficiently. A belt sander, gifted to Angus by his grandparents, made the process of material removal much quicker and allowed him to more precisely fine-tune the shape and feel of his knives. He taught himself leatherwork and began dabbling with other metals, such as brass, in his creations. Most of his materials were reclaimed—an old lawnmower blade, wood scraps, worn files.
"He has always had this intensity and creative spark," Sarah said. "It's a mind-hand connection. The way he channels this intensity into his craft and process is so beautiful."
Angus' ability to hyper-focus on what he's interested in and his desire to seek out new experiences are traits Sarah and Ben Meadows, Angus's stepdad, have done their best to nurture over the years. As the knives Angus churned out took on more and more of a professional look and feel, Ben knew it was time to give him a bigger workshop space.
So, together, they set out in 2019 to build a 40 by 30-foot workshop space that they could share—Ben for his furniture making and Angus for his bladesmithing. The buildout took a few years to complete, with Angus chipping in as much as he could while balancing his schoolwork.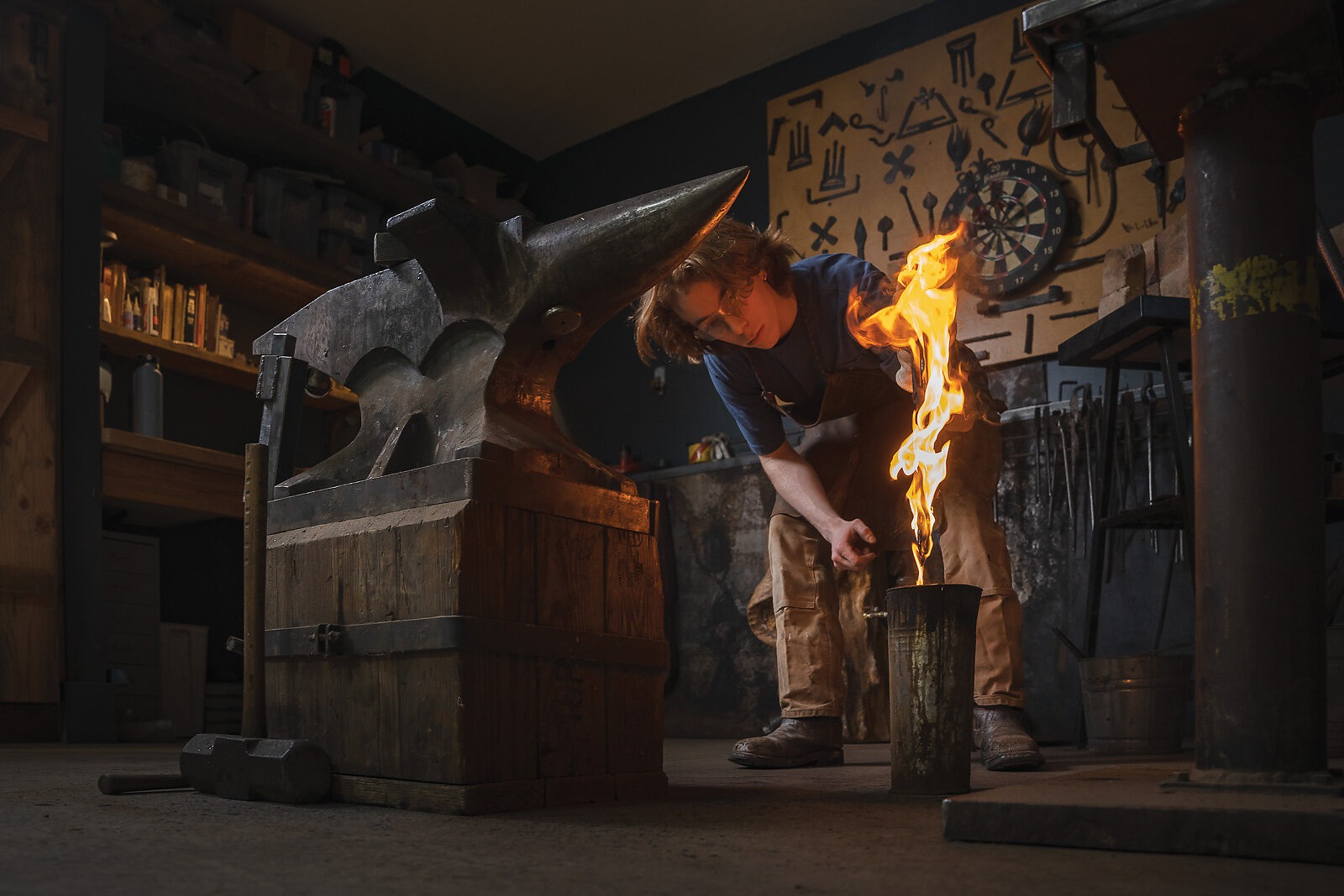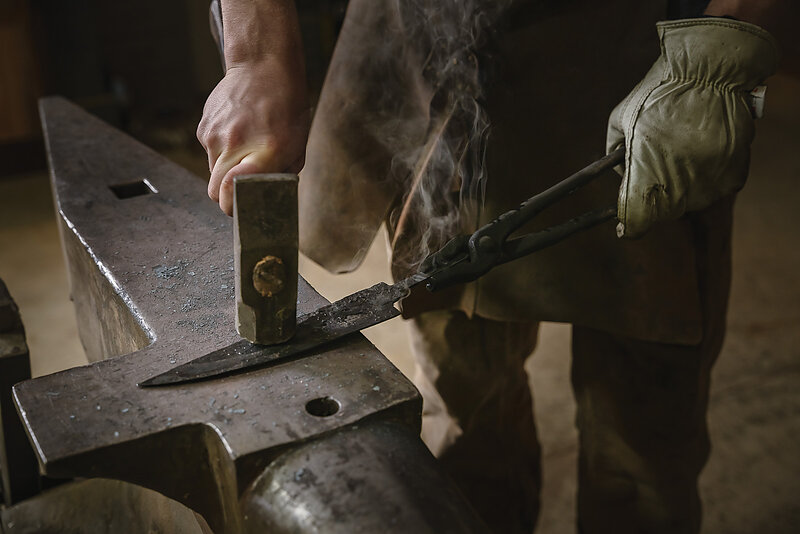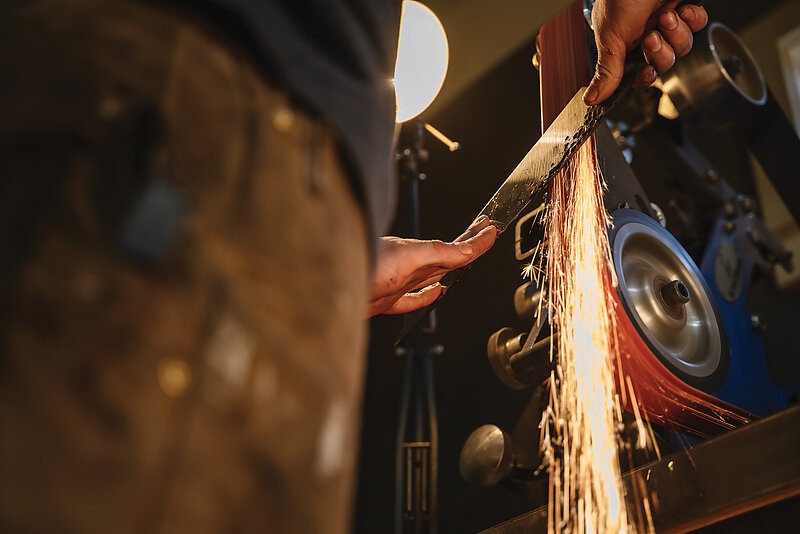 In his workshop space, an orange glow emanates from a small forge used to heat steel or other metals until they're red-hot. Angus then transfers the blade to Van's old anvil, something Sarah saved after his passing, where he hammers and sculpts it roughly into shape. Sparks shoot toward the ground as he further refines and sharpens the blade on his belt sander. Angus works with a quiet confidence, each movement deliberate and precise.
"Watching him is just phenomenal. The symmetry, his ability to pull this off, just absolutely blows me away," Ben said. "At the same time, he's still a teenager—there's glue all over the place."
As Angus' blacksmith skills have grown, so too, his parents say, has his ability to explain his trade to those who aren't as knowledgeable about it. It's clear that he possesses an engineer's brain. While describing the differences between full tang and hidden tang knives, Angus' gaze occasionally shifts upward as if quickly referencing a detailed diagram only available in his mind's eye. He cares deeply about producing knives of the utmost quality, but his unassuming nature also bears an element of educational savvy. This trait has helped him expand his dedicated following of clients. Some find him online, while others knew Van and want to honor him by supporting his son's own work.
Aaron Baumhackl knows the importance of a good chef's knife. He's been in the restaurant business for 35 years, first training in the Bay Area, then working at Oliveto in Oakland, a now-closed restaurant that helped pioneer the farm-to-table dining movement. After stints in Chicago and Santa Cruz, Aaron opened Solstice Wood Fire Pizza in Hood River in 2006, which sits on Portway Avenue and serves upwards of 1,000 customers a day. At home, he uses a custom chef's knife made by Angus.
"It's a sentimental piece," Aaron said, who knew Van and hired him to build sun sculptures, one of which is now displayed on the wood-fired oven at his restaurant. "It's my first new knife since I was 14. The balance is fantastic—just a great feel in the hand."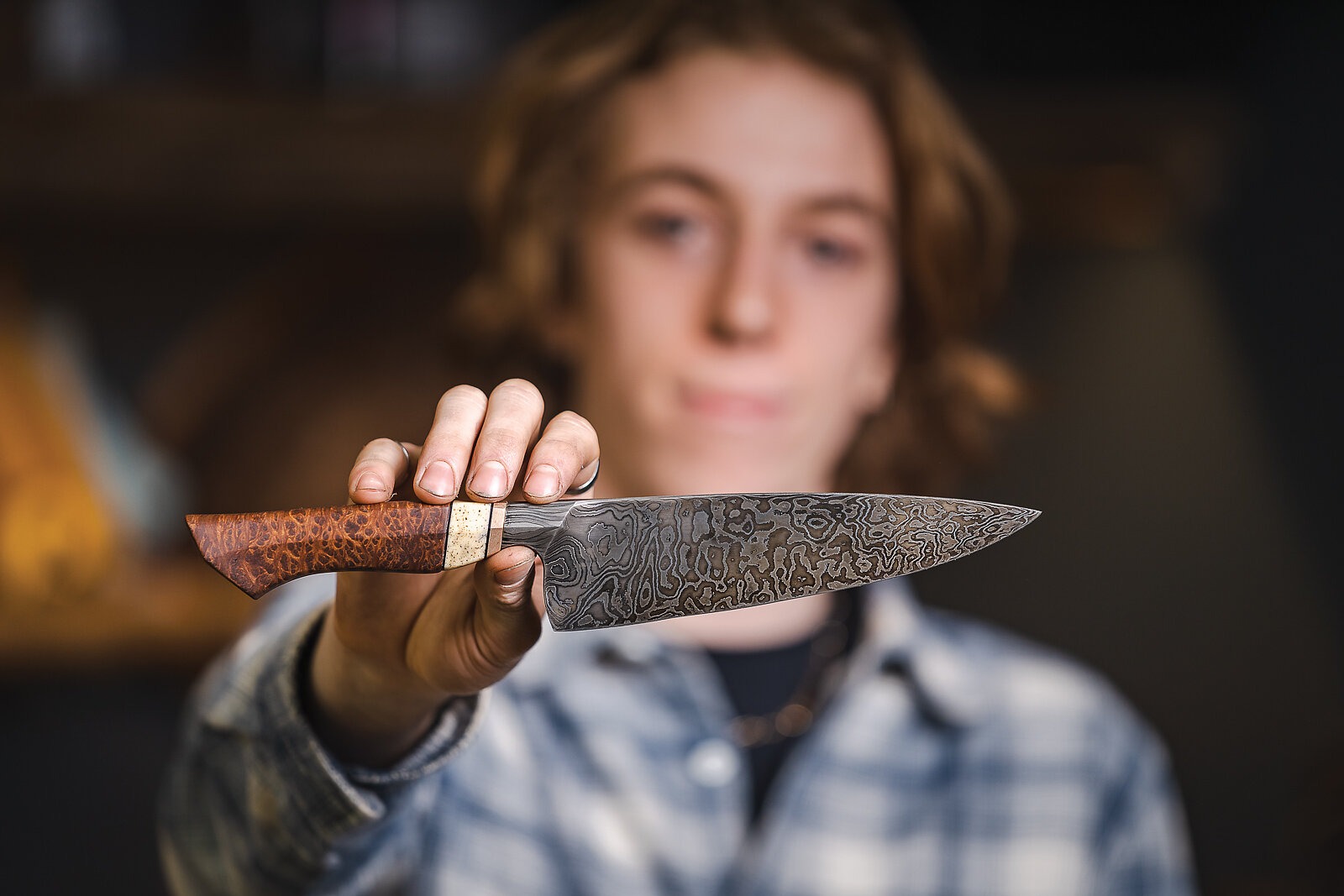 Before Angus started crafting Aaron's knife, they talked at length about the piece to zero in on its shape, aesthetic, and design. Aaron prefers a subtle blade curve.
"You can just see his enthusiasm," Aaron said. "It doesn't seem to be about him. It's about his passion."
And his passion doesn't end at knife making. When he isn't in his workshop, Angus snowboards, kiteboards, camps, and plays water polo. In June, he'll graduate from Hood River Valley High School. He plans to travel with his family during the summer. Then, in September, he'll head to Sydney, Australia, where he'll embark on a 12-week sailing course to earn a professional yachting certification.
"I've always enjoyed being in the water," Angus said. "I haven't done a lot of sailing, or really any sailing on bigger boats. It's a new experience."
Wherever the experience leads him, Angus sees himself continuing to make knives and continuing to explore the art of blacksmithing. Though, in another example of his wisdom beyond his years, he knows that turning a passion into full-time work can lead to burnout.
"I really just get satisfaction out of making things," Angus said. "From my first knife to now, there's a drastic improvement in what I've been able to create."