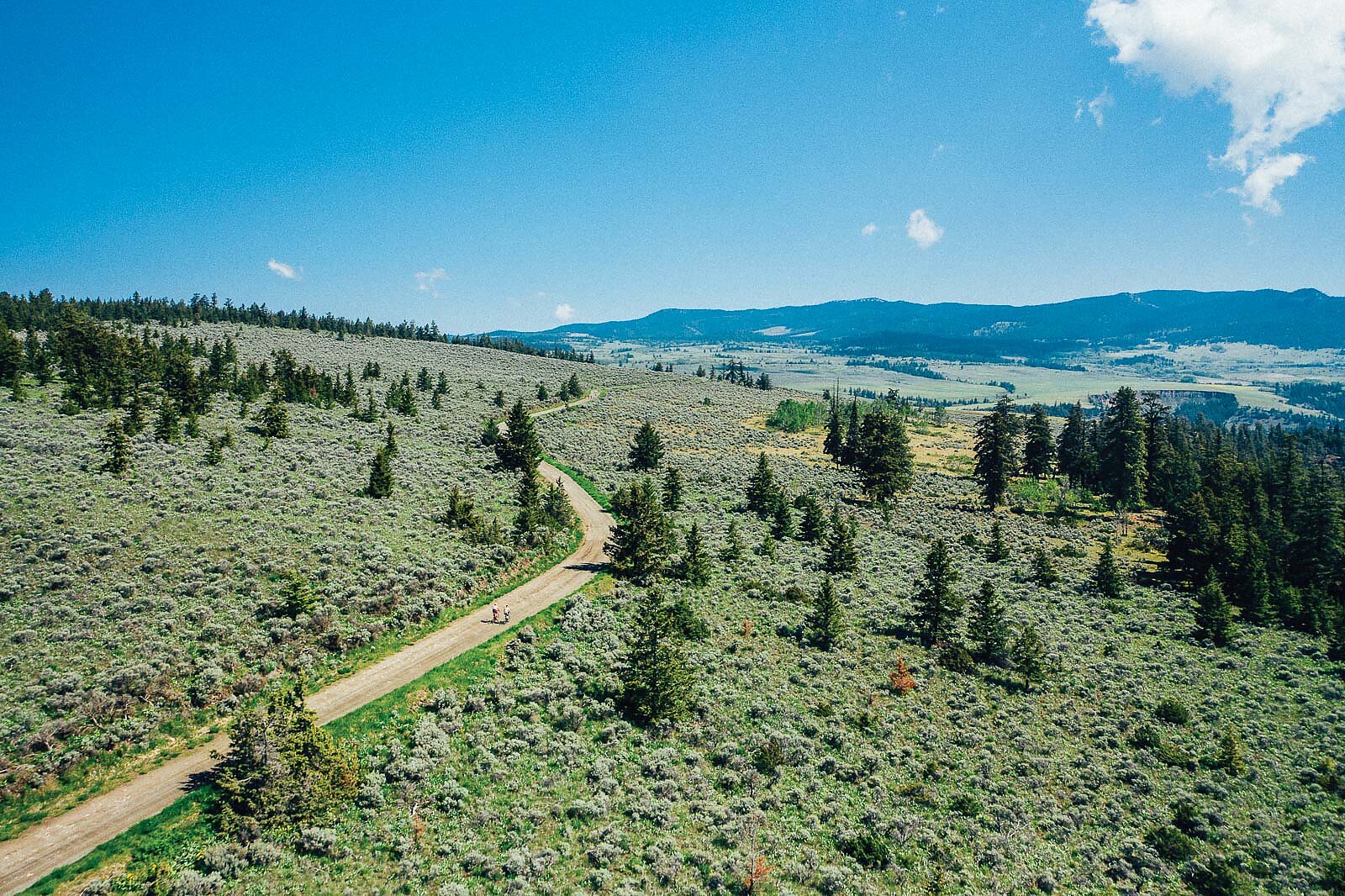 The Ride of Your Life Eight Friends, 11 Days and 1,600 Miles
In the late afternoon during the 10th consecutive day of riding, about 60 miles north of the British Columbia/Northwest Territories border somewhere along the Liard Highway, Huw and I were lying on the mossy floor of a sparse pine forest.
We had been fading in and out of sleep for an hour, the stunted trees providing us with just enough shelter to cut the harsh westerly wind, while still letting the sun sneak through the canopy to warm our legs and faces. It was the most comfortable either of us had been in the last day and a half.
Nearly two hours had passed since I'd gotten a flat tire, halting our rapid progress for the day. Earlier that morning, after becoming frustrated with the cold weather and the slower pace of the group, Huw and I had gone off the front in an effort to warm up, and get to the only pub in a 120 mile radius before it closed. We had been doing well and were making quick work of the 180-mile, largely gravel-grinding, day to Fort Providence, Northwest Territories.
We were peeved—it's an amateur mistake to not grab a tube and tools. As a last resort, we had even stuffed my tire full of leaves and sticks and used an old metal road sign as a tire lever on my carbon road wheels—a cringe-worthy experience. Sadly, that MacGyver fix only held for a mile and a half before the tire came off the rim. But at least we were warm.
Despite our contentment, some concern was creeping into our consciousness. It had been nearly nine hours since we had seen our fellow riders and six hours since our last sighting of the support vehicle. Were they OK? Did someone have a major mechanical? Bonk? Did the car run out of gas? Or are they all just riding slow?
Sometime later Huw poked me in the ribs. I thought it was because I had been snoring again, but he was trying to alert me to the barely audible 1980s dance music playing in the distance. The boys were back. As the trusty Honda Element rolled into view, we could make out the frame of a bike awkwardly strapped to the roof and only five of the six missing riders.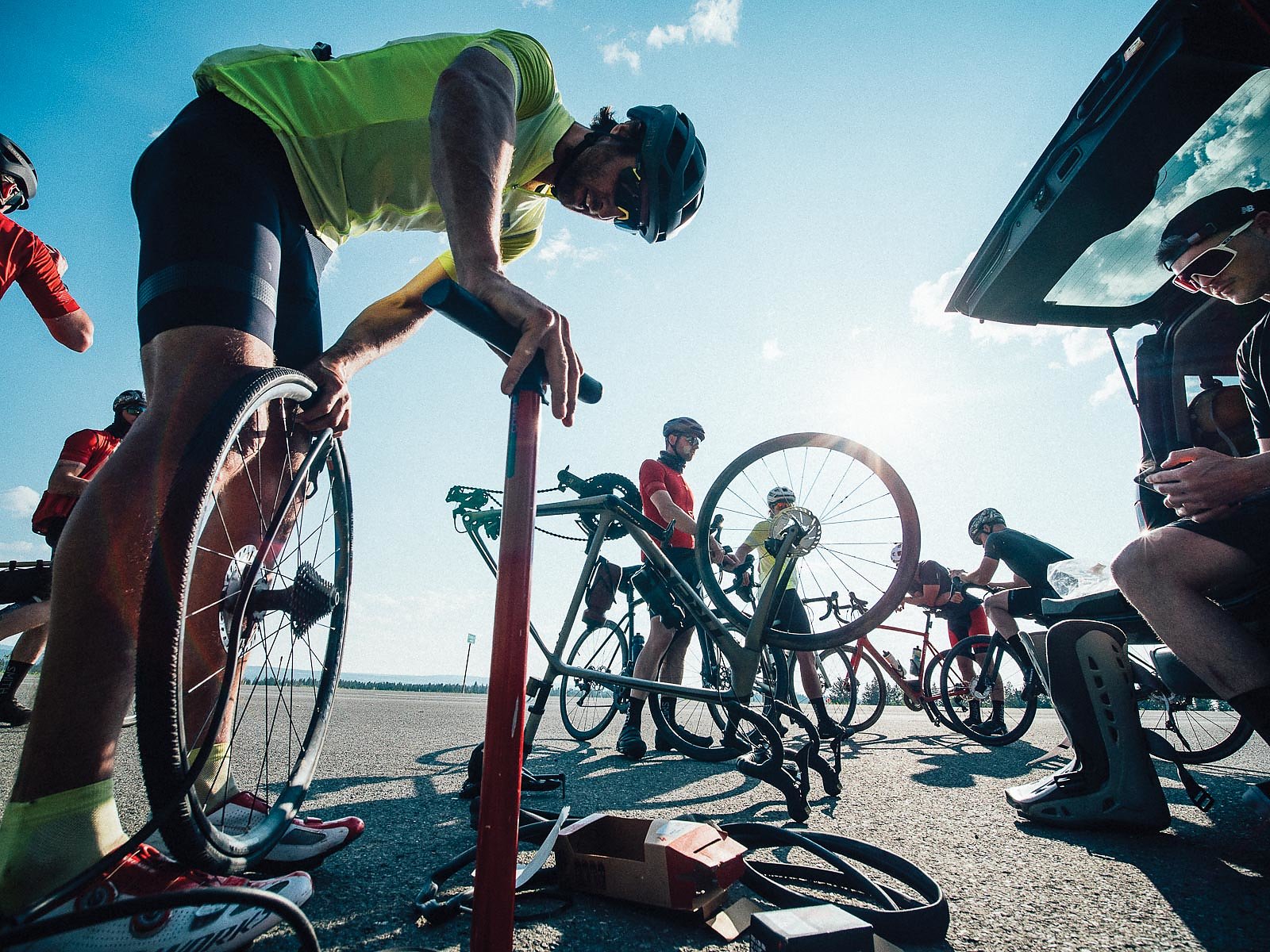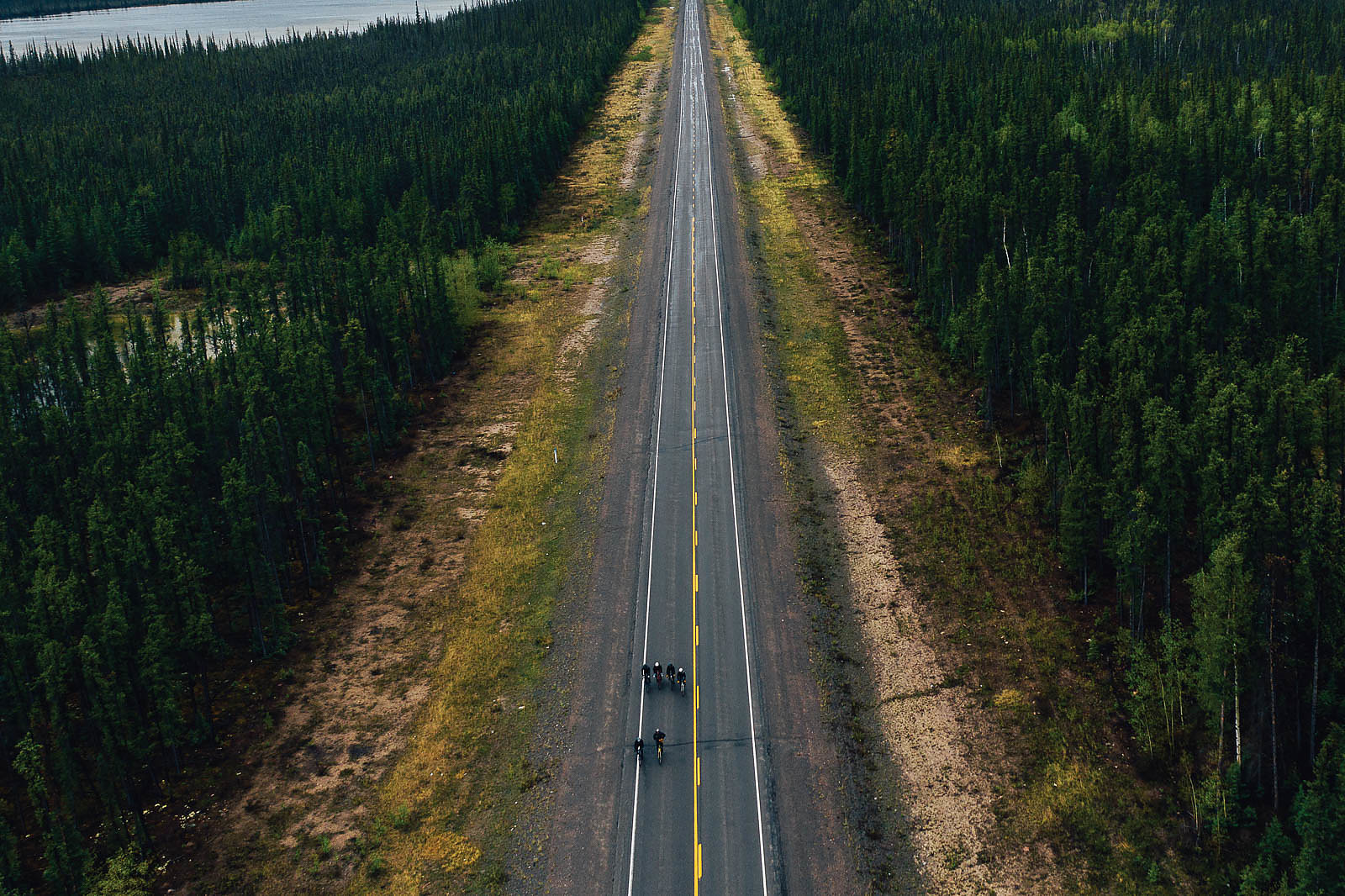 When the crew finally arrived, between mouthfuls of Clif bars and Shot Bloks, Huw and I caught bits and pieces of the harrowing tale that had transpired since we saw them last. It wasn't until just before midnight, in the shelter of the Big River Service Centre at Fort Providence, over bison burgers and soggy french fries, that we would hear the rest of their story.
The guys had been caught in a seriously nasty rainstorm that Huw and I had somehow evaded. With temperatures hovering just above freezing, all their gear soaked through and no dry kit to change into—as they were already wearing it all in an effort to stay warm—the gang had to seek shelter in an abandoned roadside cabin and start a fire with trash to ward off hypothermia. Alex, the coldest of the crew, was stripped out of his wet gear, changed into all of the remaining dry clothes and put in the car with the heat blasting. He had to retire from the ride just 280 miles away from our final destination.
It was nearly 2 a.m. by the time we had all eaten, showered and piled into bed at the Snowshoe Lodge, when someone muttered, halfheartedly, "Wheels at 6 a.m.?" After all, we did have 197 miles to ride the next day, with the forecast calling for more cold and more rain.
I already miss the refreshingly simple life we led over those 11 days: bike, eat, sleep, repeat.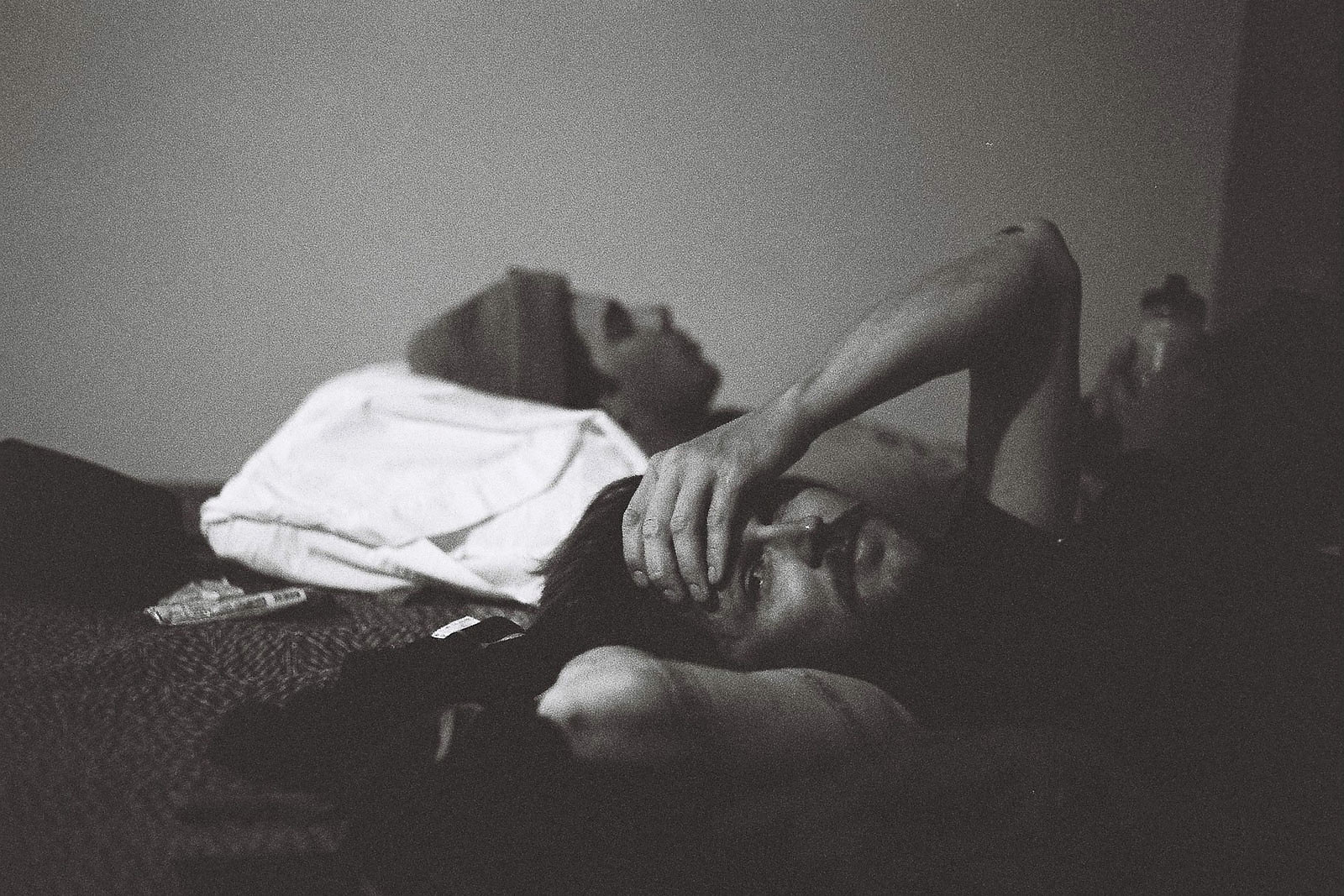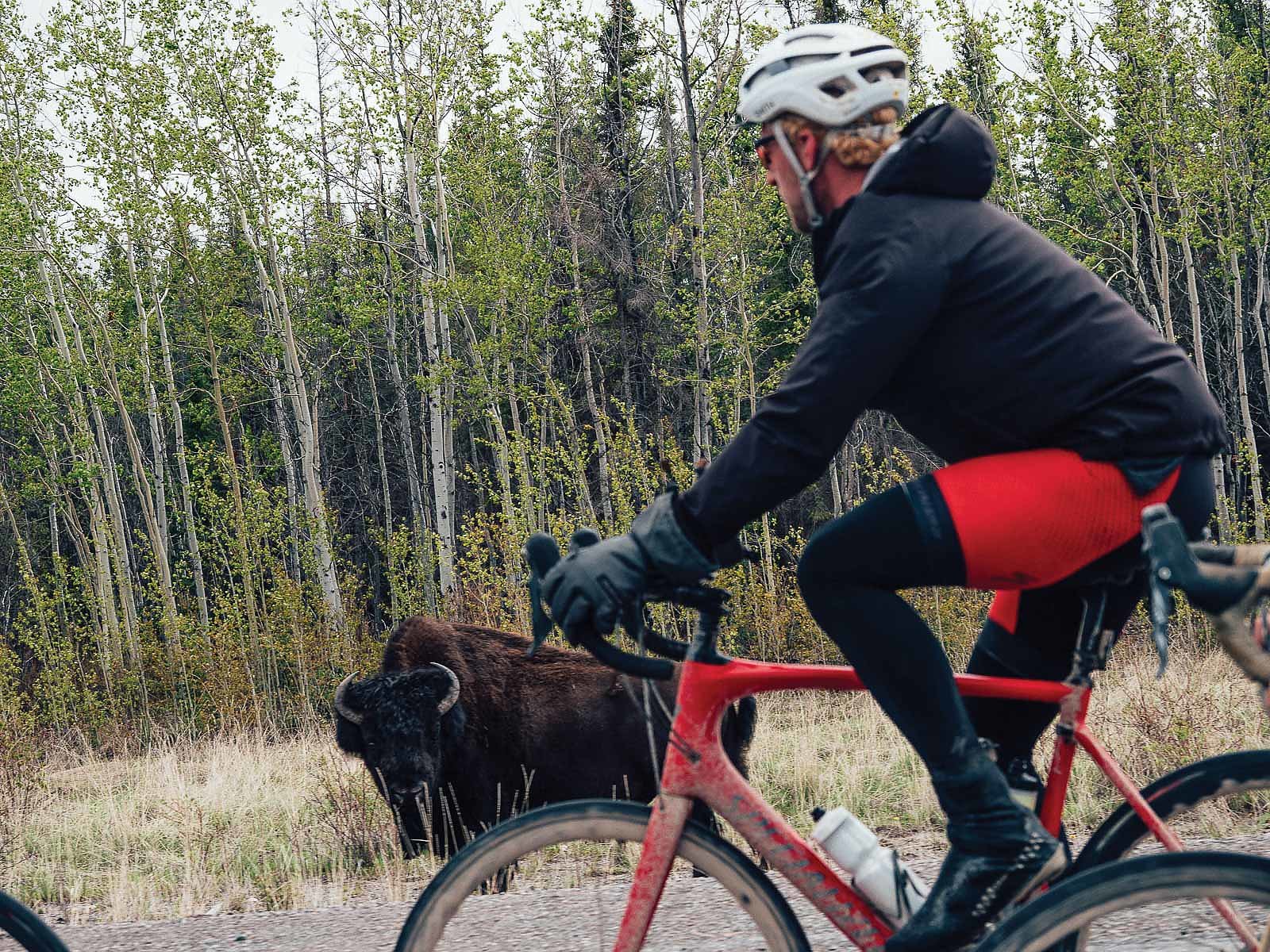 At the end of May, seven foolhardy friends and I rode our bikes more than 1,600 miles, climbing nearly 65,000 feet in 11 days. Conceived of during a cold December evening over post-surgery beers, the trip from Whistler, BC to Yellowknife, NWT was simply to see if we could do it—and give Quinn Lanzon, my co-conspirator, and me a reason to stay fit over the winter.
Word of our plan spread through the Whistler Valley and, by February, a haggard crew of eight guys had assembled to attempt this harebrained scheme. None of us were really road riders before we decided to give it a go, and I had never even ridden a road bike, not once. Some would call this stupid. We call it fun.
The ride also served as a homecoming for Quinn, who was born in Yellowknife, but had moved away as an infant, and had yet to return. After talking to some family friends, Quinn caught wind of the Yellowknife Mountain Bike Club's plans to build a bike park. He championed an idea to use this feat of physical endurance as a fundraiser for the club, and in the next few weeks, thanks to generous friends and family, we raised more than $7,000 for the cause.
The dilapidated motels, roadside beers, close encounters with bison and hypothermia, bronchodilation, Rosemary and William's warming cabin, early morning jump sessions and miles of mind-numbingly straight and impossibly flat roads made for a mix of merry and miserable moments that trended toward total turmoil. Our experiences on the road were lightened by the company of great friends, and Yellowknife is getting a new mountain bike park, thanks in part to our suffering.
You can donate to help the team reach their goal of $10,000