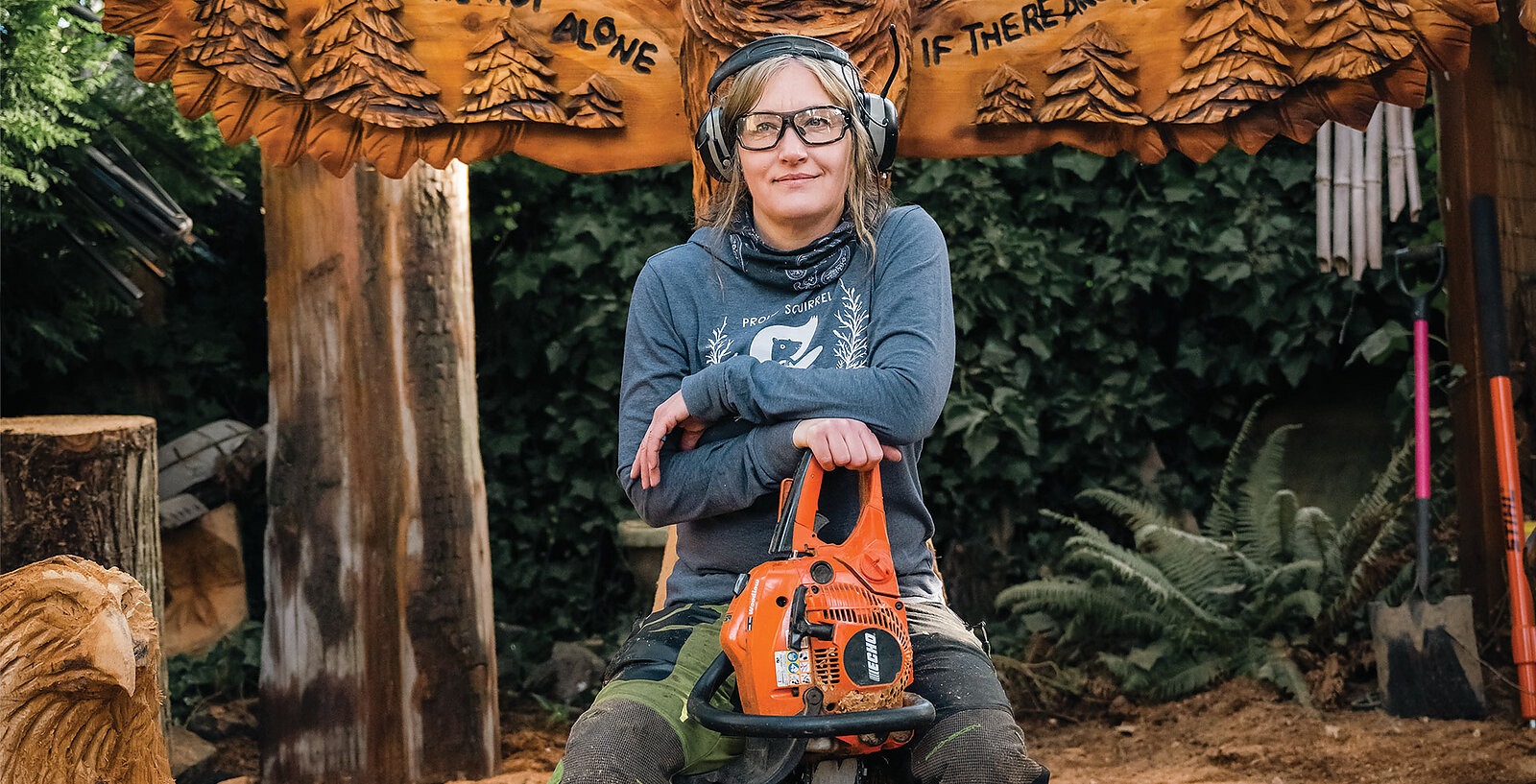 Something Out of Nothing Leigh Woody's Thoughtful Cuts
Leigh Woody first became intrigued by wood carving when she decided to build her friend Vesper a house. She had no prior experience.
But as someone with an artistic knack and all-around crafty persona, she figured it wouldn't be too difficult. A week later, Vesper, a squirrel, moved gleefully into her freshly carved cedar abode, complete with an Ent-like leafy figure carved on the inside.
That was six years ago. During the time since, Leigh has become a well-known artist within the Northwest's tight-knit chainsaw carving community. In addition to Vesper's house, Leigh's front and backyards have dozens of carvings scattered among the ferns. The backyard patio is populated by even more wooden creatures, while numerous fresh stumps of cedar surround her carving station, just a few cuts away from being transformed into bears, owls or other forest creatures.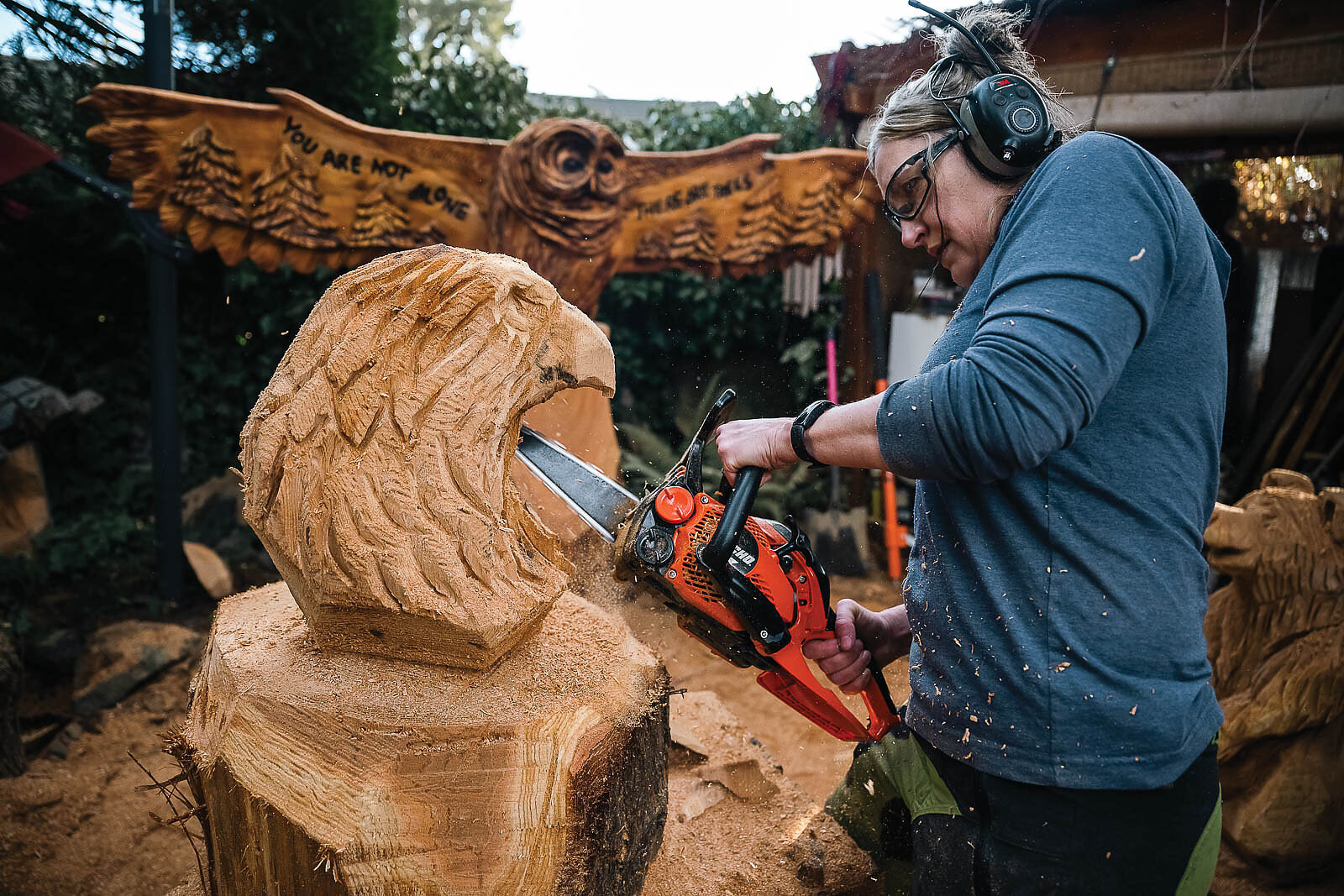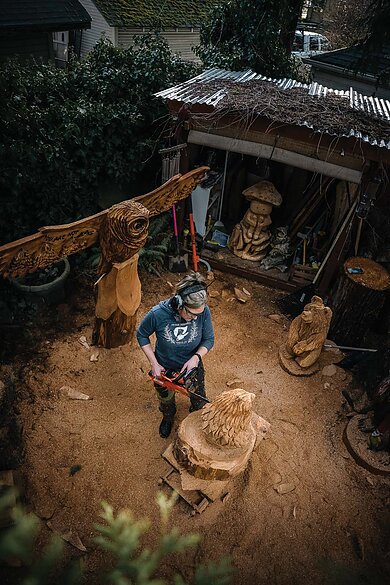 "It just makes you feel good because it's happy and it has this charm about it," Leigh says of the numerous sculptures. "That's why it's nice to have so many of these happy things, it's like they guard the perimeter of the house and keep the happiness in."
That first woodworking foray inspired a new passion for carving, as well as her Instagram moniker (@proud_squirrel) thanks to her husband Michael's comment about her handiwork.
However, it also encouraged her to work with a different carving method, as she'd used an angle grinder with a blade attachment-perhaps one of the more dangerous carving tools. Leigh found the George Kenny School of Chainsaw Carving on the Olympic Peninsula and took a three-day class. Following that she carved for another year and a half, just experimenting and learning. Eventually, she reached out to Tomas Vrba, one of the region's most-lauded chainsaw carvers and began an informal mentorship that became a friendship that continues to this day. Vrba's Mr. Miyagi-like approach to teaching gave Leigh little opportunity to doubt herself, and it was at his insistence that she entered her first competition.
At the Oregon Divisional Chainsaw Carving Championship in Reedsport, Oregon, in 2018, Woody drew for logs, received an eight foot stump (usually the pro category size) and borrowed one of Vrba's saws with a 40-inch bar. The routine was wake up, carve from 7:30 a.m. to 5 p.m., and then do it all again the next day. In five days, she carved for 46 hours and turned out a massive blue heron. From the experience, Leigh realized selling her work was more of a win than winning (although she placed third in the 90-minute quick-carve category) and was actually a pretty good side hustle too. Oddly enough, it was her experience racing mountain bikes and ability to enjoy the competitive atmosphere that had prepared her for it all.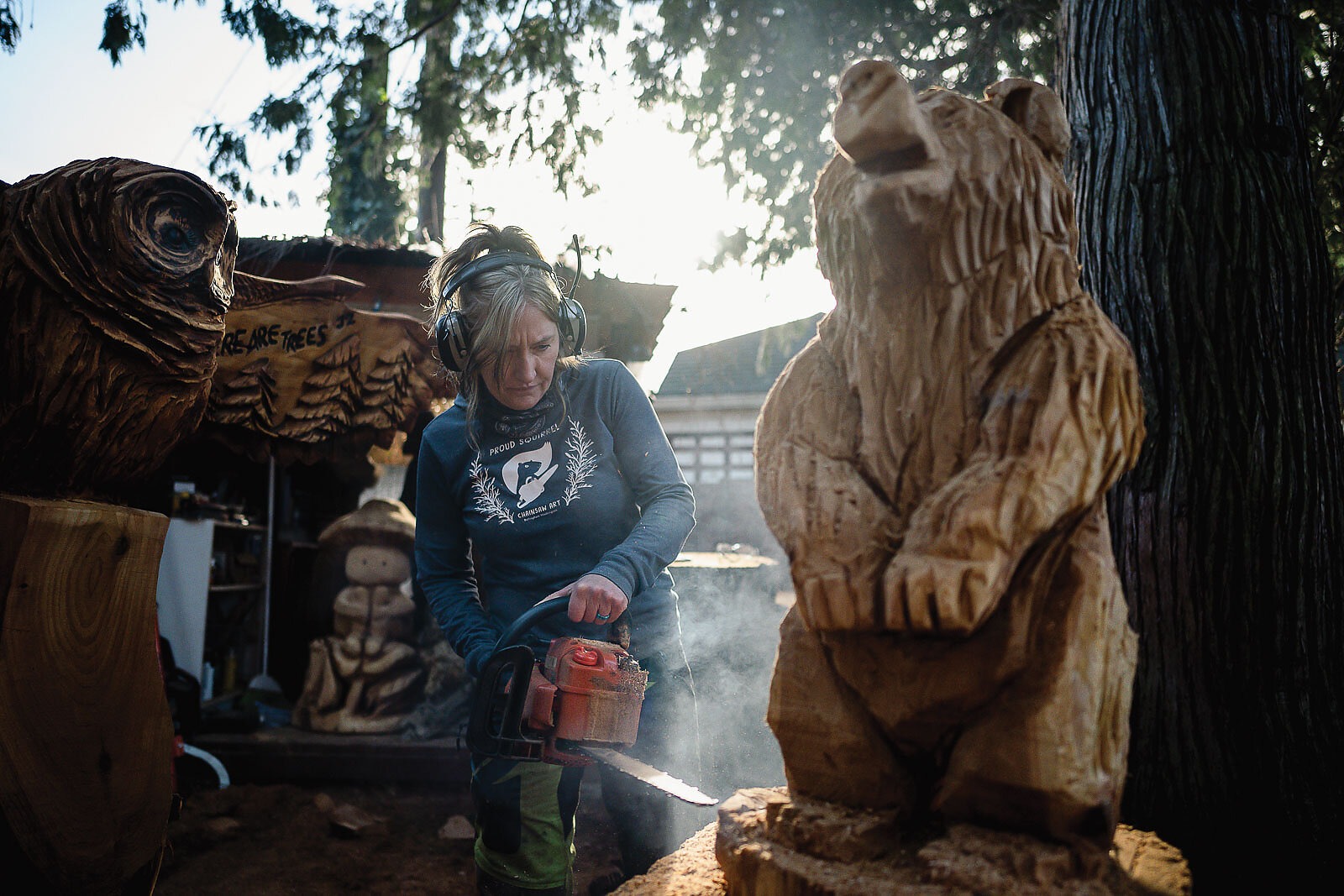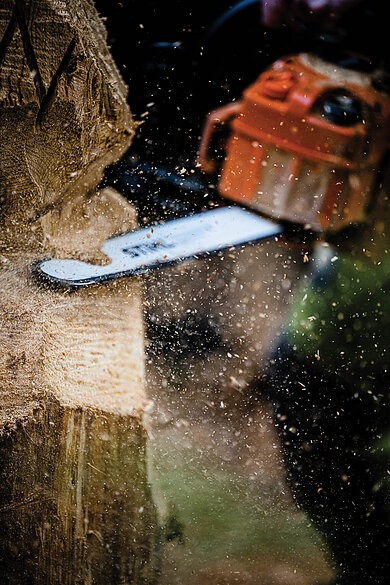 "I really think that downhill racing is what made it so easy to hop in and do [carving competitions]," Leigh says. "It totally prepared me for the whole thing. My husband [Michael] and I would laugh because we'd see how people were interacting and we're like, 'Oh, this is just like a downhill race.' And it's the same principle, too: you've got your log, you plan out everything I draw it from different angles, then I think through the first 15 or 16 cuts…"
These days, she spends many summer weekends traveling all around the Northwest to attend carving competitions and festivals. She takes commissions for pieces and has a handful of carvings scattered throughout Galbraith Mountain, Bellingham's renowned network of mountain bike trails. As a longtime mountain biker, the woods have always been a source of inspiration and community for Leigh.
When they lived in Seattle, she and Michael taught clinics with the Evergreen Mountain Bike Alliance and, upon moving to Bellingham in 2014, got involved with the Whatcom Mountain Bike Coalition. Having an arsenal of saws, the duo often go out and clear trails after windstorms. The woods are also the natural habitat of Leigh's creatures. They tend to lurk just out of plain sight alongside the trails. There's a family of bears near Lair of the Bear (naturally), a gnome at the top of Mohawk, a dragon on another bit of singletrack.
"I just love animals," Leigh says. "The world just feels better if you're surrounded by all these animals."
Her newest addition to Galbraith's sculpture garden is an owl memoriam at the top of SST. Leigh carved it throughout the winter of 2022 as a remembrance for Jackson Zechnich, a young Bellingham mountain biker who passed away unexpectedly. While she didn't know Zechnich, Leigh had recently lost her own mother to cancer, and carving had become a much-needed escape.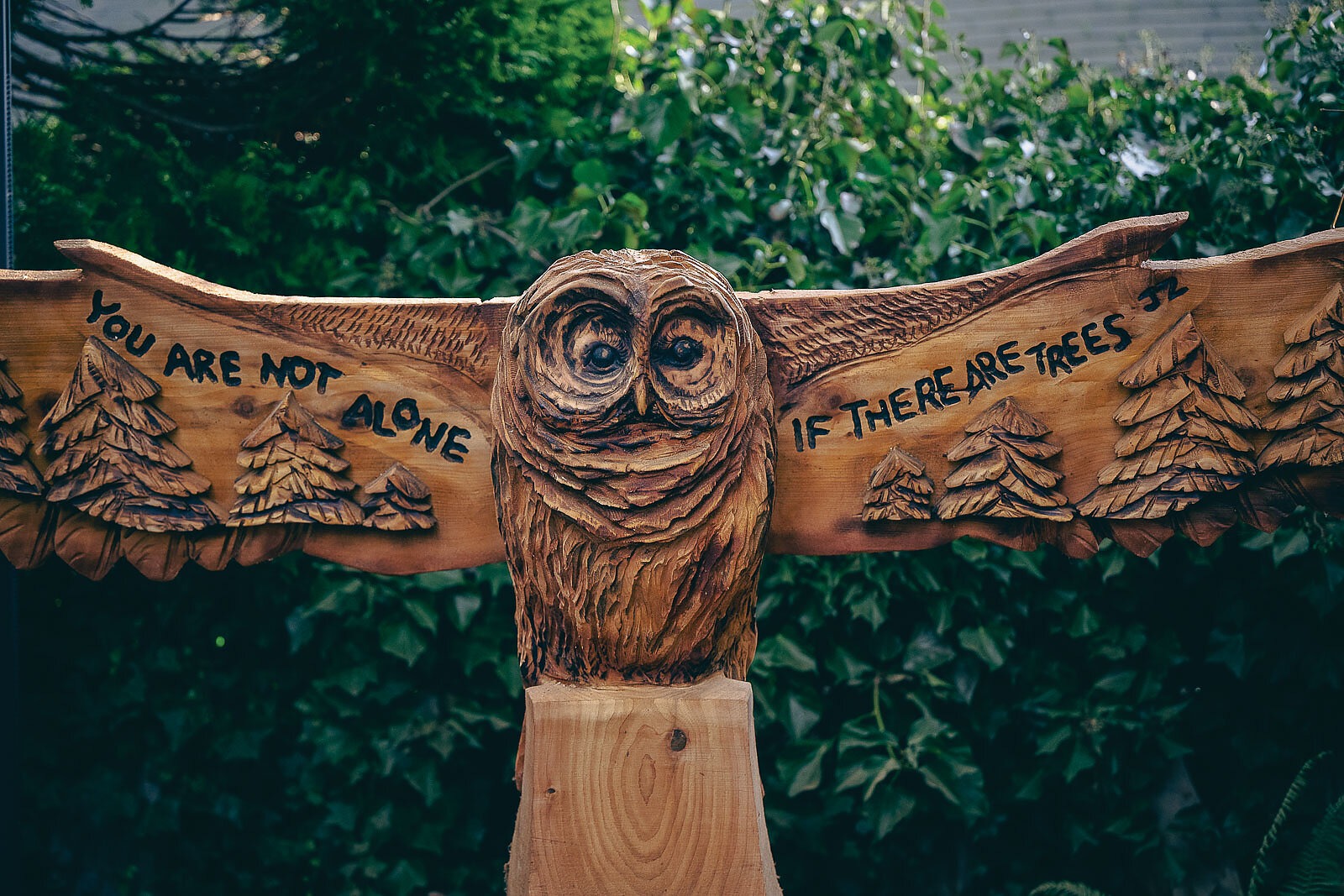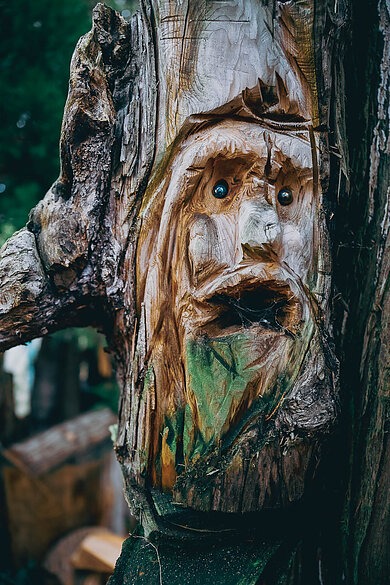 "Now I am left with this new emotion of grief that I don't think will ever go away," she wrote in a journal documenting the process of creating the owl. "After my mom passed, I just wanted to carve as much as possible… The saws drown out the outside world and you focus all your energy into this log. Creating something out of nothing… It feels good to honor the tree with purpose."
In talking with Zechnich's parents and working with Mark Belles, another local artist, the owl came to represent "the journey." As Leigh writes, "We are all going to take this journey, and may even help a loved one on their journey at some point in our life. The owl in the sculpture is soaring up and represents the transition to the next stage. The wings are the gateway between our physical self and our energy. The trees are our guides that help us navigate through this difficult process. We are not alone."
Carved in the owl's wings is the phrase "You are not alone if there are trees," a quote from Zechnich's journal. The process of creating the owl was emotional for her, as it was a familiar outlet used to reflect on unfamiliar—and difficult—feelings. A way to help process the loss of her mother, to honor the life of someone she didn't know but was loved within his greater community, and a way to try and make sense of it all.
"If I can't sleep at night, I just carve in my head," Leigh says. "It's kind of meditative, that's how I get myself back to sleep and how I don't fuss on everything in the world."