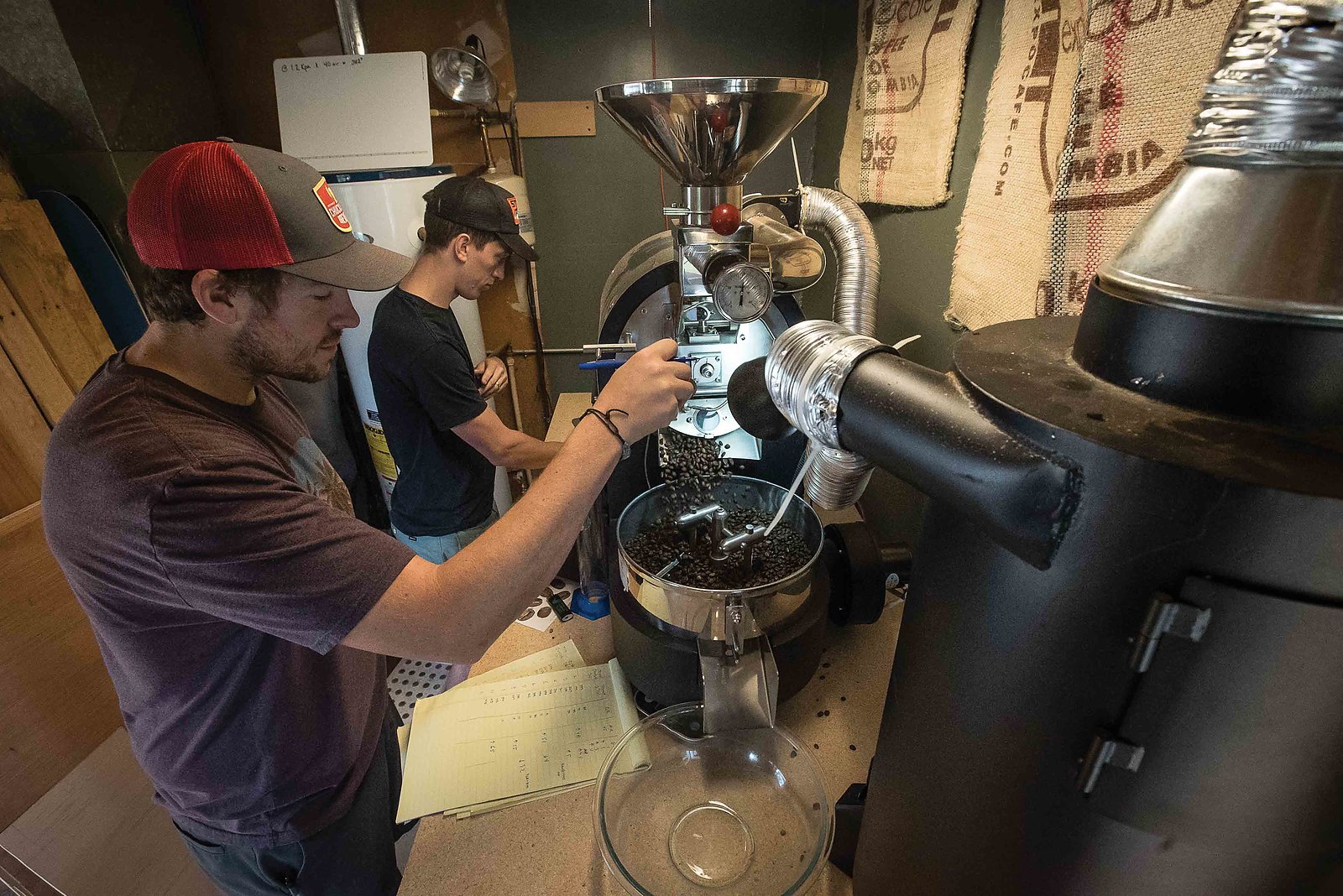 A Simple Standard Easy-Drinking Garage Coffee with Spacewolf Ignition Solutions
Nathan Hoch's garage is something to which any mountain biker can aspire.
A quiver of high-end trail rigs, dirt jumpers and gravel-grinders sit by the door, ready to be wheeled out onto Bellingham's trails at a moment's notice. A full work bench occupies the opposite wall, below a shelf of helmets and a cupboard holding number plates from Nate's racing days.
But it's the shiny silver and matte-black coffee roaster, tucked back against the far side of the room and hidden among the mix of carbon, aluminum, and steel, that makes Hoch's garage unique. Coffee has always been an interest for the 5th grade teacher, but that escalated five months ago, when he and John Canfield, owner of the local hip-pack company High Above Bags, bought the used roaster online from Milwaukee. Now it's officially a hobby, in the form of their garage-based coffee company, Spacewolf Ignition Solutions.
For many mountain bikers—and people in general— each morning starts with a cup of coffee, and their standard is simple: they just want "good" coffee. Not mass-produced, but also not ultra-boutique with outlandishly high-profile tastes (and an equally excessive price tag). This is where Nate and John saw an opportunity: like barrel-aged beer, such overly elite products can be off-putting. The two wanted to bridge the gap by roasting quality artisan coffee, simple and easy to drink without any pretentious vibes.
Nearly half a year later they're doing exactly that, two-pound batches at a time. Each week they experiment with different beans and techniques, focusing on both quality and accessibility. Coffee roasting recipes are essentially structured timelines, meaning one person carefully watches the clock and adjusts the temperature gauge while the other records all their observations on a yellow legal pad.
"We're just trying to make the simplest coffee that exceeds your expectations," Nate says.
Their progress can be tasted, although it's taken plenty of research, trial and error, and feedback from friends and family. Now, when the caramel-brown beans pour out of the roaster and get portioned into brown paper bags, the duo know the impending brew will be that easy-drinking, every-person cup they set out to create.
Despite plenty of demand, Spacewolf isn't selling beans yet. For now, only Nate's neighbors will get whiffs of the freshly roasted coffee on odd evenings or weekend mornings, mixing perfectly with the smells of chain lubricant and tire sealant in Bellingham's most caffeinated garage.